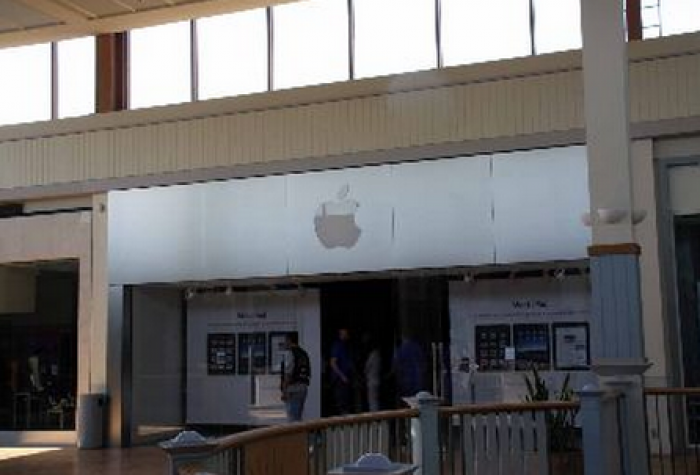 Image courtesy of waymarking.com
Last Friday, I found myself — like many others — in line waiting to pick up an iPad 2.    I wasn't even going for myself, either.   See, where I work, we have embraced the iPad in a very big way.   It is very rare to walk into a meeting and not see at least a few iPads in use.  So, for a lucky group of our executives we decided to spring for their iPad 2s.   A few of us scattered about the city of Atlanta to find the holy grail iPad 2s just before 5pm that Friday.   Not exactly an easy task since most locations were sold out within minutes.
While we did get a few, what truly impressed me was the team at a specific Apple Store location…
I'm here to point out — and praise — the business team at the Perimeter Mall Apple Store, located in Atlanta.   When the first-generation iPad was released, our company ordered a few for select executives, our Board of Directors, etc.  We picked up a few at locations that restricted the number we could get to 1 or 2 — which, to be honest, is fair (it just makes it more of a task to get iPads for the corporate folk).   We also did a few orders online with Apple.   That worked out OK, since we got the iPads 2-3 weeks after ordering.  But when I went to the Apple Store at Perimeter, they had a dedicated business team that was — to put it mildly — awesome to work with.    Given my experience at other Apple Stores in and around Atlanta, this experience was the exception and not the rule.
Now, back to last Friday's iPad 2 launch.  Remembering how well the Apple Business team at Perimeter helped me out, the first thing I did was give them a call.   Remembering me (we ended up getting the bulk of our company iPads from this location because of this team), they set me up with an appointment to come in and pick up the number of iPads we needed — if they still had them in stock.    The appointment was for later that evening, so I did end up going to three other locations (all sold out of iPad 2s within minutes) before making the drive out to Perimeter's Apple Store.
If  you've ever been to Atlanta, you may know that 5pm on a Friday is always a gridlock-stress-inducing traffic hell (that starts before 3pm and lasts through 8pm on a typical Friday).   Not a fun time to be driving to pick up iPads.    What made the experience better was that the Apple Business team at Perimeter made it a point to call me hourly with status updates on inventory.  That's right!   Even though there were hundreds of people in line, snatching iPad 2s up left and right, this location's team still made a point to call their customers and let them know if they still had iPads to even sell!    I'm not sure about you, but this was far and above the best service I've received and it is why I personally won't go to any other location if I need to pick up any Apple product — be it for work or for personal use.
Cut to the chase:   As I'm driving to the store, they give me another call to let me know…they sold out of iPad 2s.   While disappointing, that call probably saved me at least another 45 minutes on the road — and the inevitable frustration if I'd have shown up only to find all the iPad 2s were gone.   So we didn't get a dozen that day.  The other people who went out to snag iPad 2′s for our exec team ended up with a total of 3 — from three different locations.    But the Apple business team at the Perimeter location has gone out of their way (again) to call me at work and let me know when they expect more iPad 2s to arrive.   While that inventory isn't pulled aside for any one customer, it does help me go in and pick up the remaining after getting a friendly call.
Bottom line:  that location has earned not only my own personal business, but my employers' business.   The Perimeter business team is truly awesome.   Again, I've personally not had a similar experience at any other Apple store (and don't even consider that level of service from any of the other chains selling the iPad 2).  If you have, please comment below — I'd love to hear your own experiences.   I just know that Bob, Jack and John are awesome to work with at the Perimeter Apple Store.   Thanks guys!