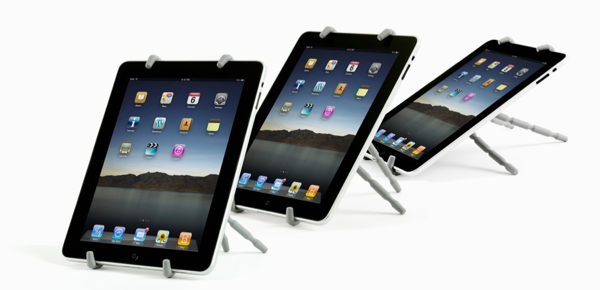 I use my iPhone, iPad and now Android phone in a wide variety of settings. At times it works just fine to lay them on the table or prop them against something for easy viewing. At other times, though, a good stand is needed. I've tried a lot of them and, along the way, have come across some stands that do a great job and add to the aesthetic quality of the device in the process. This is not one such stand.
No, Breffo's Spiderpodium and new SpiderpodiumTablet stands don't go for aesthetic appeal. Instead they shoot for something more basic, they go for function and flexibility.
The stands' unique flexible nature means that they will work with devices whether they are in a case or not. Moreover they aren't designed to be used with just one device or style. With the SpiderpodiumTablet you won't have to say, "Uh oh, the iPad 2 is thinner and has a slightly different footprint. Now my iPad 1 stand won't work." since the SpiderpodiumTablet molds to the device and holds it tight.
And because of the unique, flexible design the SpiderpodiumTablet, and the Spiderpodium, can be used in a host of different situations and hold the device it embraces at a wide range of angles. Yes, it is all about flexibility.
For small devices there is the Spiderpodium.
Spiderpodium: Uniquely designed to complement virtually any portable device, whether it's used as a stand for your mp3 player, as a tripod for your camera or as a dock for your SatNav, the Spiderpodium is the perfect accessory for your favourite gadget.
For larger devices there is the new SpiderpodiumTablet.
SpiderpodiumTablet: Designed to complement all Tablets, the flexible nature of the SpiderpodiumTablet allows for positioning at virtually any angle in any position, in any location. Strong, yet light and portable, the SpiderpodiumTablet is the most functional tablet stand available. Ever!
Both look quite useful. They should be since they clearly take their cues from MotherNature. You can order yours from the Breffo company site.
The Spiderpodium is $19.99, while the SpiderpodiumTablet retails for $34.99. Both come in either Black or graphite.
The full Press Release on the SpiderpodiumTablet follows.
March 23, 2011 Portland,Oregon, USA – Breffo, an innovative consumer electronics company, announced today that their latest product, SpiderpodiumTablet, is now shipping. Modeled after breffo's hit product Spiderpodium, the SpiderpodiumTablet works with Apple's ipad2, ipad, Motorola Xoom, Dell Streak, Galaxy Tab, EeePad and all other tablet devices to provide flexible hands free positioning. The SpiderpodiumTablet will work with virtually every tablet device, now and into the future, providing the consumer with the ability to buy the stand and not have to be concerned about future upgrades of their pads causing the stand itself to become obsolete.

"Tablet devices provide a quantum leap in UI interaction. To maximize the benefits of this technology, we foresee that users will prefer to maintain the use of their hands during the course of interacting with their tablet devices to access information and content. We see applications for the SpiderpodiumTablet in the medical field to include physicians who want to refer information on their iPad and be able to quickly stow or hang the device while consulting with the patients. We see it being used by trades people such as auto mechanics and musicians, who want a way to place the tablet in view, but need to keep hands free for their main activity. Additionally, it can give parents and kids a break so that they don't have to hold a device for several minutes or hours while riding in the car or flying on a plane. With the SpiderpodiumTablet, all of these demands can be resolved, as well as hundreds of others. We think it is going to be a magic product," stated Nic McMahon, US CEO.

SpiderpodiumTablet is on sale for immediate shipment worldwide through www.breffo.com or breffo's global distribution network.

ABOUT BREFFO

Founded by Patrick Mathews and Nicholas McMahon, breffo is a design-centered, global product company. Utilizing a belief in the total balance of functional and aesthetic design, breffo focuses on delivering the value of innovation to the rapidly evolving hand-held device market. Breffo's products are available through distribution and sales channels in over 35 countries.