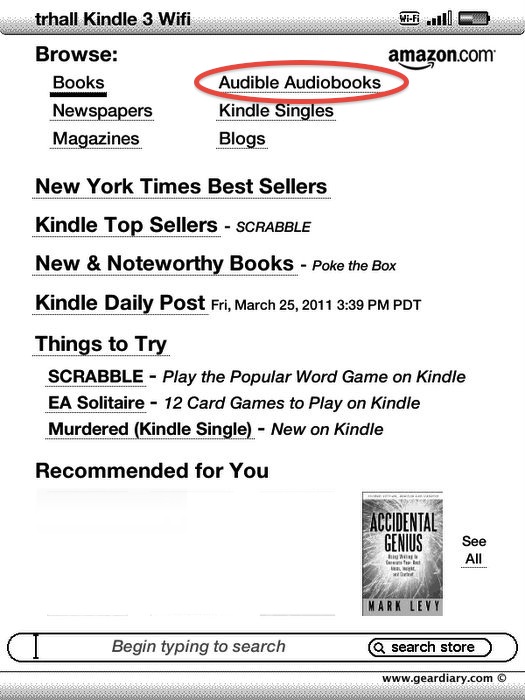 When Amazon bought Audible.com in 2008, I wasn't sure what the impact would be for Audible as a company, and for me as a loyal customer since 2001. I hoped that Amazon would just bring more scale to Audible's existing service, and help them to increase the number of audiobooks available on Audible.com. Luckily, this is exactly what Amazon did, and Audible now has over 85,000 titles available. Audible still is fairly autonomous. It isn't really integrated into the Amazon's online store; you still log in directly to Audible.com to access you audiobook content. Late last year, the ability to merge your Audible account with your Amazon login was released. This isn't a mandatory change, and in fact, I have not yet had a real reason to merge my accounts. But now, I may want to!
The Amazon Kindle has always had the ability to play Audible audiobooks. It's nice to have the ability to listen to a book, say, while driving, or any other time that you can't read on your Kindle. But you had to sideload the content by connecting your Kindle to your computer via the USB cable, which can be a bit tedious. You really had to plan in advance if you wanted to listen to an audiobook on your Kindle. But that is no longer the case.
On March 24th, Amazon announced that you can now browse and download Audible audiobook content wirelessly, directly on your Kindle, via WiFi. For new subscribers, you can get two books for free. For existing subscribers, you simply log into your Audible account on your Kindle (if you haven't yet merged your account), and you can buy new books as well as access your existing books (in the Archive on your Kindle).
What's more, it's the type of integration you would expect from the two companies, since they are really one entity. You can buy audiobooks individually, or, if you are a subscriber on Audible.com, you can use your existing credits to download the books, just like you would if you bought them on the Audible.com website. I especially like the ability to access any other purchases in your library via your Kindle Archive folder, just like you would with books.
In addition to the announcement on the official Kindle Post blog, Audible has a couple of good resources:
(via Amazon's Kindle Post)