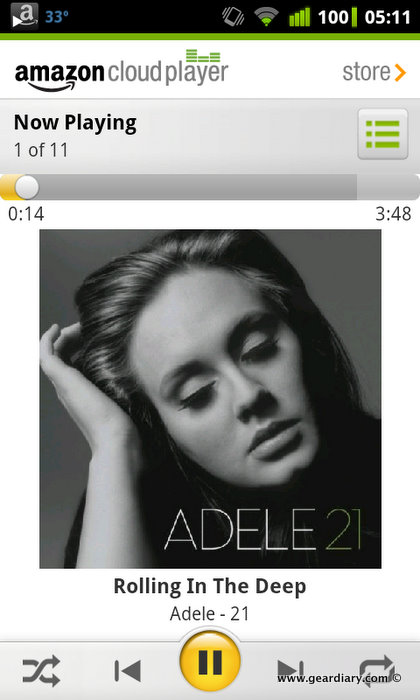 Amazon has had its own music store offering, Amazon MP3, for several years. It has been well-received, in part due to its cheaper pricing compared to the Apple iTunes Music Store. But Amazon has wanted to broaden its reach, and it released the Amazon MP3 application for Android. This allowed you to purchase music and download directly to your Android phone. Today, Amazon announced completely new capabilities in the Amazon MP3 application, and much more.
Amazon Cloud Drive
First up is Amazon Cloud Drive, a service which allows you to store files online. 5GB of storage is available for free, and if you purchase an album on Amazon MP3 before the end of the year, you will be upgraded to 20GB of storage for one year. (If you choose to not renew, you will be reverted back to your free 5GB plan.) This applies to any files you want to store on Amazon Cloud Drive, not just music. Amazon also wisely does not include any Amazon MP3 purchases as part of your storage quota. Access to your files is always encrypted via SSL, which is a nice touch.
Uploading files to Amazon Cloud Drive is done via the web. Log into your account and use the Flash-based uploader to upload files. Upgrading to more storage is very reasonably priced:
You can download your files to your computer from any web browser. Unlike Dropbox, however, there is not currently any automatic sync capability to your local computers.
Amazon Cloud Player
Amazon Cloud Player is a web-based music player and an Android application, Amazon MP3, is available as well. When you purchase songs on Amazon's MP3 store online, you are given the option to save to your local computer (as you always have) or to directly save to Amazon Cloud Drive. If you want to upload your own music to access via Cloud Player, you can download the Adobe Air based Amazon MP3 Uploader application. Once your music is available in your Amazon Cloud Drive account, you can then access your music on the web or via your Android phone. Unfortunately, your previous Amazon MP3 purchases are not automatically transferred to this service; you need to upload them yourself from your computer.
One interesting aspect of the Android application is that it streams music at it's original quality / bit rate. So while music is not downsampled by transcoding to a lower bit rate (you get your original sound quality), it also means that you chew through your bandwidth fairly quickly. Luckily, there is an option to download your music to your Android phone directly.
The Android application also includes a widget and can play not only music stored on your Cloud Drive, but any locally stored content as well.

(Amazon Cloud Drive, Cloud Player Web, and Amazon MP3, via Amazon)