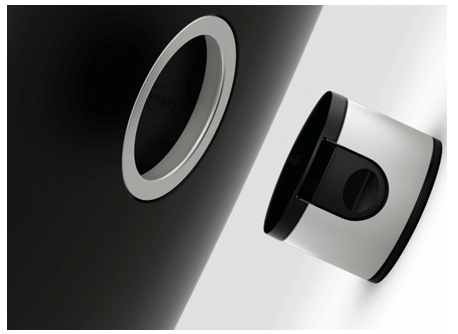 We've seen a lot of cases for the iPad and Galaxy Tab. We've seen and reviewed numerous stand as well. We've looked at wall mounts and we have even taken a look at a few options for mounting the tablets in a car. Vogels' new Ringo System does something we have only seen once or twice before and it does it with a flexibility and level of aesthetics that are truly impressive.
The Ringo Mounting System is a case, a stand, a wall mount, a car mount and more! Even better still, it works with a variety of tablets with more to come.
The first picture shows the reason the Ringo System has its name. This picture shows the upcoming case for the iPad 2. That's the key to this accessory series is that different devices get difference cases, but the mounting options are universal within the system.
Once the case is on and the wall mount is in place, you're good to go with any number of devices.
Similarly, you can buy the headrest mount and use it to entertain the kids.
Or there is this flex mount accessory. It works well on any horizontal surface and then folds into itself when not being used.
And as noted previous, the system works with the original iPad.
It works with the Samsung Galaxy Tab.
And a case for the iPad 2 is on the way, so it will work with the newest iPad as well.
Since the company has already rolled out three different tablet cases there is little question we will see the system extended to more devices in the future.
That's really the key to this system. In addition to the excellent aesthetics of it and the variety of use scenarios this is a system you can buy once and then simply update the case accessory when you get something new.
As the release notes:
RingO for iPad 2 and other tablets will be available internationally in late April from major retailers and Apple Premium Resellers, priced at: $69.99 for the Starter Pack and $99.99 for the Car Pack. For more information, click here.
Inexpensive? No but for something that will outlast your current tablet and then some it is likely a good investment in getting the most from your tablet/s. Details, pricing and ordering information are available here.
We have review samples on the way so we'll have more to say shortly.
The full release follows.
VOGELS ANNOUNCES RINGO MOUNTING SYSTEM FOR IPAD 2, GALAXY TAB & OTHER POPULAR TABLETS

RingOs Modular Design Lets You Quickly Mount Your iPad 2
Onto Any Surface: Wall, Car, Tile, Boat, & More

March 28, 2011, Eindhoven, Netherlands Vogels® www.vogels.com www.ipadonthewall.com/usa, the European market leader in Audio/Video & TV mounting solutions, announced today the world-wide launch of the new patented RingO® universal tablet mounting system for iPad 2, iPad, and Galaxy Tab, with new versions for additional tablets available at a later date. The RingO system allows users to mount their tablet onto virtually any surface: wall, car, tile, boat, to enjoy watching movies, reading the latest news, or using any app, hands free.

Snap On & Off to Quickly Move iPad 2 from One Location to Next

RingO's key feature is its simplicity is its modular design lets users quickly snap the RingO Cover onto a tablet, which then can be clicked securely onto a variety of RingO mounts: Wall Mount, Car Mount, Flexible Mount and others. Just quickly squeeze the mount clips to release the iPad from the mount, click quickly onto the next Mount, and your tablet is ready to use wherever it's needed.

RingO to Support a Range of Major Tablets

Introduced in Europe at IFA in Berlin on September 2010, under the name Mount & Cover, Vogels launched the mounting system for original iPad in the U.S. at Macworld Expo in San Francisco, January 2011, under the new RingO trademarked name, which better captures the essence of the circular mounting design. Albert Zeeman, VP Innovations at Vogels, said: "We simply needed a better name for our patented system. Mount & Cover was focused on the original iPad, while RingO will support a range of major tablets. It is our expectation that tablet and accessory manufacturers will be excited by the potential, and will seek to license RingO for incorporation into their products.

RingO for iPad 2 and other tablets will be available internationally in late April from major retailers and Apple Premium Resellers, priced at: $69.99 for the Starter Pack and $99.99 for the Car Pack. For more information, see www.ipadonthewall.com/usa, http://www.tabletonthewall.com/usa/ or www.vogels.com.

About Vogels

For over 35 years, award-winning Vogels has been internationally producing Audio/Video mounting solutions. The European market leader with a distribution network that spans the globe, Vogels is one of the most trusted and well-known experts in the mounting solutions business with many prestigious international awards, including the Red Dot Product Design Award, RetailVision Award 2010, and many more.

Vogels designs, develops and sells support and mounting solutions for LCD and plasma screens, audio and video equipment and projectors. In 2010, Vogels began expanding into new categories, such as gaming with TwistDock for the PlayStation 3 and accessories for the Apple iPad. Based in The Netherlands, Vogels has national sales organizations located in the U.S., U.K., Italy and Spain, and is supported by a local distribution network around the world.

Vogels stands for innovation, quality and reliability. For more information, see www.vogels.com.