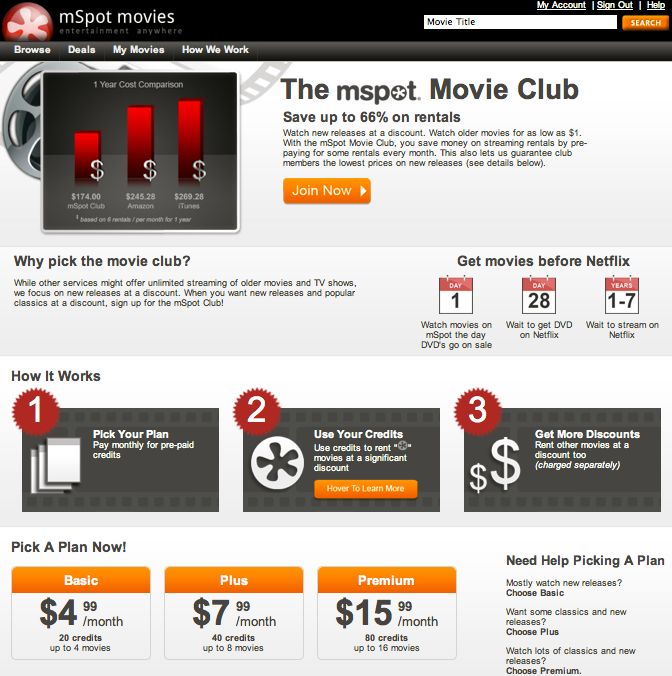 My family loves to watch the occasional movie, but with all of the stuff we have going on it is often hard to predict when the time will present itself. Sometimes we can stop by a RedBox, sometimes we depend on iTunes or Amazon Video On Demand. But more and more we find that the new releases don't come to RedBox for nearly a month, and cost $4 each for movies on iTunes or Amazon.
A couple of weeks ago, mSpot upped the ante in the cloud-streaming music locker battle by increasing their free storage level to 5GB, with the upgrade to 40GB costing just $3.99 per month (much lower than the $20 Amazon charges for their 20GB level). I wrote about the iPhone app when it launched, and have used it ever since – it has been constantly updated and they now have a universal app with great iPad coverage as well!
In the fall of 2009 Jason reviewed the initial release of mSpot Movies, which is something else that has seen tremendous growth in the last year and a half. My experience with it in the last few months looks nothing like the initial release Jason reviewed. mSpot is doing things right – taking great ideas and updating relentlessly.
Big Changes to the mSpot Movies Club!
But today mSpot is taking a huge leap in their offerings in Video On Demand – mSpotMovies. I had the chance to speak with mSpot CEO and co-founder Daren Tsui, and what they are offering truly looks like a 'best of all worlds' where you can get first-run movies to stream day of release, and pay less for older rentals … and you can join the club at all-new lower price points and get huge discounts on all of it!
Here is the press release:
Palo Alto, Calif. (April 15 2011)—Popular cloud entertainment provider mSpot, Inc., today announced new pricing for the mSpot Movies Club. *Industry-wide pricing for instantly streamed new releases is typically $3.99; mSpot Club Members can get many new releases for as low as $3.00 as part of their club membership.

"We're finding that many of our customers want to watch new release movies that are not yet available for streaming on Netflix," said mSpot CEO Daren Tsui. "We've always competed very well with our new release selection and we're excited to offer our customers more competitive pricing."

How does mSpot Movies Club work?
With the mSpot Movies Club, users save money on streaming rentals by purchasing pre-paid credits for a select number of rentals every month, based on their plan. Members can use credits to rent movies from a large selection of movies, including new releases.

New releases on mSpot Movies are available in the Video on Demand (VOD) window, the same day the DVD is available for purchase, which means people can often watch these movies 28 days before subscription services like Netflix via DVD, which can take a full 1-7 years before they are available for streaming instantly on subscription services.

mSpot® Movies Club Pricing:
· Basic: $4.99 per month offering 20 movie credits, or up to 4 movies
o For people who mostly watch new releases

· Plus: $7:99 per month offering 40 movie credits, or up to 8 movies
o The best choice for a combination of new releases and classics

· Premium: $15:99 per month offering 80 movie credits, or up to 16 movies
o The best choice for frequent movie watchers

All mSpot Movies can also be purchased a la carte, ranging from $1.99-$3.99.

How does it work?
People can sign up at www.mSpotMovies.com and instantly stream movies directly from their PC or Mac computers, and through the Web browser on most smartphones. mSpot Movies is also available as an app for both iPhone, iPad and Android devices. Movies started on one device can be finished on another: for example, start watching on your laptop and finish on your iPad, using the same user name and password.

mSpot was the first to stream movies to smartphones and feature phones, and now streams early release movies to the broadest number of smartphones and mobile devices in the industry, including: iPad, iPhone, Android, Blackberry, and over 50 handsets.
Because I regularly juggle between my Macbook Pro and Alienware, as well as my Android phone, iPod Touch and iPad … it is great for me that mSpot has optimized the apps to work seamlessly between devices. My music playback is effortless and a pleasure to use, and I expect nothing less from the new video streaming services.
Speaking with Daren I asked him about dealing with the studios, and he says that they are incented to work with folks like mSpot because there are loads of people like me who want a mix of new and old, but don't want to be paying too much and getting too little from services like Netflix. The studios are willing to support innovative systems like this that help them protect their property while helping customers see the films they want at a reasonable price. This also means that mSpot will tend to have the same movies available as iTunes or Amazon Streaming … but if you are a club member you will save money!
To clarify a few things:
* Not all movies from all studios are available 'in club'. Daren estimated about 40% of movies in their system are like this. For these, mSpot Movie Club members at ANY level get a significant discount (so the movie my family watched for $2.99 a couple of weekend ago would only cost $2 on mSpot).
* New releases will tend to fall outside the club system, but will also see the biggest benefit from the discount policy: the typical $3.99 new release price will be as low as $3 for Club Members!
* Daren assured me they want to do right by existing customers – the lowest tier of club members get a price drop, whereas the other two levels get twice as many movie credits. For the higher levels the credits will be deposited into their account. For the lowest level, he suggests you check with customer service to see about options but that they plan to take care of the customers who have stood by them!
How serious are they about taking care of customers?
Club member benefit: If you find a New Release † on mSpot that you can stream for less on Amazon or iTunes, let us know and we'll drop our club price (The lower price must be listed for at least 7 consecutive days). Also, check out our daily deals that usually match Amazon too! If for some reason we can't match a competitor's price, feel free to cancel your club membership at any time and spend your money elsewhere.
The folks at mSpot also gave me a movie credit to use with the new service, and after both kids have music competitions this weekend I am planning a 'magical' night so we can check out a new release on mSpot – then I'll follow up with a review!
For now, head to mSpotMovies.com and check it out!