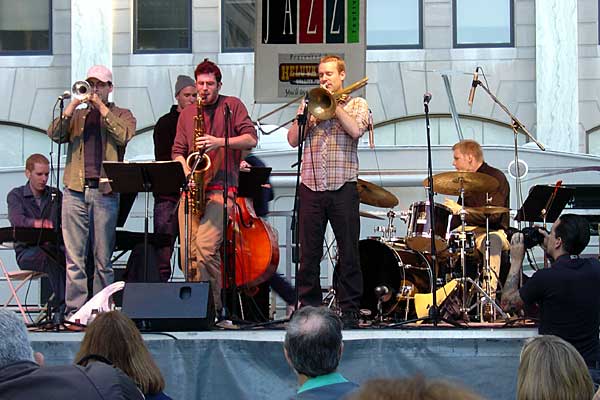 I wrote about their excellent recording Sirius Respect here, noting about their take on the music of Sun Ra and Karlheinz Stockhausen:
The alternating compositions are intended to draw comparisons and contrasts, but ends up being somewhat jarring at times as you never really settle into the flow of one composer. However, all of it is worth listening to, particularly the conclusion melding Stockhausen's Capricorn with Ra's Saturn. Gorgeous stuff … well, if you can get past the discordant harmonies and rhythms. Very ambitious stuff, not always successful, but well worth rewarding with numerous listens.
Today I got a note that the band is doing a live recording :
Dear friends,

Join us this Tuesday for a special event: a live Respect Sextet recording at the Greenwich House Music School. We enjoyed the sound and feel of their hall so much when we played there in October that we asked to come back document some of our recent original compositionals. And they said yes!
Please come! You will be drunk on free wine*, if you so choose! And your applause will be on (our) record!

Date: Tuesday, April 19th
Time: Sets at 7pm and 8:30pm
Cost: Your donation. $10 suggested for one set; $15 for both. All proceeds go to the recording.
Where: Greenwich House Music School
46 Barrow Street (between Bedford St. & 7th Ave. S), NYC
Map: http://goo.gl/qlrHc

*For real, there will be complimentary refreshments, while supplies last.

Check out the New York Times review of our previous show at Greenwich House, here:

http://www.nytimes.com/2010/10/26/arts/music/26sextet.html

Hope to see you there!

Eli Asher, trumpet
Josh Rutner, reeds
James Hirschfeld, trombone and Jamespectronics
Red Wierenga, piano and Redspectronics
Malcolm Kirby Jr., bass
Ted Poor, drums
Phil Weinrobe, recording engineer
—————————————

http://www.respectsextet.com/

http://www.facebook.com/pages/The-Respect-Sextet/36993278838

http://www.twitter.com/respectsextet
You can see the full details on their Facebook page. If you are in the area I highly suggest it – this is a fresh, energetic and innovative ensemble that is always full of great music and surprises!