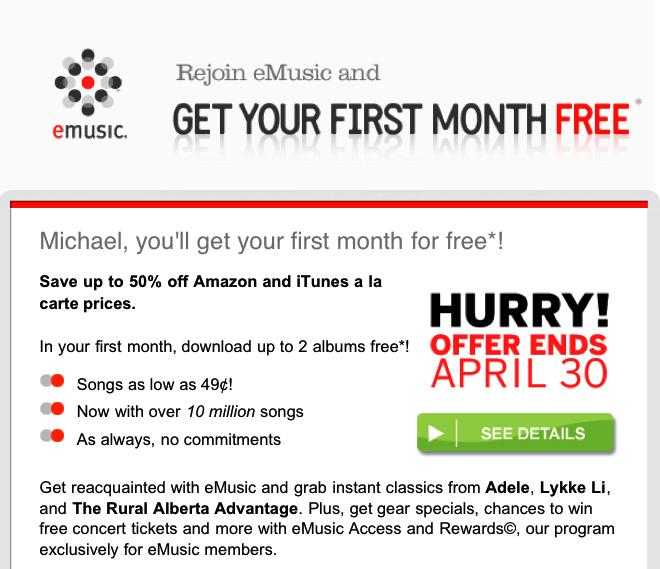 I have already written quite a bit about eMusic and their struggles – and my various memberships with them over the years. After my review, I stayed on a couple of months … then canceled.
About a month later I got an email which said "Come back and get your first month for $0.99″! I thought – $12 in music credits for the cost of a single song elsewhere? Sure – can't beat THAT! So I re-joined, grabbed two albums (Pursuit of Radical Rhapsody by Al DiMeola and Electric Fruit by Mary Halvorson) and immediately canceled again.
But last week I got yet another email, the one pictured above: rejoin and get the first month FREE! Well, apparently I spoke too soon in saying "can't beat THAT". So I once again rejoined, grabbed Billy Bang's Vietnam: Recollections, and am waiting for some new releases this week to grab something else before canceling once again.
Do I feel bad that I am taking advantage of these offers and 'gaming the system'? Not really – though if they are smart they will look at the amount I have paid over the last several years compared to the amount of music I have gotten and realize I am a bad investment!
Oh – one other thing. If this is supposed to be a personal offer (as having my first name at the top would suggest), couldn't they at least have pulled artists from a genre I buy from? Of everything I have gotten there at least 95% would qualify as Jazz, so sticking in a few names I might care about would seem to have more appeal.
What about you – have you checked out eMusic since my review? What did you think? If you have signed up – did you stay on or cancel? If you canceled – have you started getting desperation emails?
My bottom line – I think eMusic's days are numbered – the value simply isn't there due to the size of the library, and many are getting their music on subscription from Rdio or MOG now instead. I haven't seen numbers but doubt they are adding many new subscribers … and these desperation offers seem to confirm that.