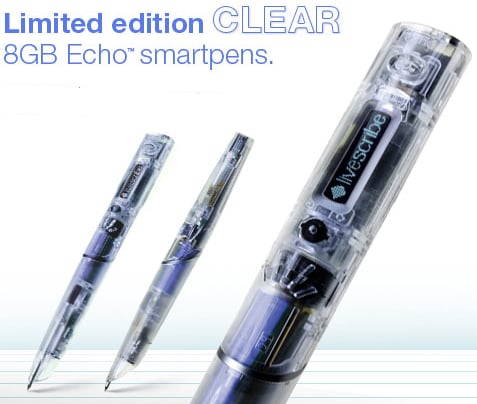 For quite some time I collected fountain pens. I gathered, and still have, a nice collection. There were, at the time, two types of pens that were particularly interesting. One was the "Flighter" style pen that was made in shiny silver and the other was the "Demonstrator' that had a clear, rather than an opaque colored body so that you could see the internal mechanism.
Well Livescribe has just announced that they are going old-school with the thoroughly modern Echo smartpen. I've been anticipating this release ever since I was told about it back in January and now it has arrived. The Limited Edition CLEAR 8GB Echo costs $199.95 and looks fantastic. What's even more surprising to me is that this Limited Edition pen is the same price as the standard 8GB Echo.
I love my Livescribe Echo and use it pretty much every day. This new version has everything I love about the Echo and it looks awesome. Details and buying information can be found here.