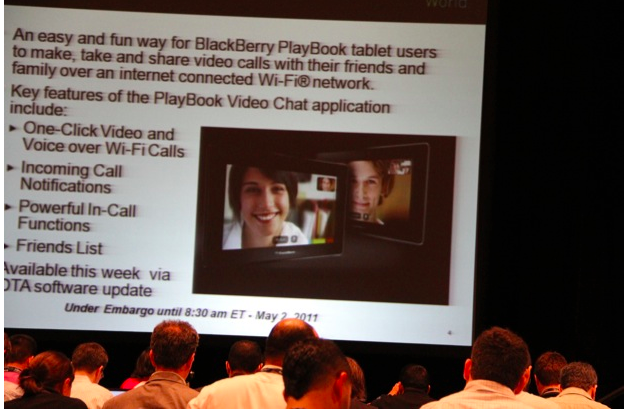 Image Via MobileCrunch
I've had a BlackBerry Playbook for a couple of weeks now. I really like the device but have to concur with the many reports that it is, sadly, unfinished. The hardware is great. The OS is smooth. The cameras take FANTASTIC pictures and video. And I can actually use it to write a blog more easily than ON ANY OTHER MOBILE DEVICE I HAVE TRIED. But the device is unfinished. Yes, RIM, the company that built its reputation on email, shipped a device that didn't natively do email (more on that later this week) and they released something with so few apps that it has not yet shown its practical side; at least to me. Thankfully some key apps and functionality are finally coming out.
Word from TechCrunch is that video chat will be arriving tomorrow morning as an OTA update. The app will make use of the front and back cameras AND support VOIP and video calls. RIM has yet to totally get it together since, as the post reports, "The app features "powerful in-call functions" like – and I'm not making thus up – "mute/unmute."" Oh RIM…
A Facebook app has also been announced but a quick check on my Playbook shows no sign of it… Yet.
Via MobileCrunch