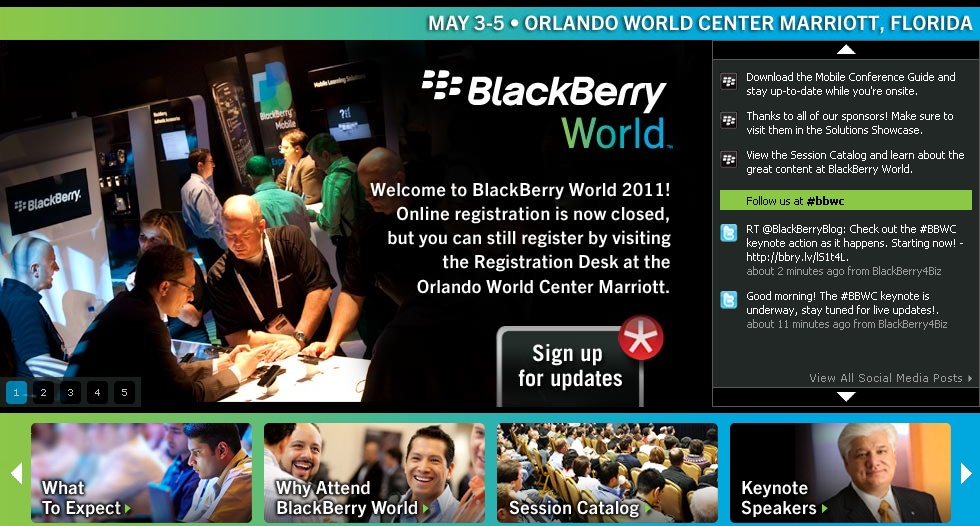 Image courtesy of Blackberry
Recently at Blackberry World Conference 2011, RIM made some announcements on a few new devices, apps, OS 7, and most notably the new Multi Platform Blackberry Enterprise Server. Blackberry has been under some pressure in the past few years, mainly because they are losing market share daily to both mobile hardware and software competitors. Most of the recent phone offerings have not quite set the world on fire, and the OS leaves much to be desired. As most of the smartphones sold now offer all the things that once made Blackberry great, I feel like RIM has been left behind with their mediocre hardware and all but non-existent app store.
We have been following some of the coverage down at the BWC in Orlando, and personally I'd like to see some healthy competition from RIM come out of it. Here are a few notable things that may give them a little bit of the edge back.
Image courtesy of InfoChatNews
Back in the day if you wanted a company phone with Exchange and Calendar support, nine times out of ten you were getting a Blackberry. These days the tables have turned slightly for RIM, and a good portion of the market share has shifted to Apple, Windows Mobile, and in some cases Android. All platforms now offer most types of security policy, remote wipe, encryption, and remote management of apps and OS functionality. As anyone involved in corporate IT can tell you that even with some of its shortcomings, BES is an essential tool to help manage, maintain, and operate corporate Blackberry support. This new server encompasses most other Smartphone and tablet platforms including IOS and Android by using the newly acquired technology of Ubitexx. Blackberry Enterprise Server and Enterprise Server Express will allow mobile enterprise administrators to manage all platforms from a single centralized console. That's good news for us in the industry, and it's great news for those who choose not to use a Blackberry device. Although most functionality is supported currently, there is no management console for other OS providers that will allow all these features conveniently rolled up into a single piece of management software.
"The multi-platform BlackBerry Enterprise Solution is designed to address a growing market and respond to requests from enterprise customers who want a secure multi-platform device management solution from a company that already delivers the gold standard for enterprise mobility," said Peter Devenyi, Vice President, Communications Platform Group at Research In Motion. "We recognize the opportunity to continue leading in the enterprise market by providing customers with a common platform to help simplify the management of a variety of mobile devices."
Some of the features gathered from the Press Release include:
Over the Air updates
device activation
app and software pushing
remote wipe and locking
remote password resets
setting and managing policy
fully web-based console.
I'm not sure how long it will take this new version of BES to hit the market or to what it will take to upgrade, but I am pretty excited to see the results. I have yet to see another piece of software promise what the new BES does. Hopefully it will open up more enterprise corporations to allow devices other than Blackberry's where usually they would not. Product preview information is available by clicking this link.
Image courtesy of Blackberry
Also announced during the show are the two latest hardware variants from Research in Motion. The Blackberry Bold 9900 and 9930 are the most recent offerings, and they are claimed to be the thinnest (10.5mm) yet most power touchscreen Blackberry's yet. The new phones have a brilliant 287 dpi capacitive touchscreen, the new Blackberry 7 OS, and a brushed stainless steel exterior.
For the past couple years I have felt that Blackberry has not caught up to the rest of the industry Superphones. These just may be the breakout phones that Blackberry needs to reclaim some of that lost marketplace. A new design, new OS, and new touchscreen are bound to make people at least take a look before they drop their hard-earned money on something new. It's been too long for RIM to be lagging behind in the hardware department, these new models are well overdue and quite welcome. Here are some of the features of the new Blackberry Bold series.
liquid graphics touchscreen
Blackberry OS 7
4G/HSPA+
1.2GHz processor
Near Field Communications
HD Video Recording (720p) / 5MP Camera
8GB onboard memory
GPS
WiFi A/G/N
Via Research in Motion (Blackberry World Conference)