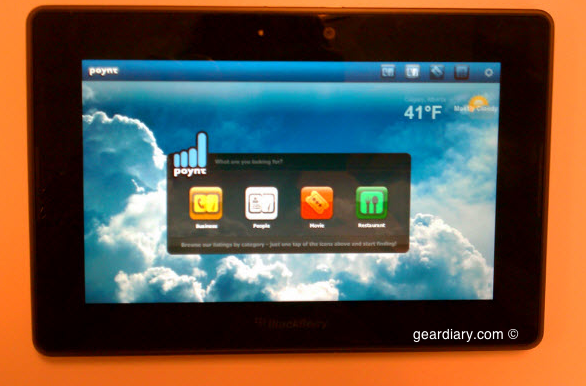 One of the applications I love — not only on the BlackBerry, but on iOS, Android, webOS and Windows Phone 7 — is Poynt.   It is my favorite do-all location-based search utility.   I'm fortunate to get to test different phones and tablets, and Poynt is one of those apps I always load up when I am taking a device out for a test drive.   That's why when I started using a PlayBook recently, I was very pleased that the app was already optimized for the BlackBerry tablet's QNX operating system.
Whether you're looking for the cheapest gas prices (and these days, who isn't??), trying to find a new restaurant close by, or just trying find out which movies are playing near your location, Poynt does it all.  Let's take a peek at Poynt on the BlackBerry PlayBook.
The development team has really optimized the experience for Poynt on the PlayBook.  The app looks great and responds fast on the BlackBerry tablet.     You can tell this isn't just a 'phone version' of the app enlarged for a tablet. Whether Poynt is providing maps to the location or taking advantage of the PlayBook's media capabilities to let you view an HD movie trailer you really get a beautiful — and immensely useful — application (for free!).
I really hope the PlayBook gets a solid (and larger) catalogue of applications.   If I had any gripe about Poynt on the PlayBook tablet at all, it is that I wish RIM would pre-load the app on every device.  It is that good, and it is the perfect example of RIM's 'super app' strategy — applications that take advantage of the BlackBerry/PlayBook inherent features (like calendar, contacts … you know, those little items missing in the PlayBook at launch ;).  Once RIM adds their PIM features in to the tablet in a future software update, I suspect Poynt will really cook and be able to hook into even more functionality on the tablet.
Be sure to view the gallery for an even better look at Poynt running on the PlayBook.  With 7 million users, the app certainly has more than a few fans.   I'm meeting with the Poynt team while at the BlackBerry World Conference, and I look forward to finding out what other great features are in store.
Don't forget, Poynt is available for iOS, Android, Windows Phone 7, and BlackBerry phones in addition to the PlayBook. Did I mention that it's FREE?!
Download Poynt from http://m.poynt.com or from your phone/tablet's application store.