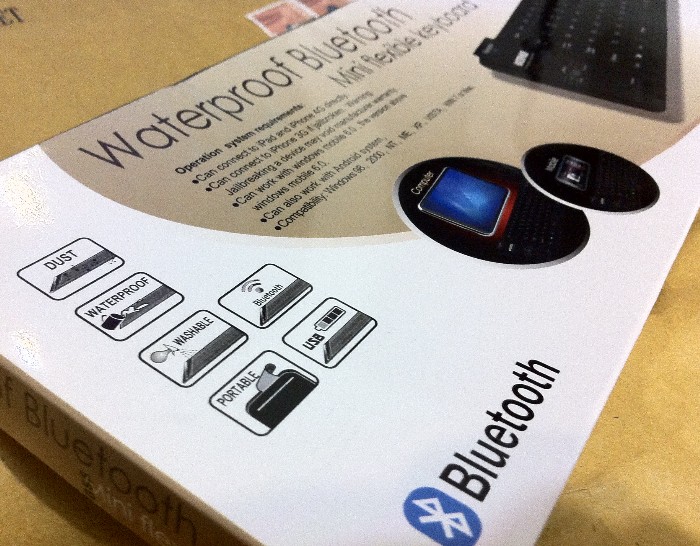 In my angst over not being yet able to go see the big hit Fast Five, I took out a little aggression while testing a new wireless keyboard I received from USBfever.com.
Seems when they announced this item a certain multi-syllabic word caught my attention – waterproof.
Just days before seeing word of the new keyboard, I had almost destroyed my wireless keyboard that came with my iMac. In a split-second I knocked my coffee tumbler over enough to spill a few sips worth onto the keys. Arggghhh.
Alas, the keyboard was not damaged, but for my early morning time spent in front of the computer perhaps I needed to find something a little more "David-proof."
Bingo. Thomas shipped me USBfever's new Waterproof Bluetooth Mini Flexible Keyboard. I queried if this meant "coffee-proof" as well, and he said I would just have to find that out myself.
So back to this morning. I staged a workspace near the front porch close to the garden hose. My well-worn coffee tumbler at the ready filled to the brim with steaming black java.
I fired off a few quick frames of the liquid black gold pouring over the helpless keyboard. This was followed with shooting some shots of me rinsing off with the garden hose set to about a 30-degree nozzle pattern.
Now I wait as the keyboard sits in the drying rack next to some Tupperware and a couple of our favorite wine glasses. (Play the "Jeopardy" theme song in your head while we wait.)
Dim the background music while I take this opportunity to tell you a little more about the new keyboard.
The package boasts that this unit is not only waterproof but dustproof (and I suppose this would include chip- and cookie-crumb-proof as well), washable and portable.
It can connect to the iPad and iPhone 4G directly and states it can even connect to jailbroken 3G phones but includes a warning that jailbreaking your device may void the warranty.
I use the keyboard with my Mac OS but it will also work with almost all of the Windows systems as well as Android devices and Windows Mobile 6.0.
The packaging contains a dongle should you not already have Bluetooth capability in your computer (Fred Flinstone), a mini-disc with the software drivers and a bonus item of a retractable USB cable that is needed only to recharge the battery in the keyboard itself.
Moment of truth. Switch it on, hit the connect button and voilà. (From here on out I am using the "drowned" keyboard.) Wireless keyboarding that can be done no matter rain or shine. Perfect for traveling.
MSRP: $47.99 at USBfever.com
What I Like: Coffee-proof! Also flexible and easy to use.
What Needs Improvement: Smaller keyboard spacing than I am used to on my laptop and iMac keyboard.
Mini Wireless Bluetooth Waterproof Keyboard
Product Code#:UFAA002209

(From the product page at USBFever.com):
Features:
- The ruggedized flexible keyboard is made of high quality silicone which can withstand all kinds of use. The silicone material offers practicality, durability, comfort and flexibility.
- You can clean the keyboard with soap and water.
- Resistant to any dirt, even coffee or tea.
- This silicone keyboard is so flexible that you can roll it up and can bring it everywhere. It is perfect for travel, school or any other work environment due to its lightweight, ultra-slim and compact design.
Compatibility:
- Microsoft Windows 98, 2000, NT, Me, XP, VISTA, Win 7
- Android Phones
- Mac
- iPhone 4, iPad, iPad 2
Package Contents:
- Mini Wireless Bluetooth Waterproof Keyboard x 1
- USB Bluetooth Dongle x 1
- USB Charging Cable x 1
Packaging: 
- Box