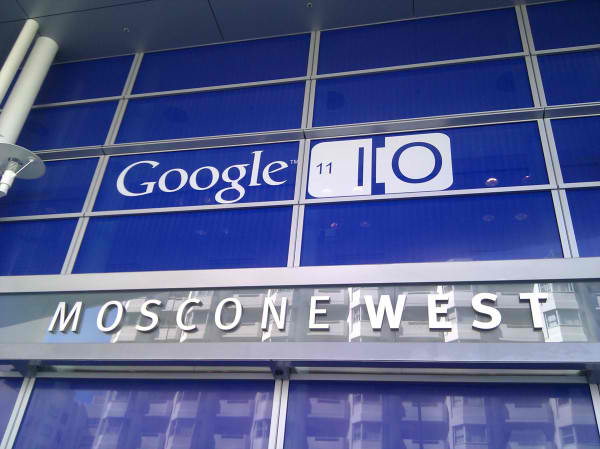 9:55AM PST: That's it! We are done for today's keynote! Stay tuned for tomorrow's keynote though.

9:52AM PST: Google's showing the Galaxy Tab 10.1 Limited Edition. 1GHz dual-core CPU, 32GB onboard, 1GB of RAM, and Android 3.0. It's launching in a month, and everyone here at Google I/O 2011 is getting one!
9:47AM PST: Project Tungsten is being introduced by Google. Music Beta by Google is used to demo with this project.
9:43AM PST: Android at Home is the new vision, making your Android device the "center" of your life. Discover, connect and communication with devices in the home.
9:41AM PST: Whoa, some seriously crazy stuff going down in the demo. A physical Labyrinth board is being controlled by a Xoom over USB. We'd love if the cords were cut from day one, but we'll take the progress.
9:38AM PST: CardioQuest app is being shown off, with an exercise bike being able to recognize that it's there. From there, the API has the bike control the game that's shown on the phone.
9:36AM PST: Android Open Accessory announced!
9:32AM PST: Launching in beta today, it will be rolling out in stages. Initially available via invites to US users and everyone here at Google I/O 2011 is getting an invite!
9:31AM PST: The same Make Available Offline feature that was shown for Movies is here as well. A phone demo showing it off on Froyo demonstrates a more compact UI, designed to handle smaller (smartphone) screens.
9:27AM PST: There's a web interface and all the features are there. Playback is instant here in the demo.
9:25AM PST: Here comes Google Music! Paul Joyce is out to unveil (officially, anyway) Music Beta by Google.
9:23AM PST: He's talking situations where cloud access is unavailable. A new feature called "Pinning" can be automatically downloaded in the background, so user can view it when there're in a situation where Internet is unavailable.
9:21AM PST: Android Market now includes movies and it has its own portal.
9:20AM PST: Chris from the Android Cloud Services Team is on stage to talk about Google Movies, which will be coming to Android devices today!
9:14AM PST: Android Ice Cream revealed with official logo!
9:12AM PST: With Android 3.1, devices can now be used as hosts. Import photos directly from your digital camera to your tablet, and a "ridiculous" amount of USB devices are now supported, including game controllers! An Xbox 360 gamepad is being used in a game demo with an Android app.
9:12AM PST: Mike Cleron from the Android Engineering Team is talking up some of the new features with the new Android 3.1. The scrolling Gmail widget is being used as an example; widgets are now customizable in terms of horizontal or vertical stretching.
9:09AM PST: Verizon Xoom customers will be getting their Android 3.1 OTA today!
9:08AM PST: Google revealed Android 3.1!
9:09AM PST: Google's seen 4.5 billion app installs to date. In fact, it only took 60 days to see the last billion downloaded.
9:05AM PST: Whoa, a leap from 500,000 activations to 100 million activations in 2011.
9:04AM PST: Here comes Hugo Barra, Product Management Director for Android, to officially kick the keynote off.
9:03AM PST: Google's talking up just how connected this year's Google I/O is, with 122 viewing parties (at last count) around the world. Things just got real crowded in here.
9:01AM PST: Vic Gundotra just waltzed on stage, pretty proud that the company's holding its fourth Google I/O conference. The crowd seems even more proud.
9:00AM PST: We are now live.

8:41AM PST: Stay tuned as we are preparing ourselves for the keynote in 19 minutes.