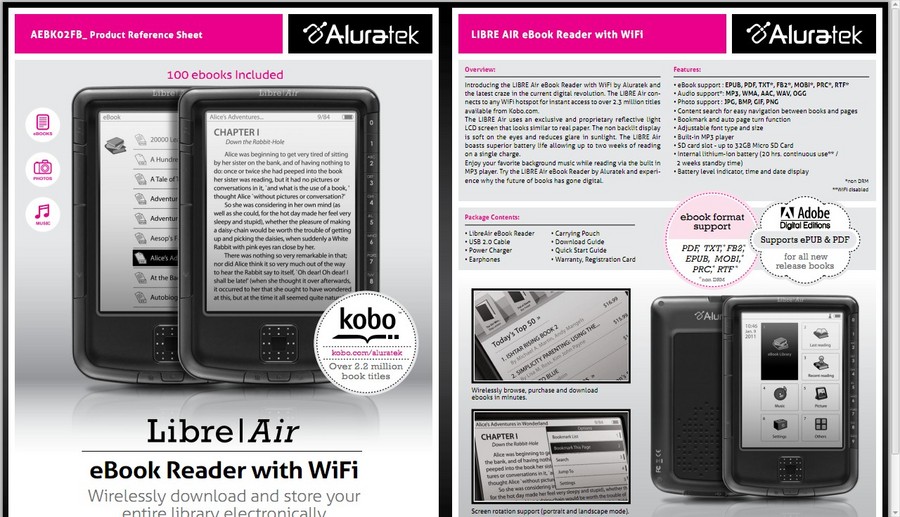 The rise of tablets and smartphones has thrown the market for non-mainstream traditional eBook readers in some jeopardy. There's a market for them, but the number of people rushing out to buy an eBook reader that doesn't have WiFi or other perks is dubious at best. So I'm not at all surprised to see that Aluratek, makers of the Libre brand of eBook readers, have debuted two new wireless eBook readers.
One of them, the Libre Air, is an update of the Libre I reviewed last year, with a redesigned D-Pad and the addition of WiFi. It's a bit pricey at $119, but the saving grace on pricing is that it uses ePaper, not eInk. If you want a black and white, eInk-like experience without the low refresh rate of eInk, this is the way to go. Is it worth paying almost as much as a WiFi Kindle or NOOK? Well, the Libre Air can read books with Adobe DRM, so you can read library books and Kobo books through it, so there's certainly plenty of content available.
If color's more your thing, Aluratek also has the Libre Touch, a color eBook reader. The press release isn't clear, but it sure looks like the default Android keyboard is pictured! Even if it's not Android, it's a full touchscreen with a web browser and WiFi, along with the same format options as the Libre Air. This one at $149 is a tougher one to justify. There are tons of full-blown Android tablets in the $150 price range, though admittedly some of them are pretty low-end in terms of quality. Still, for another $100 you can pick up a NOOKcolor, or if you are willing to sacrifice screen size an iPod Touch, so the Libre Touch has some stiff competition.
What's your take on these new devices? Either of them catch your eye? Check out the full press release and then let us know in the comments!
[showhide]
Aluratek Announces Availability of Wi-Fi Enabled Libre Air
and Libre Touch E-Readers

Libre Air and Libre Touch e-book readers allow wireless downloading and come pre-loaded with 100 free eBooks

(Tustin, CA – May 17, 2011) – Aluratek, Inc. (www.Aluratek.com), a leading creator of sophisticated, yet user-friendly computer peripherals and consumer electronic devices, is "cutting the cord" with the addition of two new Wi-Fi enabled e-book readers to the Libre lineup – the Libre Air and the Libre Touch. Available now, both the Air and the Touch provide 100 free eBooks and boast superior battery life, MP3 and photo support.

"Aluratek has experienced tremendous success with the Libre Pro and Libre Color e-readers but it is now time to deliver two new truly mobile solutions to the consumer," said John Wolikow, President and CEO for Aluratek. "Our new Wi-Fi enabled e-readers provide instant access to millions of titles wherever there is a wireless Internet connection, freeing yourself from your computer.

The Libre Air features a 5" reflective light LCD screen that looks like real paper. This "e-paper" technology eliminates flickering during page turns, as experienced with most e-readers. The absence of a backlight makes it soft on the eyes, removes glare in direct sunlight and also increases battery life. Weighing only six ounces, the Libre Air can hold up to 50,000 books with the expanded micro SD card slot.

The Libre Touch boasts a 7" color Touch Screen LCD display for maximum clarity when reading, viewing photos, videos or checking email. Other features of the Libre Touch include a 16GB Micro SD card slot, bookmarking, an auto page turn function and screen rotation support. The Libre Touch also offers a full Web browsing experience to keep you connected with your favorite social media sites. For videos, the Libre Touch supports: MPEG-1, MPEG-2, MPEG 4(Xvid), Divx, H.263, H.264, RM/RMVB, WMV7/8/9, MKV, MOV, VOB, FLV.

In addition to the included one hundred classic titles, the Libre Air and Libre Touch work with many local library e-book programs for access to free books. Adobe Digital Editions software can be used to purchase, download, view and manage e-books. ePUB and PDF support is featured for all newly-released books. E-book support includes: EPUB, PDF, TXT*, FB2*, MOBI*, PRC*, RTF* (*non DRM).

Both the Libre Air and the Libre Touch feature built-in Wi-Fi for wirelessly downloading e-books, as well as MP3 playback for background music or audio books. Audio formats supported are MP3, WMA, AAC, WAV and OGG.

PDF support displays documents for easy reading and navigation and each reader is adjustable so the font can be increased to each user's preference. For photo viewing, JPG, BMP, GIF and PNG formats are supported.

The Libre Air has an MSRP of $119 while the Libre Touch is available for $149. Both are currently available for purchase atwww.Aluratek.com. For more information about the new additions to the Libre lineup, or any of Aluratek's other innovative products, please visit www.aluratek.com.


About Aluratek, Inc.
Aluratek was formed by a group of industry veterans who believed that computer peripherals and consumer electronic devices could be both sophisticated in their function and user-friendly in their usage. The goal of Aluratek is to embody "Simple Elegance" in every product it designs, manufactures and sells. The product focus of Aluratek is to bring simple yet elegant connectivity solutions to the consumers to enhance their consumer electronics, communications and computing experience. Each product is carefully designed with the consumer in mind. Each product is solution-driven to address the need of the consumers and deliberately planned to provide the ultimate user experience. Current Aluratek product offerings include the following: Digital Photo Frames, Digital Camcorders, eBooks, Internet Radio, and external storage devices. For more information, please visit www.aluratek.com.
[/showhide]