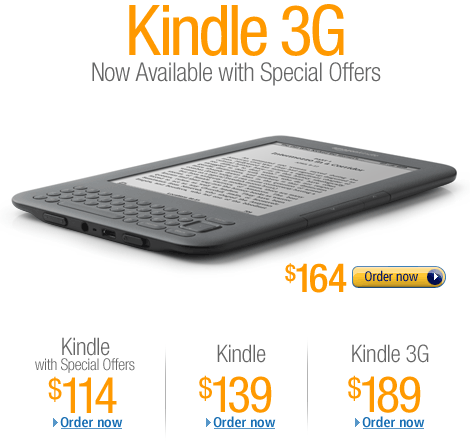 Apparently Amazon was NOT going to let the day go without some sort of ebook reader announcement. Not surprising, since both Kobo and B&N unleashed big hardware updates that made the Kindle 3 look, well, kind of boring. Since even Amazon can't release a hardware refresh on a 6 hour turnaround, they've done the next best thing: sliced the price of the Kindle 3G!
Yes, on the heels of the popularity of the Kindle Wifi with special offers comes a Kindle 3G with special offers! This one drops the price $25 from $189 to $164, with the same ad offers, etc. Amazon was very quick to point out this is the cheapest 3G ebook reader available, and while that's true it's also the LAST 3G ebook reader standing. Since B&N killed their 3G with the new NOOK, and Sony's is basically DOA, the Kindle is left as the only one still offering free 3G, which is a nice selling point for Amazon.
Of course, a nicer selling point would be if they sliced it by more than $25. I seriously expected to see the Kindle hit below $99 after this morning's announcements, so $25 and a few ads seems sort of cheap. On the other hand, Amazon's hardware costs may be higher than suspected, and the margins just aren't there to support a lower price. However, Gear Diary's own Dan was far more blunt about it:
"$25 seriously? If amazon really wanted to make a slash they would do more than a measly $25 off in exchange for adding ads to your kindle. Seriously, can you imagine what would happen if amazon knocked $50 or $75 off??? Now that would be something!"
Is this enough to take your finger off the "pre-order" button at B&N's site? Will you be taking Amazon up on their "special offers"? Add your thoughts after the press release!
[showhide]Introducing the Lowest Price 3G E-Reader – Kindle 3G with Special Offers for Only $164
Same features as latest-generation Kindle 3G – free 3G wireless, Pearl E Ink display, up to two months of battery life and more – plus sponsored screensavers and money-saving special offers
SEATTLE, May 24, 2011 (BUSINESS WIRE) –

(NASDAQ:AMZN)–Last month, Amazon.com introduced Kindle with Special Offers, a new member of the Kindle family that gives customers access to money-saving special offers. Just five weeks later, Kindle with Special Offers became the bestselling member of the Kindle family in the U.S. Today, Amazon announced that it is now making special offers available for Kindle 3G. Kindle 3G with Special Offers is available starting today for only $164 and ships immediately. At just $164, Kindle 3G with Special Offers is the lowest price of any 3G e-reader, and includes the latest Pearl electronic ink display. Learn more about the entire Kindle family, including the $114 Kindle with Special Offers and the new $164 Kindle 3G with Special Offers, at www.amazon.com/kindle3G.

"Kindle is the bestselling e-reader in the world. It's been just six weeks since we introduced the new $114 Kindle with Special Offers, and already customers have made it the bestselling member of the Kindle family," said Jay Marine, Director, Amazon Kindle. "In response to customer requests, we're now making these money-saving special offers available for Kindle 3G. You will get all the features readers love about Kindle 3G – free 3G wireless, global wireless access, Pearl electronic ink display that's easy to read even in bright sunlight, access to over 950,000 'Buy Once, Read Everywhere' Kindle books – all for just $164 – the lowest price for any 3G e-reader."

Special offers that will be available in the coming weeks include:

$10 for a $20 Amazon.com Gift Card – customers loved this offer, so we're making it available again in time for Father's Day
Save up to $500 off Amazon's already low prices on HDTVs with a unique 20% discount on 200 HDTVs from brands including Sony, Panasonic, LG, and VIZIO
$1 for a Kindle book, choose from thousands of books including Water for Elephants and the Hunger Gamestrilogy
Spend $10 on Kindle books and get a free $10 Amazon.com Gift Card

Kindle 3G with Special Offers includes all the same features that helped make the third-generation Kindle the #1 bestselling product in the history of Amazon.com:

Free 3G wireless , no annual contracts, no monthly fees
Global 3G coverage means books in under 60 seconds in over 100 countries and territories
Paper-like Pearl electronic ink display, no glare even in bright sunlight
Lightweight 8.7 ounce body for hours of comfortable reading with one hand
Up to two months of battery life with wireless off eliminates battery anxiety
Kindle Store with over 950,000 books – largest selection of the most popular books
Seamless integration with free "Buy Once, Read Everywhere" Kindle apps for Android, iPad, iPod touch, iPhone, PC, Mac, BlackBerry and Windows Phone

Kindle 3G with Special Offers is available for immediate shipment to customers in the U.S. atwww.amazon.com/kindle3G.

Learn more about the new Kindle 3G with Special Offers at www.amazon.com/aboutkindlespecialoffers. Advertisers and agencies interested in learning more about Kindle sponsorship opportunities can contact kindle-sponsorships@amazon.com.

About Amazon.com

Amazon.com, Inc. (NASDAQ: AMZN), a Fortune 500 company based in Seattle, opened on the World Wide Web in July 1995 and today offers Earth's Biggest Selection. Amazon.com, Inc. seeks to be Earth's most customer-centric company, where customers can find and discover anything they might want to buy online, and endeavors to offer its customers the lowest possible prices. Amazon.com and other sellers offer millions of unique new, refurbished and used items in categories such as Books; Movies, Music & Games; Digital Downloads; Electronics & Computers; Home & Garden; Toys, Kids & Baby; Grocery; Apparel, Shoes & Jewelry; Health & Beauty; Sports & Outdoors; and Tools, Auto & Industrial. Amazon Web Services provides Amazon's developer customers with access to in-the-cloud infrastructure services based on Amazon's own back-end technology platform, which developers can use to enable virtually any type of business. Kindle, Kindle 3G, Kindle with Special Offers and Kindle DX are the revolutionary portable readers that wirelessly download books, magazines, newspapers, blogs and personal documents to a crisp, high-resolution electronic ink display that looks and reads like real paper. Kindle 3G and Kindle DX utilize the same 3G wireless technology as advanced cell phones, so users never need to hunt for a Wi-Fi hotspot. Kindle is the #1 bestselling product across the millions of items sold on Amazon.

Amazon and its affiliates operate websites, including www.amazon.com, www.amazon.co.uk, www.amazon.de,www.amazon.co.jp, www.amazon.fr, www.amazon.ca, www.amazon.cn, and www.amazon.it. As used herein, "Amazon.com," "we," "our" and similar terms include Amazon.com, Inc., and its subsidiaries, unless the context indicates otherwise.

Forward-Looking Statements

This announcement contains forward-looking statements within the meaning of Section 27A of the Securities Act of 1933 and Section 21E of the Securities Exchange Act of 1934. Actual results may differ significantly from management's expectations. These forward-looking statements involve risks and uncertainties that include, among others, risks related to competition, management of growth, new products, services and technologies, potential fluctuations in operating results, international expansion, outcomes of legal proceedings and claims, fulfillment center optimization, seasonality, commercial agreements, acquisitions and strategic transactions, foreign exchange rates, system interruption, inventory, government regulation and taxation, payments and fraud. More information about factors that potentially could affect Amazon.com's financial results is included in Amazon.com's filings with the Securities and Exchange Commission, including its most recent Annual Report on Form 10-K and subsequent filings.[/showhide]