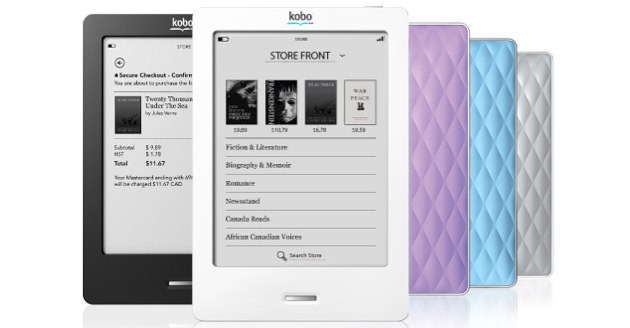 Poor Sony. Yet again they're ahead of the ebook reader curve, and left with nothing…they were putting touch based eInk screens on their devices over a year ago, but now that the Sony Reader line is outpriced and outmatched, everyone else is jumping on the touch bandwagon! The latest entrant is Kobo, with their "eReader Touch Edition", and it looks like a great device at an amazing price!
The eReader Touch looks like it takes with it the best part of Kobo's other devices, the soft, quilted style back, plus the touchscreen lets them include a keyboard! My big gripe with the Kobo WiFi edition was how difficult the d-pad/keyboard combo felt, so this is a big improvement! Plus it's packing a Pearl eInk screen, which means it's the same screen as the Kindle 3. If you haven't seen one and you're using an older ebook reader, I strongly suggest you check out a Pearl screen. The difference is huge, and it's great to see Kobo is using it.
Most importantly, the price is definitely right. The Kobo eReader Touch is $129.99, which is a fairly competitive price for a WiFi reader with a touchscreen. The nearest competition is the Aluratek Touch, which is $149.99 (and sports a color screen), and the Sony Reader Touch Edition, which clocks in at a whopping $229.99! Now, B&N has a big announcement tomorrow, and who knows if that will change things, but for now, I'd say this puts the Kobo eReader Touch in a very good place against the competition.
We're hoping to have a review soon, but in the meantime let us know in the comments how you feel about the new eReader Touch!
[showhide]
KOBO LAUNCHES THE ALL-NEW KOBO eREADER™ TOUCH EDITION, MAKES eREADING EASIER THAN EVER

Introduces an Amazing New Real Touch™ Experience

Beautiful New Design That Travels Easily Anywhere

The Ultimate in Reading Comfort

Access to Millions of Titles with Wi Fi

Plus, Reading Life Social Experience

First International eReader – Available in 6 Languages

Available for Pre-Order Today, In Stores for Father's Day, Summer Vacation Reading

BOOK EXPO AMERICA, NEW YORK – May 23, 2011 – Kobo, a global leader in eReading with more than 3.6 million users in over 100 countries worldwide, today announced the launch of the all-new Kobo eReader Touch Edition.  With a revolutionary new touch screen experience, Kobo makes eReading easier than ever and makes it even more accessible to people around the world.  Created for readers by readers, the beautiful new design provides the ultimate in reading comfort and is the most portable eReader – thin and light, it travels easily anywhere.  The new device also includes Reading Life, Kobo's social experience, that lets users earn awards just for reading.

Starting today, the new Kobo eReader Touch Edition will be available for pre-order at leading retailers across North America including Indigo (www.indigo.ca), Best Buy (www.bestbuy.ca), Walmart (www.walmart.ca) and Borders (www.borders.com) for an MSRP of $129.99 USD and $139 CAD.  The new eReader will ship in early June, in time for Father's Day and graduation gifting, and includes a $10 Gift Card*.  The new Kobo eReader Touch comes in an array of new colors and debuts with a line of stylish new accessories, making it the perfect gift.

As of today, the first generation Kobo Wi Fi goes to a new everyday low price of $99.99 USD and $109 CAD. Kobo pioneered the affordable eReader in May 2010, and now after record sales, the company is introducing its newest edition to deliver an experience that is easy and enjoyable for everyone, everywhere, now more portable and comfortable, and available in 6 languages – it's truly the first International eReader.

Kobo's Real Touch™ experience uses Neonode's new zForce™ infrared touch technology to make reading on Kobo just like that of reading a real book.  With the latest Pearl E Ink™ technology, reading on the new Kobo eReader is just like reading print on paper – it's easy on the eyes, even in bright sunlight.  The new eReader is powered by the new Freescale™ i.MX508 processor, a high-performance engine designed to enable fast page turning for electronic paper displays.   A reading lover's dream, the new device boasts storage of up to 30,000 books with expandable memory.

"The new Kobo eReader is a major advance for readers.  We started with a simple, yet powerful idea – to bring eReading to more people in more places, and inspire people around the world to spend more time reading.  At a time when technology is disrupting all media, Kobo's focus on the importance of reading has resulted in a revolutionary new experience for readers," said Michael Serbinis, CEO, Kobo Inc.  "This is the first eReader you can put in your pocket, take with you anywhere and read for hours just like a real book, with ultimate comfort and no distraction.  The new Kobo eReader is designed for people who love to read."

Named one of the powerhouses in eReading by Time.com¹ in 2011, Kobo has experienced explosive growth since its founding in December 2009, with a catalog of more than 2.3 million books, newspapers and magazines.  Purely focused on eReading, Kobo has driven many industry firsts such as support for Android, eBook gifting and its social experience – Reading Life. Kobo has customers in over 100 countries, local stores in English speaking countries and recently announced local stores in Germany, Spain, Italy, France and the Netherlands which will launch beginning this month.  Kobo has become the partner of choice for leading tablet OEM's such as Samsung and RIM, and powers book retailers in the US, Canada, Australia, New Zealand, Hong Kong and the UK.

Visit the Kobo booth (#2102) at BookExpo America (May 24–26) in the Digital Zone, to learn about the new Kobo eReader Touch Edition.  Plus, visit Borders-Manhattan (Columbus Circle) on Tuesday, May 24 from 12 noon – 2pm to see a demonstration of the Kobo eReader Touch Edition. Customerswho pre-order the Kobo eReader Touch will receive free priority shipping on their order. Readers can also purchase the Kobo Wireless eReader for the low price of $79.99 and receive a $10 Borders gift card with their purchase.  In addition, one customer will win a Kobo Wireless eReader during the demonstration event.

* While quantities last.

¹  Harry McCracken, 'Your Best eReader May Be No eReader,' Thursday, Jan. 20, 2011, Technologizer -Time.com

——————————————————————————————————————————————————–

Kobo eReader Touch Edition: Features Overview

AMAZING NEW REAL TOUCH™ EXPERIENCE – Now with new Infrared Touch Technology, eReading just got easier!  You can swipe to turn pages, just like a real book!  With our intuitive new Real Touch™ interface, you can highlight a phrase, lookup a word, zoom into an image, increase the font size, or quickly navigate through a book as well as your entire library.  Finding your next read is also quick and easy with a virtual keyboard.  We've taken the buttons out, so you can focus on reading.

New zForce™ Infrared touch technology – Uses Neonode's patented touch-screen technology, zForce™, to deliver market-leading finger navigation including gestures, multi-touch, sweeps and much more
New Pearl 6"  E Ink Screen – Equipped with the newest E Ink Screen featuring 16 level grey scale, the Kobo eReader Touch is a highly responsive and intuitive experience designed to help you forget about the device and focus on reading
High Performance Engine – Powered by Freescale™ i.MX508 for ultra fast page turning and low power consumption
Tap or Swipe to Turn Pages – Easily read and turn pages by swiping or tapping the screen – it's just like reading a real book
Beautiful Home Screen – A beautiful, geometric mosaic of your most recently opened and newly added reads lets you easily find and open what you're looking for with just one touch
Long Press for Highlights and Look Up – Long press on a word to bring up the highlighting tool – save favorite passages or look up a word using the built-in Merriam-Webster Dictionary
New Search and Virtual Keyboard – The Kobo eReader Touch Edition virtual keyboard makes it easy to find the book you're looking for. Plus, the new predictive search feature automatically offers suggestions that match your query – before you're even done typing
New Browse Experience – Navigating the new Kobo eReader Touch Edition is an intuitive experience – use the book browser to easily navigate through an entire chapter in a book; use simple page controls to move quickly through your library of books
Customizable Fonts – 2 font styles and 12 font sizes allows you to enjoy a read that is suited to your preferences and easy on your eyes
Bookmark Where You Last Left Off – or book mark several places. Plus, read across devices and pick up from the last page read with Kobo's synched bookmark technology
PDF Zoom and Landscape – Zoom in 200% on image-intensive PDFs with a simple double tap. Drag to pan around images or touch Rotate to change from portrait to landscape and back

BEAUTIFUL NEW DESIGN – With design partner IDEO, Kobo spent months listening to users to build a truly advanced reader that delivers a 'true to life' experience.  With the Kobo-signature soft quilted back and travel friendly size, the new Kobo eReader Touch offers the ultimate reading experience.

Iconic, Striking New Design – Now with latest 6" Pearl E Ink screen, Kobo's latest edition introduces a contemporary design that puts the focus on reading
Single Home Button -With our new touch experience, we've eliminated the clutter so you can focus on reading.  The Kobo eReader Touch Edition has just one button, making navigation easy.  Books don't have keyboards – neither should your eReader
The Ultimate in Reading Comfort – With our signature quilted soft-touch back, you can read for hours, plus the Kobo eReader Touch Edition is lightweight and thinner than most paperbacks
The Perfect Size for Readers – Fits in your pocket easily, so you can take it with you everywhere
Read in Style – Comes in an assortment of stylish new colors for any occasion. Choose from Lilac, Blue, Silver and Black

ACCESS MILLIONS of TITLES: Easily connect via Wi Fi or USB to access more than 2.3 million books, newspapers and magazines from the Kobo Store.  Also borrow and read books from your local library.

Get Free Book Previews – Comes pre-loaded with 15 hand-picked FREE previews of the hottest new books – browse and preview millions of other titles in the Kobo store
One of the Largest Stores Worldwide – More than 2.3 million eBooks, with titles ranging from the New York Times' bestseller list, the hottest new releases, thrillers, romance, Oprah's Picks and more – there is an eBook for everyone
Popular Newspapers and Magazines – Enjoy free 2-week trials of the most popular newspapers and magazines
Over 1 Million FREE Titles – Kobo offers over 1 million free and engaging classics from Anna Karenina, to Pride and Prejudice, to Dracula!
Visit Your Local Library – With the new Kobo eReader Touch you can easily borrow and read eBooks from your local public library
Supports the Most Content – In addition to reading eBooks from the Kobo bookstore, you can also read eBooks from other eBook stores that use the ePub format – plus read PDF documents, and books
Buy and Download in Minutes – With just a few quick taps, you can browse, buy and download eBooks to your Kobo eReader Touch over Wi Fi
Shop and Read on Any Device With Kobo: Visit kobo.com, use the Kobo Desktop or use an AndroidÔ phone, iPhoneÒ, iPadÒ, Blackberry® Smartphone or Blackberry® PlayBook to browse and shop the Kobo store.  Your library will always be kept up to date with Kobo Sync

EARN AWARDS JUST FOR READING:  Kobo extends Reading Life to the new Kobo eReader Touch Edition – Reading Life is the most comprehensive social eReading experience and an industry-first social platform.

Discover Your Reading Style – Gain insight into your unique eReading fingerprint with Reading Life Stats – you can track the minutes per reading session of your current read, the number of pages you've turned, plus see an overview of books completed in your library
Celebrate Reading with Awards – Earn fun and exciting awards!  Connect and share your Reading Life with friends on Facebook.  The Twain: read daily for 2 weeks; The Juggernaut: read over 10,000 pages; Kill the Commute:  read during your morning commute.  Coming soon – users can earn awards and rewards just for spending time reading!
Available for iPhone, iPad, iPod Touch and Android in addition to the Kobo eReader Touch

Love Reading Life? You can sync with your Android-enabled phone, iPhone, iPad or iPod Touch and experience your Reading Life across devices

THE FIRST INTERNATIONAL EREADER: To bring eReading to people around the world in their own language, the Kobo eReader Touch Edition will be available in multiple languages:  English, French, German, Spanish and Italian.  Readers will enjoy a localized user experience, local content, recommendations and a local store.

AVAILABILITY:

Available for pre-order starting today at leading retailers across North America including Indigo (www.indigo.ca), Best Buy (bestbuy.ca), Walmart (www.walmart.ca), and Borders (www.borders.com) for MSRP of $129.99 USD and $139 CAD
Available for in-store purchase beginning early June
As of today, the first generation Kobo Wi Fi goes to a new everyday low price of $99.99 USD and $109 CAD while quantities last
The Kobo eReader Touch Edition will ship to retailers worldwide in July

For more information, visit www.kobo.com/ereaders.

About Kobo, Inc.

Kobo is a global eReading service with more than 2.3 million eBooks, magazines and newspapers – one of the largest eReading catalogues in the world. Kobo believes consumers should have the freedom to read any book on any device and has attracted millions of readers from over 100 countries across the globe. Kobo has top ranked eReading applications for iPad, iPhone, BlackBerry, Android, Windows and MacOS, and is the eReading application of choice for leading tablets. The Kobo eReader is also available at leading retailers including Indigo, Walmart, Best Buy, Borders, WHSmith, Angus & Robertson's and Whitcoull's. Kobo's innovative Reading Life is an industry-first comprehensive social eReading experience – Kobo users can earn awards simply for time spent reading and encouraging others to read.  Kobo is backed by majority shareholder Indigo Books & Music Inc, Cheung Kong Holdings, and institutional investors. For more information, please visit www.Kobo.com
[/showhide]