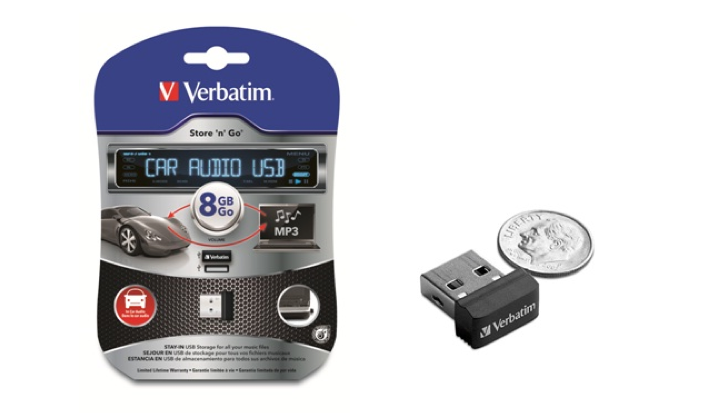 Kev gave me his "old" white iPod to use in my car, because its stereo has an integrated auxiliary jack. Every time I pull up at my destination, I have a routine of unplugging and storing the iPod so that would-be thieves won't see it as a reason to smash & grab. If my car had an integrated USB port in its stereo, then I would totally pick up a Verbatim Store 'n' Go Car Audio USB Drive. This little drive is so tiny that it should be virtually unnoticeable when someone is peeking in my lightly tinted windows.
And yes, you could load just about any other thumb-drive with music and use it with a USB-enabled stereo, but this drive won't stick out clumsily from the stereo's face, begging to be snapped off when you reach over and fumble blindly with the controls while driving in rush hour traffic. Not that any of us would ever do that.
The Store 'n' Go is not to be confused with the Store 'n' Stay, which is available in 4 ($19.40), 8 ($34) and 16GB ($62). I am not sure why there is a difference between the "Go" and the "Stay", but until someone tells me differently, I think I would be more tempted by the 16GB "Stay".
Available in 8GB, the Verbatim Store 'n' Go is priced at $29.99; you can find them in brick & mortar stores, but oddly enough they are not yet on the US Verbatim site.
[showhide]
Verbatim® Now Shipping the Store 'n' Go Car Audio USB Drive; the Perfect USB Drive for In-Dash Audio Players

Charlotte, NC, June 8, 2011 – With car audio players increasingly supporting USB ports, data storage technology leader Verbatim has just announced the retail availability of the Store 'n' Go Car Audio USB Drive, a tiny flash drive that is ideal for storing and listening to your favorite MP3 music while driving.  The dime-sized innovative USB drive is barely noticeable once inserted into a car audio system and can store up to 2,000 songs – more than enough for any road trip! The 8GB Verbatim Store 'n' Go Audio USB Drive is available in stores now for $29.99 MSRP.
The Store 'n' Go Audio USB Drive is a must-have auto accessory with a safer, low-profile design that does not obstruct vehicle controls or protrude excessively from the dashboard.  The convenient flash drive can be left in the USB port and used as a long-term storage extension. With the drive's slim, snag-free design, there's no need to worry about accidentally hitting and damaging the flash drive while switching between audio tracks!
Although Verbatim specifically developed the Store 'n' Go Car Audio USB Drive for automotive applications, the flash drive also works with all computers and devices equipped with a USB 2.0 port such as laptops, tablets, desktop PCs and digital picture frames.
"In vehicles equipped with USB ports, the Store 'n' Go Car Audio USB drive makes it easy to store and listen to your favorite songs," said Mark Rogers, Verbatim Product Manager, Flash Memory. "The flash drive's low-profile design lets you expand your playlist without taking up a lot of space and complements the sleek look of your in dash car audio system."
Specifications
• 8GB storage capacity
• Only 2g in weight
• Smaller than a quarter, only 5mm is left protruding when inserted
• Can be used in car audio players, laptops, netbooks, digital photo frames and more
• Compatible with PC and Mac operating systems
[/showhide]