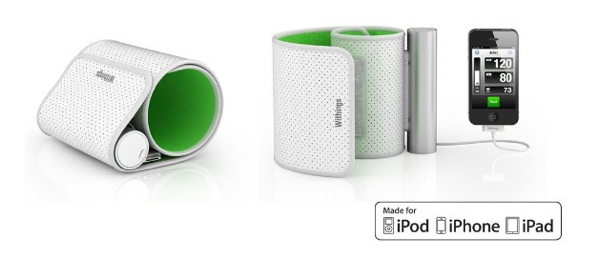 A. I carry and iPhone and an iPad with me pretty much everywhere I go.
B. I check my blood pressure once or twice a day, thanks to genetics and arthritis medications.
C. I've long wanted to be able to use A. to do B.
Today I can, now that Withings has released its Blood Pressure Monitor (BPM) for iPad, iPhone and iPod touch. The kit includes a blood pressure cuff and companion Withings app and it "is a modern way to measure and record blood pressure readings in the personal and professional arenas".
As the Press Release explains,
Cédric Hutchings, Withings co-founder says, "Apple has revolutionized the smartphone and tablet market with both its design and functionality. We have strived to extend this revolution into the field of health and fitness by integrating our products to work seamlessly with Apple iOS devices."

The Withings BPM is truly a plug-and-play solution for blood pressure measurement and tracking. Users simply wrap the blood pressure cuff around their arm and plug it directly into their iPad, iPhone or iPod touch using the incorporated cable. Once connected, the Withings App launches instantly on the iOS device and is ready to begin the measurement. When the reading is complete, the full results (Systole, Diastole and heart rate) are saved directly on the device, eliminating manual tracking.

A user's stats can be accessed instantly from their iOS device or from their personal Withings webpage. Results are saved denoting dates and time of day for each reading, to help when comparing morning, afternoon and evening readings, and readings over time. Results can easily be shared by emailing results to a doctor and/or using the device's automatic sharing feature to sync with popular personal health record sites like Google Health™ and Microsoft® HealthVault™ – virtually eliminating the gap between patient and doctor.
The kit is available for $129 starting today. For more details visit the product page. The full release follows.
[showhide]
Withings Announces US Availability of its Connected Blood Pressure Monitor for iPad, iPhone and iPod touch

Withings combines sophisticated technology and design to transform an ordinary blood pressure monitor into an accurate health self-monitoring device

Paris, France – June 20, 2011– Today, French technology company Withings announced the US availability of its Blood Pressure Monitor (BPM) for iPad®, iPhone® and iPod touch®. This Withings BPM, including blood pressure cuff and companion Withings App, is a modern way to measure and record blood pressure readings in the personal and professional arenas.

With more than 25% of the world's population* affected by hypertension, Withings has combined advanced technology and sophisticated design to create a medical device that is visually attractive, accurate and easy to use at home, in a professional setting or on the go.

Cédric Hutchings, Withings co-founder says, "Apple has revolutionized the smartphone and tablet market with both its design and functionality. We have strived to extend this revolution into the field of health and fitness by integrating our products to work seamlessly with Apple iOS devices."

The Withings BPM is truly a plug-and-play solution for blood pressure measurement and tracking. Users simply wrap the blood pressure cuff around their arm and plug it directly into their iPad, iPhone or iPod touch using the incorporated cable. Once connected, the Withings App launches instantly on the iOS device and is ready to begin the measurement. When the reading is complete, the full results (Systole, Diastole and heart rate) are saved directly on the device, eliminating manual tracking.

A user's stats can be accessed instantly from their iOS device or from their personal Withings webpage. Results are saved denoting dates and time of day for each reading, to help when comparing morning, afternoon and evening readings, and readings over time. Results can easily be shared by emailing results to a doctor and/or using the device's automatic sharing feature to sync with popular personal health record sites like Google Health™ and Microsoft® HealthVault™ – virtually eliminating the gap between patient and doctor.

When used in conjunction with the Withings WiFi body scale, weight and blood pressure are tracked on the same graph within the app, giving users an at-a-glance health snapshot. Both products bring together in one place two vital pieces of your overall health, which is ideal when tracking trends and early warning signs of health problems.

Withings Blood Pressure Monitor Technical Specifications: (detailed specs)

Works with: iPad, iPad 2, iPhone, iPhone 3G, iPhone 3GS, iPhone 4, iPod touch 2nd generation, iPod touch 3rd generation and iPod touch 4th generation

Measurement: Oscillometric Method

Measurement range: 0 to 285mmHg

Pulse: from 40 to 180 beats per minute

Cuff circumference: fits arm circumferences from 9" to 17"

Pump: automatic inflation with air pump, controlled pressure release

FDA: device has received FDA clearance

The Withings Blood Pressure monitor works with iPad, iPhone and iPod touch. Starting today, the Withings Blood Pressure Monitor is available at www.withings.com for $129. The Withings App is available for free from the App Store on iPad, iPhone and iPod touch, or at www.iTunes.com/AppStore.

For more information on Withings, go to www.withings.com/press. To request additional information or images of the Blood Pressure Monitor or WiFi Body Scale, please contact PR representative Jessica Darrican at (305) 576-1171 ext.16 or jessica@maxborgesagency.com.

* "Global burden of hypertension: analysis of worldwide data" / Department of Epidemiology, Tulane University School of Public Health and Tropical Medicine, New Orleans

About Withings:

Withings designs, develops, and industrializes connected objects. As French start-up established by three executives from technology and telecom industry, Withings has a focus on innovation and design for everyday products. In September 2009, Withings release the world's first internet and WiFi connected body scale. Withings is an actor in the Internet of Things and thus increases capabilities of an object by network resources allows accessing to infinite calculation and storage capacities without increasing the cost. The object's interfaces are also ported to devices like mobile phones or computers, to benefit from their resources. Withings makes internet connected objects. www.withings.com
[/showhide]