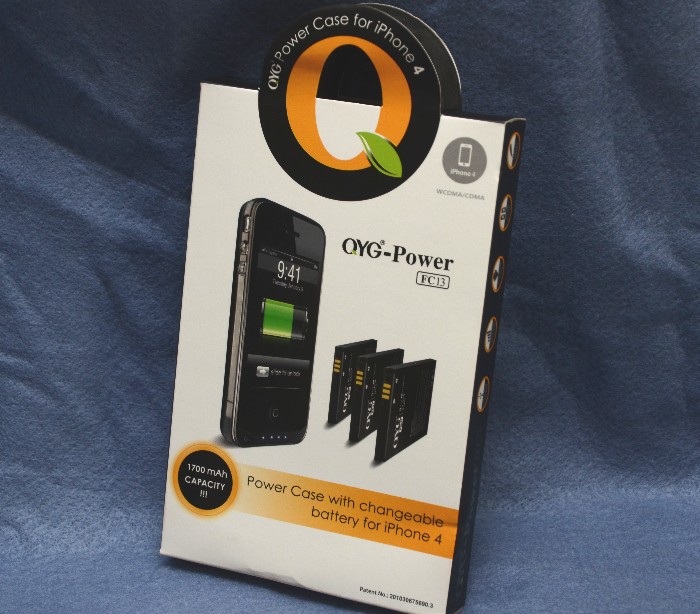 An issue with most of the external battery pack cases for smartphones is they use built-in battery cells, meaning when the pack is dead it needs plugged in to be recharged. Not so with the new QYG Power Case FC13 available from USBFever.com.
The QYG unit features a replaceable 1700mah lithium-ion cell allowing for extended device time away from the restraints of wall outlets. This makes an ideal travel companion.
The system itself is composed of three parts: Bumper case, back cover and battery cell. The phone (my test unit was for the iPhone4) fits into the back cover and then the bumper case snaps over that. The battery cell slips easily into a compartment inside the back cover and is recharged while in the QYG pack via an included micro USB cable. When the smartphone is in the pack both can be recharged with priority going to the phone and then the external battery.
The device works well and the battery pack lasted a couple of days for me and my iPhone4. I never found it necessary to swap battery cells but it has been quite some time since I found myself very far from modern utilities.
The back cover and bumper case allow for all normal functions of the device including camera and flash. The unit is constructed from high grade polymers and has a slick, candy shell-like exterior. I am not a big fan of this type design but it is not too heavy or bulky so extended use is not tiresome.
Each QYG Power Case FC13 kit comes with one battery pack and with additional cells available from USBFever.com as well. Their website lists power from the included cell as 1400mah but the FB01 cells that came with my kit were rated at 1700mah and perform as such.
QYG Power Case FC13
Likes: Interchangeable cells, sleek design and light weight.
Needs Improvement: Update website info to reflect actual device specs – cell that comes with unit is better than that listed. Also, bumper does not always stay snapped together to back cover on sides.
MSRP: $79.99, available from USBFever.com. Additional battery cell FB01 $12.99.
From USBFever.com site:
Power Pack with replaceable battery for iPhone 4
Product Code#:UFAB002107
US$79.99
Introductions:
iPhone 4 is a perfect product, the only problem is probably the battery. It is so good that you will use it more frequent than a traditional cell phone does.
Engineers have designed many products for it to "remedy" such probelm, here is a new product from us, probably it is a perfect way, hope it can solve your iPhone battery problem in a battery before Apple allows people to change the battery by themselves as other PDA!
This product comes with 3 parts, a bumper case, a back cover and 1 battery (1400mah).
Features:
- Slim Case
- Sleek back cover
- Changeable battery – Bumpers of different colors (see colors available below).
Bumper colors available:
- Brown (transparent)
- Pink 
- Black
- Silver
Package Contents:
- Back cover x 1 
- Bumper case x 1
- Battery x 1
Packaging:
- Retail
Extra Battery for Product Code#:UFAB002107
Product Code#:UFAB002183
US$12.99
Note:
- This is only for our product code UFAB002107, if you purchase it for other purpose, it is at our own risk of use.
Specifications:
- Output: 3.7V, 1700maH
- Li-ion battery
Package Contents:
- Extra Battery for Product Code#:UFAB002107 x 1
Packaging:
- Polybag
Note:
- Specific use, not a universal battery. Please use it with other products except our product code#UFAB002107