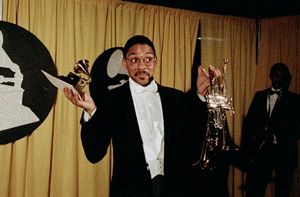 If you have watched the Grammy Awards in recent years, you could easily be confused by thinking they should be called the 'Pop Music Self-Appreciation Awards'. I wrote about the uproar over Esperanza Spalding, an immensely talented composer, singer and bassist who 'beat' out the charming bubble-gum pop singer Justin Bieber, and the aftermath in how some thought Spalding winning was a bad thing because it showed that the Grammys would use Bieber and Eminem for ratings without ensuring them awards, and finally how the Grammys have been reconfigured in a way that marginalizes non-corporate pop … even worse than it already was.
In this recent trend to pop-only performances, top selling stars (or their kids in the case of Willow Smith) from a variety of pop genres get a few minutes each to present bombastic staged set-pieces where the visual aspect is so much more important than anything else that nobody notices that most are lip-sync shows … or seems to care. Non-pop performances have increasingly marginalized – the perfect example is having Grammy Winner (just before) Esperanza Spalding relegated to playing background music (for which she was deemed as 'performing at the Grammy Awards') for a Grammy promo piece on music in schools – which was a nice effort, but ultimately small change for a self-congratulatory effort that allows them to pretend they are doing something for music education when in reality the total budget is less than a single Lady Gaga promo.
With this history, is it even possible to fathom that actual live jazz – y'know, totally performance and music focused – could even happen at the awards? Even more unlikely – 10 minutes of performance time dedicated to a single artist playing both jazz and classical?
And yet it happened!
In 1983 Wynton Marsalis was the juggernaut of the 'young lions' of jazz – they were abandoning the show-boating, ego-driven rock-centric styles of fusion and taking their cues form Miles Davis mid-1960′s group and playing awesome post-bop mainstream jazz. Like Wayne Shorter and so many others in the late 50′s and early 60′s, these players like Wynton and Branford Marsalis, Donald Harrison and Terence Blanchard, and so many others came out of the great Art Blakey's Jazz Messengers. Wynton was nominated for his hit record 'Think of One' in jazz, and a Hummel Trumpet Concerto performance from his classical recordings in 1982. He won both categories that year – and the next – and went on to win the jazz category five years in a row.
For the 1983 live telecast Marsalis played the Hummel piece – introduced by John Denver – and then went on to immediately play Knozz-Moe-King from Think of One with his band. Both performances were top notch, and his band is tearing it up – with the exception of brother Branford who seemed to 'phone it in'. Kenny Kirkland always drove extended harmonies into Wyntons compositions, and Jeff Tain Watts was a fountain of energy. Charnett Moffet was Wynton's usual bassist and has remained a force on the instrument. A great band always helps the leader – something Sting must have realized as he grabbed Branford, Kirkland and Tain for his 'Dream of the Blue Turtles' group two years later, along with Daryl Jones from Miles Davis band.
Wynton Marsalis just released the archival Grammy footage this week of not just his performance, but the subsequent announcement of already announced Jazz winners and then the award to Wynton and his acceptance speech, where he thanks the masters of the form (notably leaving out his own personal biggest influence Miles Davis due to Davis later musical directions) for giving America an art form that cannot be 'limited by enforced trends or … bad taste'.
Enjoy Wynton Marsalis from the 1983 Grammy Awards telecast.