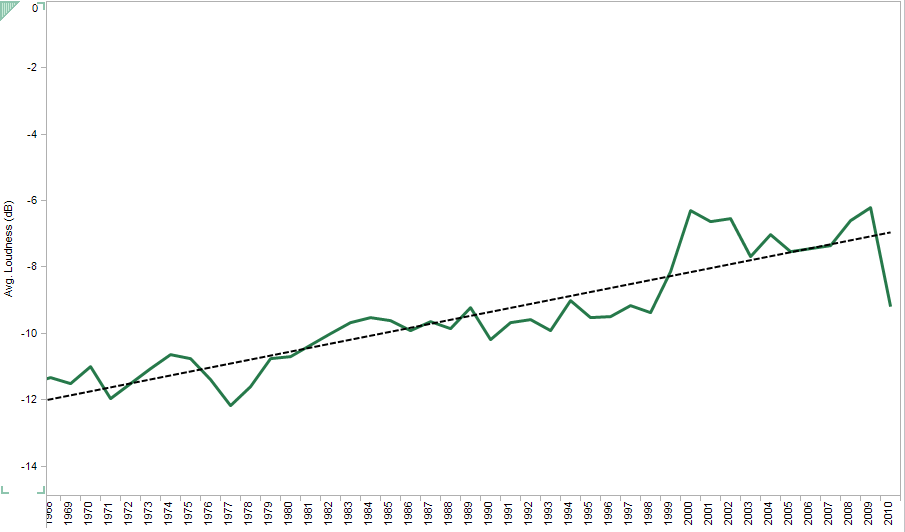 When I was taking some music classes and working in one of the first digital music studios in the early 80′s, I was told that to use heavy compression to make everything seem louder and to 'pop' out of the speakers was a 'rookie mistake' that negated any dramatic impact that an artist is trying to impart through the use of dynamic range. Well, based on recent study reported on at Digital Music News there are a load of rookies out there!
As noted in the article:
"Most track decibel levels these days are normalized so that peaks and valleys in the track's waveform are largely eradicated, producing that lovely tinny quality that audiophiles and vinyl enthusiasts loath."

Unfortunately, a lot of song engineers feel trapped: if they don't create that aural "push," then other songs on the radio or in the club will simply out-blast them. So, gone are the subtleties and dynamic ranges that often make music so great. "So it might not actually be the case that that 'gosh danged rock n' roll music' is getting louder, only that volume levels are becoming stabilized over the course of an entire song and, therefore, being interpreted as "louder" by Echo Nest's computer algorithms."
What the chart is showing that although absolute volume cannot increase, the relative volume – meaning the average of the minimum and maximum values throughout the song – continues to increase. Inherently there are two ways to do this, push the top values closer to the distortion point, and push the minimum level higher as well. Since the top-end values were hit when CD recordings took over, the push in the last decade or so has been making normally quiet parts louder.
What they are talking about is an overall push to bring everything to the limits with each song – think of a song like Tik Tok by Ke$ha. That song has two modes – the break where Ke$ha drops a single lyric line (also at full volume) and where EVERYTHING is at full volume. There is basically no use of dynamics – just a push to make sure you hear the melody and rhythm at all times.
Why is this done? Basically it started as a way to make the music stand out among normal tracks played on the radio when listened to in the car or on a crappy one-speaker system in someone's kitchen, then became more popular in the Walkman era of the 1980s … but it really caught on after 2000 in the iPod era … and shows no sign of slowing!
There was an interesting article a few years ago on this subject. The contrast between Dave Brubeck and Metallica and Led Zepplin is very telling of the trend:
First, lets start with a loudness plot of Dave Brubeck's Take Five. There's a loudness range of -33 to about -15 dBs – a range of about 18 dBs.

Now take a look at a track from the new Metallica album. Here we see a dB range of from about -3 dB to about -6 dB – for a range of about 3 dB. The difference is rather striking. You can see the lack of dynamic range in the plot quite easily.

Now you can't really compare Dave Brubeck's cool jazz with Metallica's heavy metal – they are two very different kinds of music – so lets look at some others. (One caveat for all of these experiments – I don't always know the provenance of all of my mp3s – some may be from remasters where the audio engineers may have adjusted the loudness, while some may be the original mix).

Here's the venerable Stairway to Heaven – with a dB range of -40 dB to about -5dB for a range of 35 dB. That's a whole lot of range.
Finally, one of my favorite bits on this is the following video illustrating the 'loudness war':

What are the chances of it changing? Very small – in fact the trend is getting worse as more and more records are being re-mastered and re-released. Sure there are the Concord record releases like Ornette's Something Else!!! or Lee Morgan's The Sidewinder which sound amazing, but I am listening to the just released 10th anniversary edition of Alicia Key's Songs in A Minor … and it definitely sounds worse than the original in terms of having everything pushed too hard.
Source: DigitalMusicNews