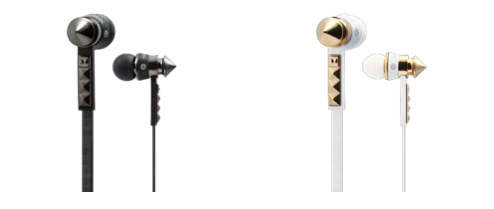 My experience with Monster's iSport waterproof headphones made me a huge fan of Monster's audio line. Now Monster has worked in conjunction with Lady Gaga to create the Heartbeats by Lady Gaga. The headphones were designed by Lady Gaga herself. As the Press Release explains:
The uniquely styled in-ear headphones were inspired by leather and studs and feature the ultra-crisp sonic technology expected from the Beats by Dr. Dre line of products. Heartbeats provide a sound that transcends ordinary headphones and a fashion-forward style to provide the ultimate music listening experience for fans of Lady Gaga.
Not only do the headphones look great but they offer a smaller and lighter shape to ensure a good in-ear fit along with a tangle-free cord. Add in multiple eartip sizes and the Heartbeats promise a custom fit that seals in the music and keeps out unwanted noise.
The in-line microphone/remote ControlTalk lts you control the music and make hands-free calls with iPhone and many smartphones.
Available in two colors (Black and Gold) The Heartbeats by Lady Gaga in-ear headphones are available at Best Buy and other participating retailers at a suggested retail price of $149.
You can find more information right here. The Full Release follows…
[showhide]
BEATS™ BY DR. DRE™ AND MONSTER ANNOUNCE THE LAUNCH OF THE NEW HEARTBEATS BY LADY GAGA

Designed by Music's Hottest Artist and Featuring an Updated Sound and Style, Heartbeats by Lady Gaga are Available Now

LOS ANGELES (July 13, 2011) – Beats™ by Dr. Dre™, co-founded by legendary artist and producer Dr. Dre and Interscope Geffen A&M Chairman Jimmy Iovine, and Monster are proud to announce the newest addition to the celebrated line of Beats by Dr. Dre headphones with the release of Heartbeats by Lady Gaga, an updated version of the popular in-ear headphones.

Designed by Lady Gaga, the uniquely styled in-ear headphones were inspired by leather and studs and feature the ultra-crisp sonic technology expected from the Beats by Dr. Dre line of products. The new Heartbeats by Lady Gaga are a reflection of the pop queen's high-end sense of style and commitment to providing fans with the best music listening experience possible.

Beats by Dr. Dre has always been committed to restoring the emotional music connection between an artist and the listener, allowing consumers to hear music the way the artist intended. Jimmy Iovine and Dr. Dre worked closely with the experts at Monster to engineer headphones that are able to deliver an unprecedented level of audio performance to match Lady Gaga's fashion-forward design.

"The new design of Heartbeats by Lady Gaga is parallel with her stage show right now…dark and beautiful, with an edge and of course, extraordinary sound for her fans," said Jimmy Iovine, Chairman of Interscope Geffen-A&M Records and co-founder of Beats by Dr. Dre.

"We continue to advance the sound performance of Heartbeats to meet the demands of Gaga's ever changing music," said Noel Lee, Head Monster. "Combined with the unique look of Heartbeats, we believe that we have produced a winning combination of sound and fashion. We know that all of Gaga's 'Monsters' will love what we have accomplished together between Beats, Gaga, and Monster."

Heartbeats by Lady Gaga feature an all-new, lightweight design, six sets of ear tips to ensure a fit for every wearer, tangle free cable, hard carrying case and ControlTalk™, which enables iPhone™ and iPod® music playback control as well as hands-free calls with iPhone and many smartphones.

To celebrate the launch of the new Heartbeats, Beats by Dr. Dre's Facebook page is hosting a consumer contest where "Little Monsters" can upload photos or videos themed around her latest hit single "Edge of Glory." The contest kicked-off today and features prizes courtesy of Beats By Dr. Dre that will include HP Envy computers, Heartbeats headphones, and valuable gift cards from top retailers. Fans will be able to submit their entries through August 1. Visit http://beatsarmy.me/heartbeatscontest for additional details.

Heartbeats by Lady Gaga are available in two colors: black and gold. Available now at Best Buy and select retailers for a suggested retail price of $149.00.

About Beats Electronics LLC:
Established in 2006, Beats Electronics is the brainchild of legendary artist and producer Dr. Dre and Chairman of Interscope Geffen-A&M Records Jimmy Iovine, who set out to develop a new type of headphone with the capability to reproduce the full spectrum of sound that musical artists and producers hear in professional recording studios. In January of 2008, Dre and Iovine announced a partnership with Monster to engineer "Beats by Dr. Dre," the most advanced headphones ever developed. Continuing its mission to improve the quality of the portable audio experience, Beats announced a major partnership with Hewlett-Packard in 2009 to include Beats Audio software in the HP ENVY line of notebook PCs. In September 2010 Beats and Monster unveiled five new products that redefined the music listening experience, including Beatbox™, a game-changing digital sound system and iPod dock that expands the Beats sound experience into the social realm. In April 2011, Beats partnered with Chrysler to bring studio-quality sound to an automobile for the first time and set the bar for the way music should be heard in cars. For more information, please visit http://beatsbydre.com.

About Monster:
Monster was founded by Head Monster Noel Lee with a commitment to creating products under the Monster Cable® brand to literally "make music sound better." Today, Monster has grown and diversified to become the world's leading manufacturer of connectivity solutions for high-performance audio, video, car audio, computer, console and computer gaming, as well as a leading innovator in the field of iPod® and iPhone™ accessories and professional audio and sound reinforcement. As part of its commitment to improving the music listening experience, Monster worked with Dr. Dre and Interscope Geffen A&M Chairman Jimmy Iovine to create the Beats™ by Dr. Dre™ headphone line, including the new Heartbeats by Lady Gaga headphones. The company is also continuing to innovate with its own line of Monster brand headphones, including "Turbine Pro™ In-Ear Speakers™," the first in-ear headphones geared for use by music professionals and audiophiles. Additionally, under its Monster Power® brand, the company is the leading manufacturer of high-performance AC power line conditioning and protection products for audio/video systems.
[/showhide]