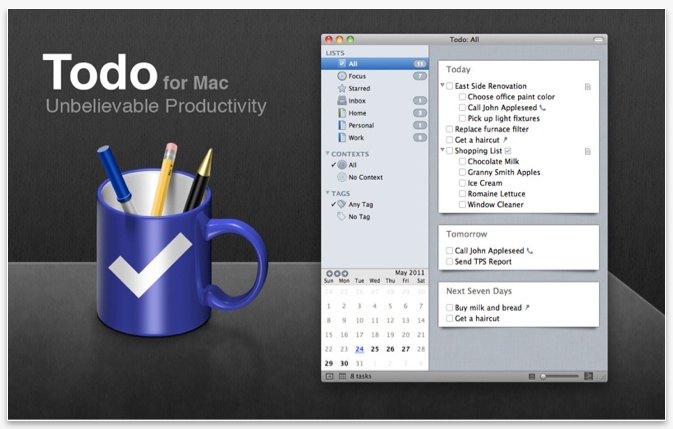 For a pretty fair while I was using Toodledo to manage my tasks. I was never all that crazy about their native application for iOS, so after doing a little scouting around, I settled on Appigo's Todo app. It was aesthetically pleasing, it had good features, and I liked it. Sometimes, though, I wished there was a companion way to manage all of those to do items natively on my laptop. Sure, that cloud stuff is nice and all, but it doesn't fit every situation or every need.
I must not have been the only person thinking that way, because now Appigo has brought a version of Todo to the Mac. According to Appigo's website, Todo for Mac features:
Cloud Sync – Sync tasks from your desktop to your iPhone and iPad using Todo Online or Toodledo.com.

Multi-Adaptive Windows – Open multiple Todo windows simultaneously. Use one window for planning and another one to focus on urgent items.

Smart Organization – Keep tasks tidy by grouping them in lists. Follow the Getting Things Done (GTD) method or your own by using contexts and tags.

Repeating Tasks – Extensive repeating rules save you time for recurring items.

Task Zooming – Zoom in to show more information like the due date, alert time, and note. Zoom out to see your tasks in their simplest form: a task with a check mark.

Multiple Task Alerts – Set as many reminder alerts as you need to help you complete your tasks.

Projects & Checklists – Group related tasks together in a project or keep a simple to-do list in a checklist.

Also with… – Local Wi-Fi sync, quick add, task search, starred tasks, notes, and new calendar drag-and-drop rescheduling.
Now, I haven't tried it yet, but it's tempting, particularly given the ability to synchronize between your Mac, iPhone/iPad, and the cloud. Dan had a chance to check out the beta version and was pretty blown away by it (and he's no pushover when it comes to evaluating task managers). You can check out his early thoughts here.
Todo for Mac is available through the Mac App Store for $29.99. Check it out here.