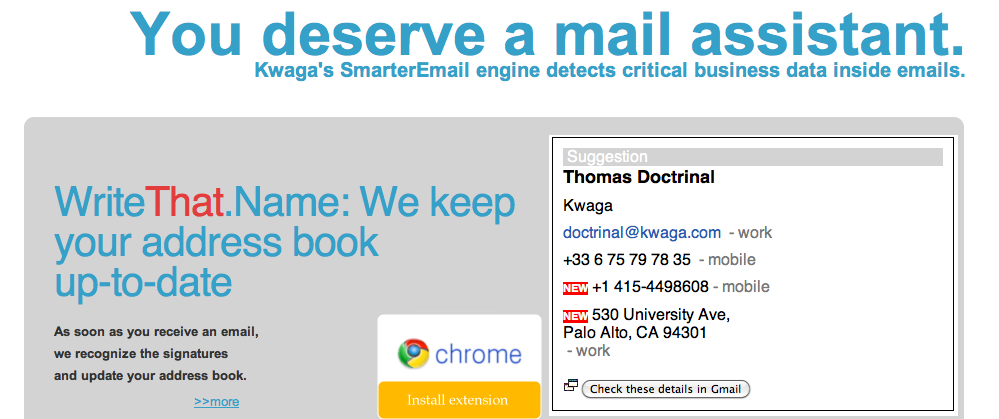 For the past few weeks Judie and I have both being using a new service called WRITETHAT.NAME. If you use Gmail as your email client (directly or as the engine powering something like Mac OS X Mail.app), the service makes it very simple to keep your address book up to date.
It is an interesting service that scans your email for personal contact information and then updates it on a daily basis — so long as you have turned on the auto-update feature. If not, then it will offer you the updated information and you can choose to accept or reject it. Of course a service like this is not for the truly privacy-committed, since it does mean letting the service scan emails, but it is only done for the sake of harvesting contact information and updating YOUR contacts. The company addresses this issue in this FAQ response:
Kwaga servers access Google IMAP services to receive a copy of your emails for semantic analysis. If our service should ever fail this has no impact on you receiving your emails on-time. Kwaga has already analyzed more than 5 Million emails since we first launched last year (October 2009).

Kwaga servers in the cloud (AWS) process your emails using our semantic algorithms and we store only certain key phrases to display to you later on. Once analyzed, the email copy is immediately and automatically deleted. No person at Kwaga has access to your emails. Your privacy is our utmost concern.

We will not ever share any information such as email addresses, or ever write to any of your contact list.
Since I use Gmail for a variety of email addresses, I wasn't all that concerned and signed up when we were invited. Since then I have been more than pleased with the regular updating that has taken place. Here's a brief walk-through of the service.
It's like having an assistant that continuously keeps your address book up-to-date.

1.

You receive an email with a signature.
(This works only for mails received after you signed up.)

2.

Our semantic engine extracts the signature and compares it with the contacts in your address book. When we find a change, we update your address book if you enabled the auto-update setting.
Note: we never delete any data.

3.

Every day, you receive an email report. If you selected the 'manual validation' option, you can review each suggestion and check the new details before confirming that the updated content suits you. No change will be brought to your address book without your approval.

4.

With the manual validation option, you can review all updates. You can even consult the email from which the information was extracted.

5.

You can choose how you interact with Write

That

.Name by setting your preferences 

here

.
The service is even more powerful if you use Google chrome, and they have an iPhone app on the way. Since both Judie and I live by our email, we want the most up-to-date contact information possible. WRITETHAT.NAME lets us keep up to date without even having to think about it. There is a free trial available, and we would appreciate it if when you sign up you'd use our Gear Diary Affiliate Link: 
TRY WRITETHAT.NAME
.