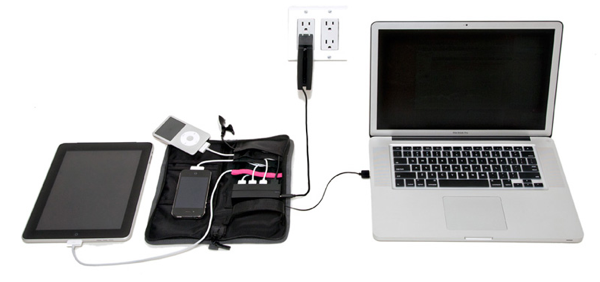 I've been working hard to streamline the tech I use. I now I only use a laptop (although I have to admit to using a docking system at home) and am trying hard to keep the cords and peripherals I use in check. With so many gadgets available it is just TOO EASY for things to get out of control. That's why AVIIQ's new charging system caught my eye. Sure it is great if you are on the road but there is no reason you can't use it at home too. We have a review unit on the way but let's take a quick look at the announcement we just received.
AViiQ's Portable Charging Station calls itself the "Ultimate Travel Charger". I'm not sure if it is the ultimate but it does include some great features. Essential the system is a travel sleeve that charges three USB devices at the same time but uses just one power outlet. By doing so it "eliminates hassles caused by tangles and carrying multiple chargers" and makes itself perfect for… a MacBook Air given the diminutive laptop's meager two USB ports.
The system also includes multiple internal and external pockets so you can stow the necessary cables and adapters (not included). It measures 10"x5"x1.5" and weighs less than 1 lb, so it is easy to grab and go. As Alan Yeung, Co-Founder of AViiQ notes,
"The number of chargers and gadgets we travel with has increased dramatically, and it isn't unthinkable to travel with a cell phone, headset, iPad, camera, projector, or even more. The AViiQ Portable Charging Station eliminates and consolidates all those chargers into one ultra-portable, elegant sleeve."
Better still, with its support for 10 watt charging, a specialized data port allows for easy "syncing and data backup while charging" the system is ready for the Apple iPad too. The AViiQ Portable Charging Station is $79.99 and comes with 30 day money back 100% satisfaction guarantee. You can get more details at www.AViiQ.com.
We will have a full review up shortly. In the meantime, the full release follows.
[showhide]
AViiQ Portable Charging Station, the Ultimate Travel Charger Now Available

Innovative 3+1 USB travel charging hub and sleeve eliminates tangles and cords

SANTA ANA, Calif – July 26, 2011 – AViiQ, the award-winning mobile electronics accessory and design company specializing in solutions for on-the-go users, announces the availability of the AViiQ Portable Charging Station, the revolutionary travel sleeve that charges three USB devices at the same time using only one power outlet and eliminates hassles caused by tangles and carrying multiple chargers.

Designed with convenience in mind, the AViiQ Portable Charging Station features multiple internal and external pockets to keep device-specific cables neat and organized. Small enough to fit in a purse, laptop bag or backpack, the travel sleeve measures 10"x5"x1.5" and weighs less than 1 lb, making it perfect for travelers who desire versatility and portability.

"The number of chargers and gadgets we travel with has increased dramatically, and it isn't unthinkable to travel with a cell phone, headset, iPad, camera, projector, or even more," says Alan Yeung, Co-Founder of AViiQ. "The AViiQ Portable Charging Station eliminates and consolidates all those chargers into one ultra-portable, elegant sleeve."

In addition to charging devices with different power requirements, including the iPad which requires 10 watts, a specialized data port allows for easy syncing and data backup while charging. The AViiQ Portable Charging Station is made with high quality nylon fabric and ABS plastic for their superior strength and shock absorption qualities, making it durable enough for even the most demanding travelers.

The AViiQ Portable Charging Station comes with 30 day money back 100% satisfaction guarantee. It is available for $79.99 and can be purchased directly at www.AViiQ.com.

Additional Specs
Dimensions: 10" x 5" x 1.5"
Weight: Less than 1 lb
Material: ABS Plastic & Nylon Fabric
Warranty: 3 years

ABOUT AViiQ
AViiQ adheres to the tenet that form should follow function. Founded to create consumer mobile electronic accessories that maximize productivity through enhanced functionality and high-end design, AViiQ offers the finest in function and style. Laptops revolutionized the computer world by adding the freedom of mobility and AViiQ transforms that freedom into power. For more information about AViiQ please visit www.AViiQ.com
[/showhide]