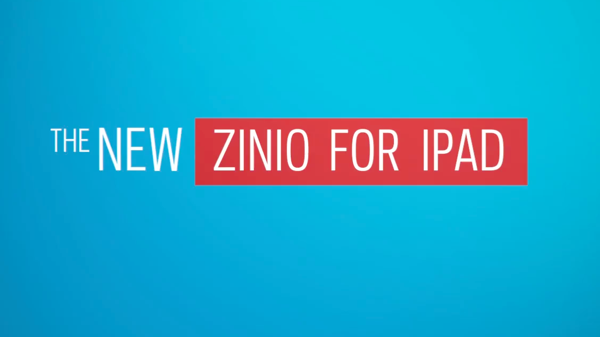 UPDATE: We were told it would be live at 3pm EST. We're still waiting too!
UPDATE: It is now available.
It is no secret I'm a big fan of Zinio and their "buy once, read it everywhere" approach to electronic magazines. (The call it UNITY.) I love eMags for a whole host of reasons, and Zinio has always made it easy for me to buy, download and read my favorites. No, not all of the magazines I want are available on Zinio (yet), but there is a huge selection and it is growing all the time. Now Zinio is pushing out version 2.0 of their iPad app. As you might expect it brings a host of new features. Among the key highlights of Zinio 2.0…
Updated Speed and Design: Interface updates have led to a cleaner look and richer visuals that are designed to create an even more compelling reading experience. Zinio users will also benefit from up to 3x faster performance speed, allowing for a smoother experience with downloading, page navigation and interactive content.
Bookmarks: Zinio 2.0 includes the highly-anticipated bookmark capability, which allows readers to save their favorite stories for easy access, the ability to edit/personalize the titles to suit their preference, and sort their bookmarked stories by date and title. Tracking favorite news stories, travel destinations, fashion tips, workouts, recipes and more has never been so easy.

Enhanced Library Management: Storing and managing a library just got a lot more convenient. A highly visible arrow appears on issues that have yet to be downloaded, so readers can be sure they have downloaded all of their issues for offline reading during travel.
In-App iTunes Purchasing: Zinio offers a frictionless, digital shopping experience. Not only can users explore and browse items within Zinio that catch their eye, but they can also purchase single issues, back issues and subscriptions in-app, simply using their iTunes account.

In-Zinio Shopping: Shopping is fast and simple.
And we aren't talking about magazine shopping. No, Zinio 2.0 now makes it possible to buy clothing, accessories, furniture and more right from the app. If you see something that looks of interest you can now buy it right then and there.
Finally, Zinio 2.0 let magazines be more interactive than ever. That's a good thing because the whole idea of eMags isn't to have them simply be the paper experience in digital form. No, eMags are about enhanced content that can draw you in and make the experience deeper and more fun. That's all built right into the app.
So when can you get it? Right now actually since the Zinio iPad 2.0 app just went live!! Shortly since the new version is expected to be live some time today.
It is live in the App Store.
[showhide]
Zinio 2.0 App for iPad, Now Available, Advances the Interactive Reading Experience

Users Benefit from Unprecedented Content Discovery,
including a Personalized, Immersive Reading and Shopping Experience

SAN FRANCISCO, July 29, 2011 – Zinio, the world's largest and most popular global magazine newsstand, today announced that its 2.0 App for iPad is now available in the iTunes Store. This new version of Zinio offers industry-first article exploration, stellar user interaction and in-app shopping capabilities to the most in-depth selection of premium, high-quality consumer magazines from around the world.

Unique to Zinio, the "Explore" section is front and center and offers unprecedented free access to current stories across every major magazine genre, from automotive to entertainment, and lifestyle to science and tech. Only with Zinio can users discover and enjoy the best magazine content from among Zinio's 4,500 magazine titles, with new stories to enjoy daily from our most popular titles including Esquire, Rolling Stone, Islands and Elle.

Additional new features and updates to the Zinio 2.0

App for iPad include:

Updated Speed and Design: Interface updates have led to a cleaner look and richer visuals that are designed to create an even more compelling reading experience. Zinio users will also benefit from up to 3x faster performance speed, allowing for a smoother experience with downloading, page navigation and interactive content.

Bookmarks: Zinio 2.0 includes the highly-anticipated bookmark capability, which allows readers to save their favorite stories for easy access, the ability to edit/personalize the titles to suit their preference, and sort their bookmarked stories by date and title. Tracking favorite news stories, travel destinations, fashion tips, workouts, recipes and more has never been so easy.
Enhanced Library Management: Storing and managing a library just got a lot more convenient. A highly visible arrow appears on issues that have yet to be downloaded, so readers can be sure they have downloaded all of their issues for offline reading during travel.

In-App iTunes Purchasing: Zinio offers a frictionless, digital shopping experience. Not only can users explore and browse items within Zinio that catch their eye, but they can also purchase single issues, back issues and subscriptions in-app, simply using their iTunes account.

In-Zinio Shopping: Shopping is fast and simple.

Readers can now buy clothing, accessories, furniture and a ton of other things – from within their favorite magazines. There is no need to leave Zinio to purchase things that catch a reader's eye.

"Magazine readers expect and love high-quality, premium content – and Zinio's 2.0 app for iPad goes far beyond today's norm to deliver stories in a visually rich, immersive and interactive new way," said Rich Maggiotto, Zinio president and CEO. "Our new Explore section is a first, and creates the ability to browse and enjoy content you might never even knew existed from trusted editors around the globe. We've focused on satisfying the curiosity of our passionate readers, and delivering stories that personally matter to them, across all areas of interest."

Continually advancing interactive capabilities allow readers to experience stories in new and immersive ways with a text view option, interactive graphics, animated illustrations, videos, in-Zinio shopping and more.

Another reader-friendly advantage with Zinio is its UNITY™ platform, which allows users to store and enjoy their library across the most popular devices and platforms today, including Mac, PC, laptop, Linux, iOS, Android, Windows 7, and soon WebOS and BlackBerry. Users can access their entire library on every device that they use Zinio on – there are no complicated rights issues that only allow one issue on one device.

About Zinio
Zinio is where the world reads, explores and interacts with the largest selection of magazines across today's most popular devices. News may break elsewhere, but stories live on Zinio. No other platform provides global access to more than 4,500 magazine titles covering every major genre, industry, specialty and hobby. Zinio users download millions of magazine issues a month in 33 languages and 20 currencies – from almost every major global publisher. The company is focused on creating an intuitive and effortless digital experience that transforms how we read, from passive to active, from solo to social. Zinio users can easily search stories and topics that they are passionate about, share with friends, save and curate content, shop for products, and store all of their favorite magazines in Zinio across all of their favorite devices.

Founded in 2001 and privately held, Zinio is headquartered in San Francisco with offices in New York, London, Paris, Barcelona and Taipei.  For more information, please visit www.zinio.com, or follow us on Twitter at @Zinio.
[/showhide]