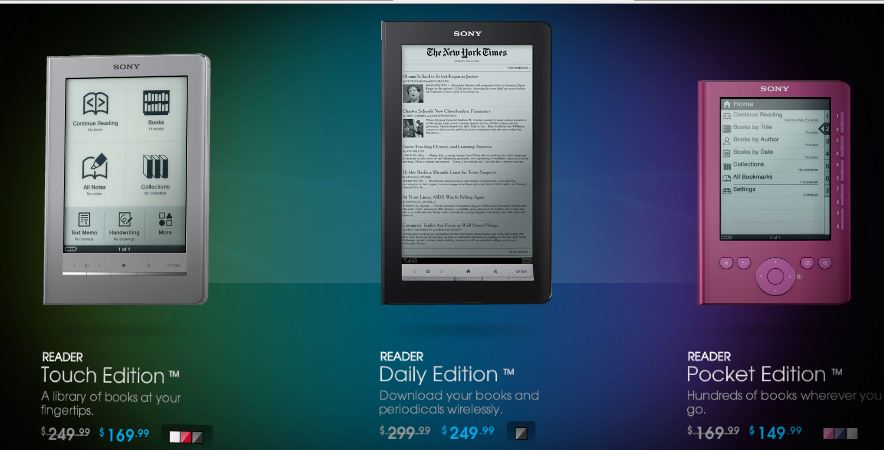 Rumors are pointing to a refreshed Sony Reader coming up soon! According to Teleread Sony is still trying to maintain a foothold in the increasingly competitive ebook world, but they're going to need to be aggressive in key areas to break consumers from the NOOK/Kindle clutches. What can Sony do to improve this next round?
Price:
This is an easy one. Sony loves to price in a premium, but it gets very difficult to justify paying $50-$90 more for a device than the more popular competitors when there's no WiFi on board! Looking at current device price points, where should Sony be aiming for a refreshed line?
Assuming there's a device with no WiFi, it has to come in under $100. I don't care how fantastic the build quality is, when refurbished NOOKs and Kindles routinely show up with wireless connectivity for ~$99, Sony can't expect to sell a non-connected device for more than that. Not only that, Sony's going to have a very hard time convincing retailers like Best Buy that have already dropped Sony Readers to bring them back if they're priced too high to sell.
With WiFi or 3G, Sony has some more pricing wiggle room. $140 is the average right now for touch-based readers, and given the Sony name, I could see them trying to push that to $150 or $165. Sony's devices have typically been high build quality, often metal, and they had touchscreens before B&N and Kobo, so a slight premium isn't insane. But, again, hardware isn't the whole story in ebook readers (if it were the original Kindle would have been DOA!), it's the reading experience and the ebook ecosystem, which leads us to the next item…
Books:
Did you even know Sony sells ebooks? It's not the most intuitive or accessible store, and the sync software is not impressive (more on that below). Worse, their smartphone ebook stores/readers came significantly later in the game and didn't offer much in the way of innovation or features. Sony needs to either pour some serious money into their bookstore, or find a partner who's willing to do the content portion for them.
Despite early rumblings and a few announced devices, it looks like B&N has abandoned the idea of non-NOOK readers accessing their store, but if Sony's looking for a content partner Kobo is available. Yes, Kobo sells their own ebook reader, but powering the Sony store would give Kobo another avenue of exposure, similar to their partnership with Borders. Both Sony and Kobo use Adobe Digital Editions digital rights management, so from a compatibility standpoint the transition would be smooth. It would also give both Kobo and Sony a chance to tap into more readers and markets, since they could overlap customers.
Software:
I've never really used Sony's software for any length of time, but I did attempt it and found it incredibly frustrating. Nate at The Digital Reader mentioned today that it's still pretty awful, and relayed the story of a user who lost all his annotations due to non-intuitive settings. First of all, this could be solved by wireless connectivity, and implementing a similar notes backup system to Amazon. Second, syncing, really? In a world where all your Kindle apps and devices are in sync automatically, your B&N library is one to two clicks away, and Kobo has seamless ways to keep you reading from the web to your Kobo Touch, you have to plug in a Sony Reader?
Let's hope that's the very first thing Sony fixed in their new line of devices! No matter how great the hardware or the content is, it's a really hard sell to convince customers that being tethered to a USB cord and some PC software is a good idea. Again, Sony Readers aren't being released in a vacuum. Assuming that Sony manages to get the new devices into retailers, they're going to be displayed next to Kindles and NOOKs, and more importantly, they're competing with the recommendations of friends and family who (probably) already own NOOKs and Kindles. Making the device feel very old-school Palm Pilot with a USB sync isn't going to help Sony compete!
Customers:
In the end, Sony needs to release something that appeals to the mainstream audience. They need to pull all the pieces together and create something compelling enough to attract someone away from that Kindle or NOOK they saw on the beach. Sony has kept the Reader division somewhat alive through some hardcore fans, but they need a mainstream audience if it's going to be anything other than a hobby line.
What's your take? Will you consider a new Sony Reader device, or does your heart belong to another ebook line? Share your thoughts in the comments!