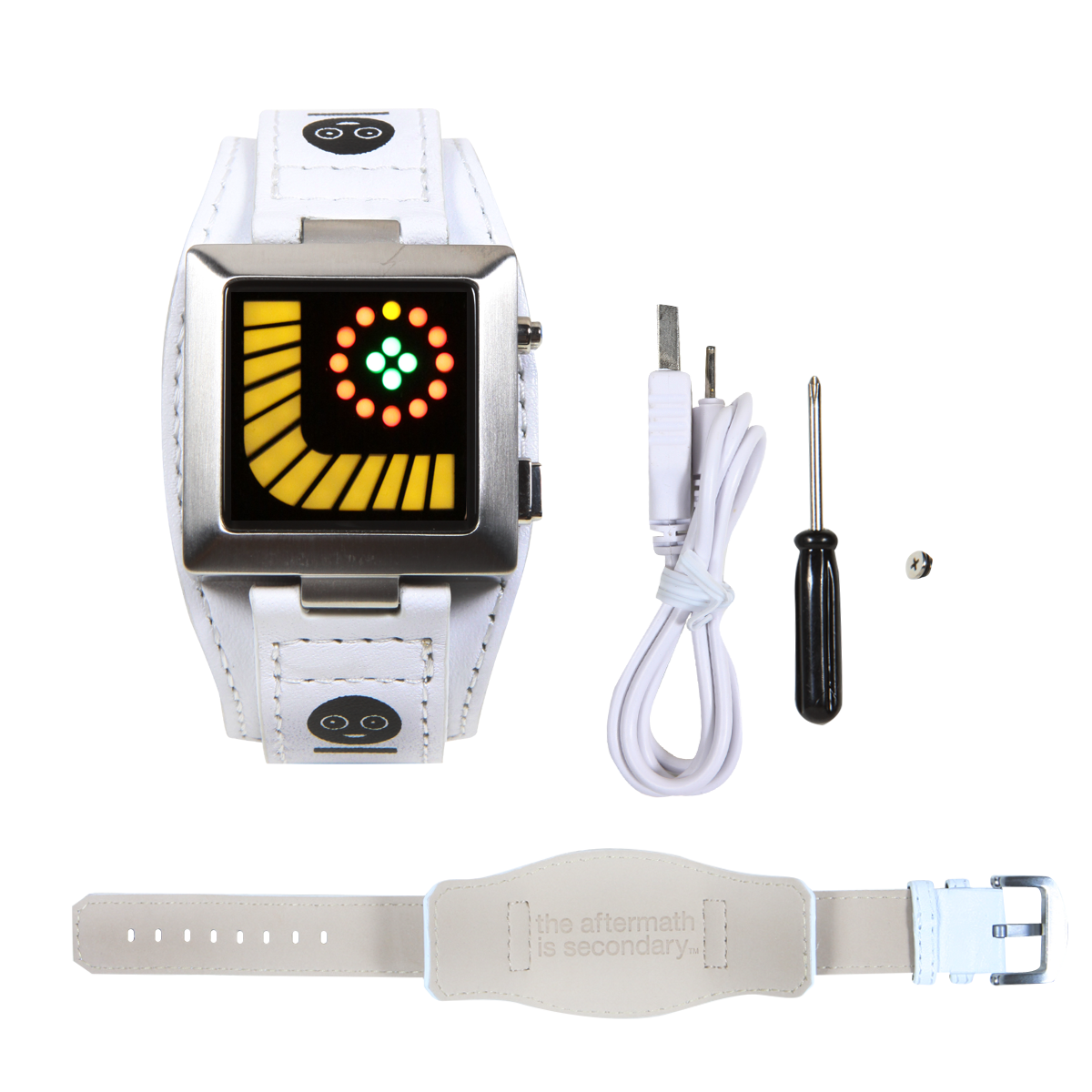 Image courtesy of Tokyoflash 
If you thought you were going to make it through the week without another new design from the watch design masters over at Tokyoflash, then you of course thought wrong. This new custom timepiece named the "Seikatsu Koujou Kyokusen" is a teamed effort between Better Living Industries, the rock band My Chemical Romance, and Tokyoflash themselves. The watch has some of the great features you came to know and love from Tokyoflash, but with some added features custom implemented by the MCR and BLI. The watch features a squared off stainless steel face, some  magical LED's from the Tokyoflash workshop, and a white leather band with the BLI logo on each side. The inspiration for the name of this watch came from curved line of LED's that indicates the hour. The watch is fully rechargeable as usual and a 3.5 hour charge should set you up with enough juice to last a month. The watch is only available on the My Chemical Romance store and has a modest price of $125.
Quick Specs:
- Displays the time
- Features digital tube technology
- Mineral crystal lens, stainless steel case & genuine leather strap
- USB rechargeable: connect to your computer with cable provided
- LED animation option (can be turned off)
- Buckle: simple stainless steel belt style buckle
- Minimum wrist size: 160 mm (approx.)
- Maximum wrist size: 220 mm (approx.)
- Case dimensions: 34 mm x 34 mm 10 mm
- Weight: 60 grams
- Battery: LIR2032 rechargeable & replaceable watch battery
- Water resistant to 3ATM
- Japanese and English instructions
- One year manufacturers' warranty
-Custom made BLI/Danger days box
This watch follows the true nature of Tokyoflash's standard uniqueness, but with the added touch from BLI and MCR. I think the watch is priced right and really stands alone from most other designs, even from Tokyoflash themselves. I honestly don't know too much about BLI, but you can read up on the translated page over at the Better Living International site.
A translated part of their mission statement:
We at Better Living Industries have been dedicated to a clean and structured lifestyle since the great fires of 2012. Bleaching the Zones and the quantitative analysis of the population have been effective means of ridding you, the consumer, of the unwanted waste. We, the organization, firmly believe in the sanctity of monochromaticism.
There is plenty more reading if you interested, but from sweet watch standpoint, this model from BLI/MCR and Tokyoflash is another example of why there is no competition in the market for our Japanese timepiece craftsmen. Head over to the
MCR store
for more details and purchasing options.
*Stay tuned to Gear Diary for more Tokyoflash news and a great giveaway!