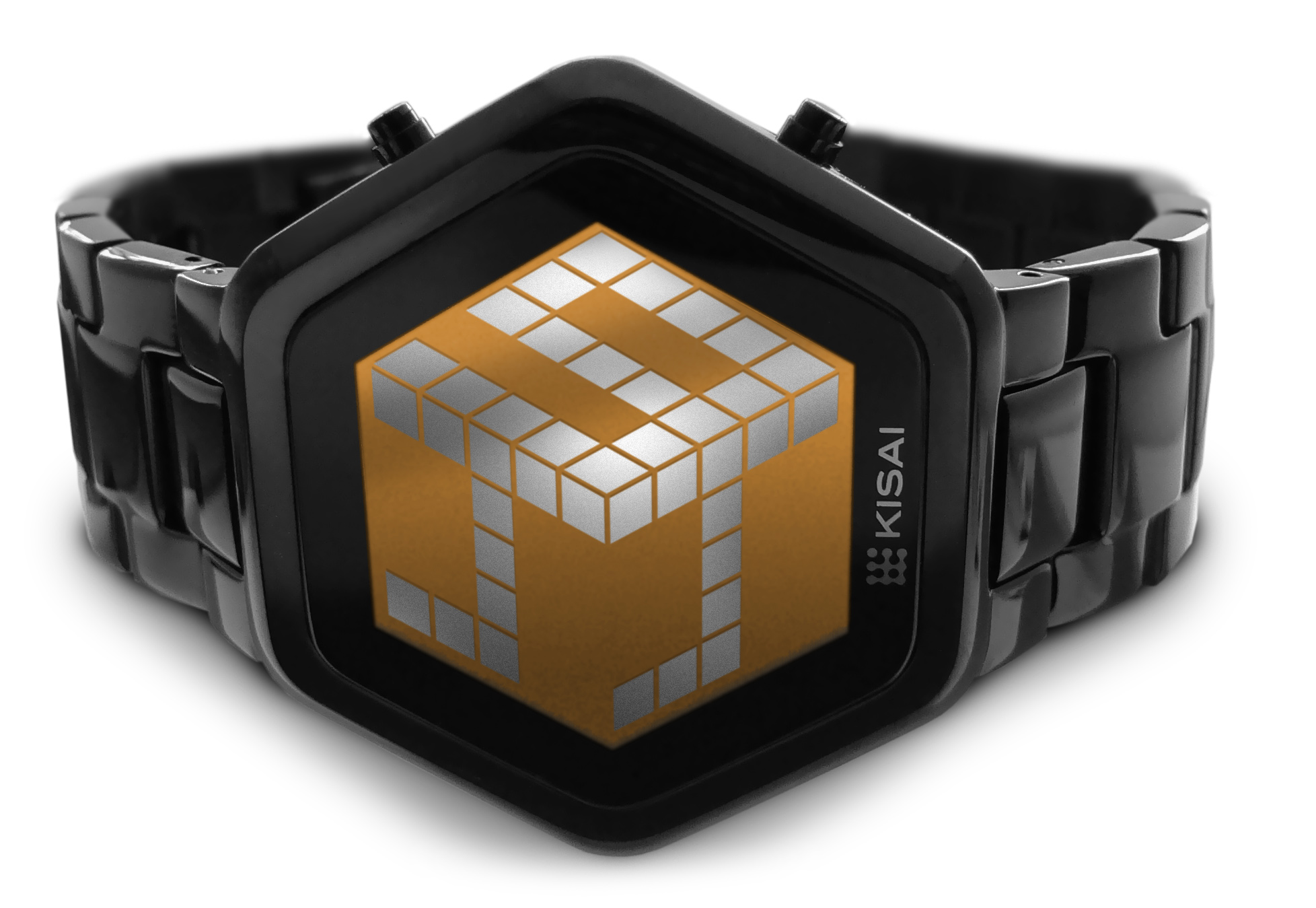 Image courtesy of Tokyoflash
Today we are presented with yet another Tokyoflash masterpiece pulled directly from their Concept Blog. Tokyoflash changed things up a little bit more this time when they announced the Kisai 3D Unlimited watch. This watch features a six-sided mirror finished watch face that displays the time and date in a 3 dimensional like display. The illusion of 3D is given by the angle and placement of the digits on the face which displays a cube like pattern giving off the effect of 3D time. This looks like it's actually one of the less cryptic displays to read, but is still certainly one of their coolest designs yet. The watch is also a part of the "always on" family, and is fully viewable without needing the backlight. The watch is also one of the lightest and thinnest designs, making it suitable for both male and female wrists. There are over 7 different color combinations to choose from including  4 variations in polished gloss black finish, and 3 in a high luster polished stainless steel. The watch is currently on a 48 hour exclusive sale for only $120 shipped,  after the sale the price goes back up to $145.
Image courtesy of Tokyoflash
Easy to read at a glance, Kisai 3D Unlimited has an "always on" mirrored LCD display which shows the time in hours and minutes. One push of the lower button changes the display to date mode, which shows month and date. The design also has an EL backlight which illuminates the display making it easier to read at night-time.

Each part of Kisai 3D Unlimited has been individually custom designed and manufactured, including the case, strap and uniquely programmed LCD display. Like all watches from Tokyoflash Japan it is a limited edition design which means it is guaranteed to be an original watch that not many other people own.
Quick Specs:

Displays the time and date
Unisex design for small and large wrists
Mirrored LCD "always on" display
Electroluminescent (EL) backlight (for night time only)
Stainless steel case & buckle
Adjustable stainless steel strap
Minimum wrist size: 100 mm (approx.)
Maximum wrist size: 215 mm (approx.)
Case dimensions: 37 mm x 42 mm x 8.5 mm
Weight 120 grams
Water resistance: 3ATM
Battery: CR2016 standard replaceable watch battery
Japanese and English instructions
One year warranty
Image courtesy of Tokyoflash
Like all the great designs at Tokyoflash this watch is in a limited edition run. I know that word "limited" get's thrown around a lot but Tokyoflash wants to make sure each design stays unique, so a limited number is made to keep the designs original. The 3D Ultimate is available now on their website and available at a $25 savings if you purchase prior to the cut off on Wednesday. Check out the site for more information on current and concept watches from Tokyoflash.