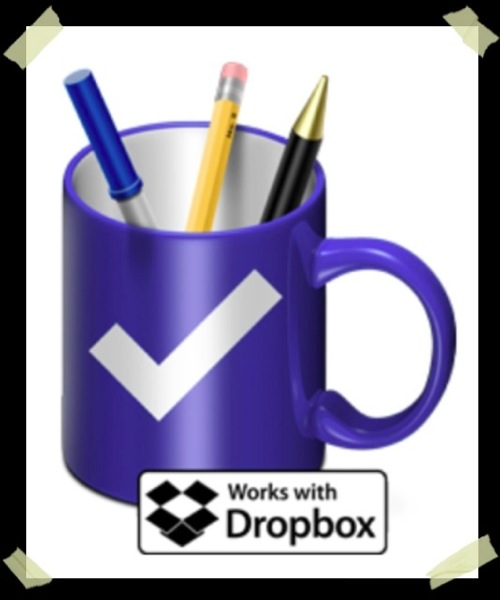 One of the leading task management apps for the iPhone and iPad is Todo from Appigo. Todo is as gorgeous as it is functional and, thanks to Appigo's commitment to their products and their customers, the app has steadily improved since its initial release in 2008. Today Appigo announced a new version of Todo that adds Dropbox synchronization as an option for keeping data in sync across multiple devices. In addition, the new version has built-in automatic background synchronization so that synchronization now happens automatically without the need to tap a sync button.
"We're excited to show off Todo's new Dropbox sync. A lot of people have asked for it, and we think they're really going to like it," said Calvin Gaisford, Appigo's CEO. "Dropbox sync combined with Todo's new background synchronization is just amazing. Everything stays in sync without needing to think about it."
Appigo also announced plans to support iCloud synchronization for tasks after iOS 5 becomes available. Get it here.
Pricing: Todo for Mac is available on the Mac App Store for $29.99 (USD). A 14-day trial version of Todo for Mac is available at: http://www.appigo.com/todo/mac. Todo for iPhone and Todo for iPad are available on the iTunes App Store, each for $4.99 (USD). Todo Online task synchronization is available as a subscription-based service for $19.99 (USD) per year, per account. Basic Todo Online accounts are free and provide task management services online-only via a web browser. New Todo Online accounts receive a 14-day synchronization trial. Todo Online is available at: http:// todo.appigo.com/
[showhide]
Appigo Releases Todo With Dropbox Synchronization for Mac, iPhone, iPod touch, and iPad and Announces iCloud Support Coming This Fall.

Appigo's new release of Todo® Task Manager for the Mac, iPhone, iPod touch, and iPad adds Dropbox synchronization which keeps users organized on all their devices. Appigo also plans to support iCloud as a task synchronization choice with the upcoming release of iOS 5.

Orem, UT (PRWEB) August 18, 2011
Appigo, Inc. today released new versions of Todo® Task Manager for the Mac, iPhone, iPod touch and iPad, adding Dropbox as a new task synchronization choice and introducing automatic background synchronization. Appigo also announced the upcoming support of iCloud synchronization for tasks which will be available this fall after iOS 5 becomes available. Appigo originally introduced Todo in 2008 on the iTunes App Store and has continued adding options for task synchronization, including Toodledo, Todo Online, Dropbox, and soon, iCloud.

"We're excited to show off Todo's new Dropbox sync. A lot of people have asked for it, and we think they're really going to like it," said Calvin Gaisford, Appigo's CEO. "Dropbox sync combined with Todo's new background synchronization is just amazing. Everything stays in sync without needing to think about it."

Dropbox synchronization in Todo is accessible in the setup screens with the other cloud sync services. Dropbox users can easily link their account with Todo by entering their username and password, and Todo will synchronize tasks with a Dropbox Folder.

The new Todo update also features true background task synchronization, supported by each sync service in Todo. Synchronization now happens automatically without the need for users to tap a sync button. Users with multiple devices will always be in sync without any interaction on their part.

Appigo is now working on the next major update of Todo to add support for iCloud, a free cloud service that will automatically synchronize tasks on the iPhone, iPad, iPod touch, and Mac. Users who sign up for iCloud when iOS 5 is available will be able to choose iCloud as their task synchronization service in Todo.
Appigo also plans to continue full support of existing synchronization services including Todo Online, Toodledo, and direct synchronization to a desktop over Wi-Fi.

Pricing & Availability:

Todo for Mac is available on the Mac App Store for $29.99 (USD). A 14-day trial version of Todo for Mac is available at: http://www.appigo.com/todo/mac Todo for Mac requires a Macintosh computer running Mac OS X version 10.6.6 or newer. Online task synchronization requires an Internet connection which may incur separate fees (contact your Internet Service Provider for specific details). Local Wi-Fi synchronization requires a Macintosh computer and an iOS device connected to the same local network.

Todo for iPhone and Todo for iPad are available on the iTunes App Store, each for $4.99 (USD).

Todo Online task synchronization is available as a subscription-based service for $19.99 (USD) per year, per account. Basic Todo Online accounts are free and provide task management services online-only via a web browser. New Todo Online accounts receive a 14-day synchronization trial. Todo Online is available at: http:// todo.appigo.com/

Dropbox is a third party service and currently offers basic accounts free. Dropbox is available at: http://www.dropbox.com/

Toodledo is a third party service and additional account fees may apply. Toodledo is available at: http://www.toodledo.com/

About Appigo:
Appigo develops high quality applications including Todo (powerful task management), Corkulous (ideas at your fingertips), Notebook (notes available everywhere), and AccuFuel (fuel efficiency tracker). With many years of experience in mobile and desktop computing, networking and user interface design, the Appigo team builds enjoyable software. The products created by Appigo quickly gain favorable reviews worldwide. For additional information about Appigo and their products, including full demonstration videos, please visit their website.

Todo is a registered trademark of Appigo, Inc. Appigo, Todo (for Mac, iPhone, and iPad), Todo Online, Corkulous, and the respective app icons are trademarks of Appigo, Inc. Todo contains patent pending technology. Copyright 2008-2011, Appigo, Inc. All rights reserved. Apple, Macintosh, Mac OS, the Apple logo, iPod, iPod touch, and iTunes are trademarks of Apple Inc., registered in the U.S. and other countries. iPad and iPhone are trademarks of Apple Inc. App Store is a service mark of Apple Inc. Other company and product names may be trademarks of their respective owners.[/showhide]