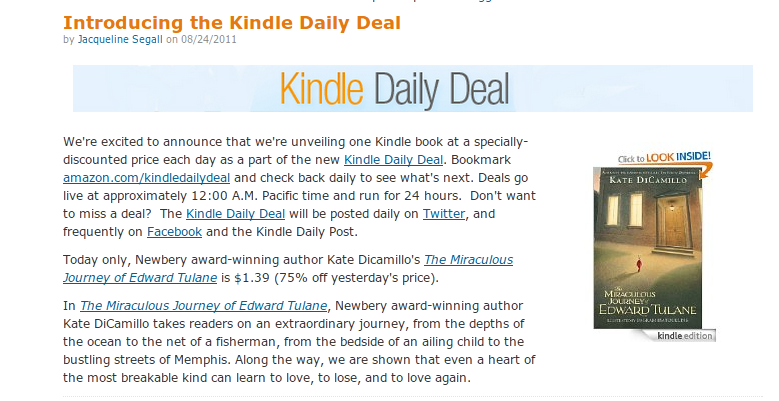 We are just rolling in Kindle offerings lately, and now Amazon is throwing even more deals at us! Their latest promotion is the "Kindle Daily Deal", where they will promote one book at a steep discount for 24 hours. For example, today's deal was $5.59 yesterday and is $1.39 (75% off) today! That's less than I paid for coffee this morning!
Today's deal is "The Miraculous Journey of Edward Tulane". From Amazon's description:
In The Miraculous Journey of Edward Tulane, Newbery award-winning author Kate DiCamillo takes readers on an extraordinary journey, from the depths of the ocean to the net of a fisherman, from the bedside of an ailing child to the bustling streets of Memphis. Along the way, we are shown that even a heart of the most breakable kind can learn to love, to lose, and to love again.
Not every book is going to be to your fancy (today's doesn't interest me, for instance), but this is a pretty cool way to pick up a few new books a month on impulse. If you're as excited as I am, here's how you can track the Daily Deal:
http://www.facebook.com/kindle
Happy reading!