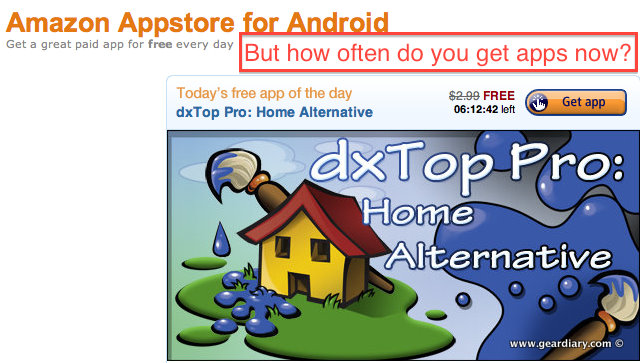 When the Amazon Appstore for Android was announced, it was met with much fanfare. Several high-end applications were available free for a day or launched exclusively on Amazon's Appstore, including FlexT9, Swiftkey, and FieldRunners, to name a few. Heck, we even mentioned an application which alerted you daily on what the free deal of the day was! However, not everything was perfect with the Amazon Appstore for Android. Still, it really seems to be catching on as another viable alternative for the Android Market. Or is it?
As Michael mentioned in his post "Has the Amazon App Store Changed You Android Shopping Habits Yet?":
This process made me reflect on my shopping habits recently – every morning I hit the Amazon Appstore for Android as part of my daily ritual, whereas I only EVER go to the Android Market if I have a specific reason. As for my spending habits? Well, let's just say I am fairly typical of Android users in that regard!
However, I've found that since the initial couple of weeks, the applications being offered on a daily basis are not applications that I would normally pick up. Even if they are free for a day, I don't see the point in downloading them to save money if I will never use them. In fact, I no longer visit the Amazon Appstore any longer, choosing instead to let Amazon Free App Reminder alert me passively. Even then, I haven't taken advantage of the free app of the day in the past couple of months!
I decided to informally poll some of the Gear Diary team to see if I was the only one. Reactions were mixed.
Judie and Carly have downloaded a few items, but stopped visiting daily, much for the same reason I did.
Francis and Joel, our hard-core Android guys, check daily.
Michael has several apps, but found that he ended up with a lot of apps he already had on the Android Market.
The potential advantage I see the Amazon Appstore having over the Android Market is the Amazon ecosystem. Amazon is rumored to be releasing a pair of Android-based tablets at some point in the not-too-distant future. If this is the case, how much do you want to bet they will preinstall the Amazon Appstore. I wonder if the Android Market will be installed, or if it will be available for installation? If the Amazon Appstore is your only avenue to install applications, then building up your application portfolio there may make sense. For me, I still prefer the ubiquity of the Android Market.
What about you, dear reader? Are you still checking and downloading applications from Amazon's Appstore daily? Or have you gone back to your old Android Market habits?