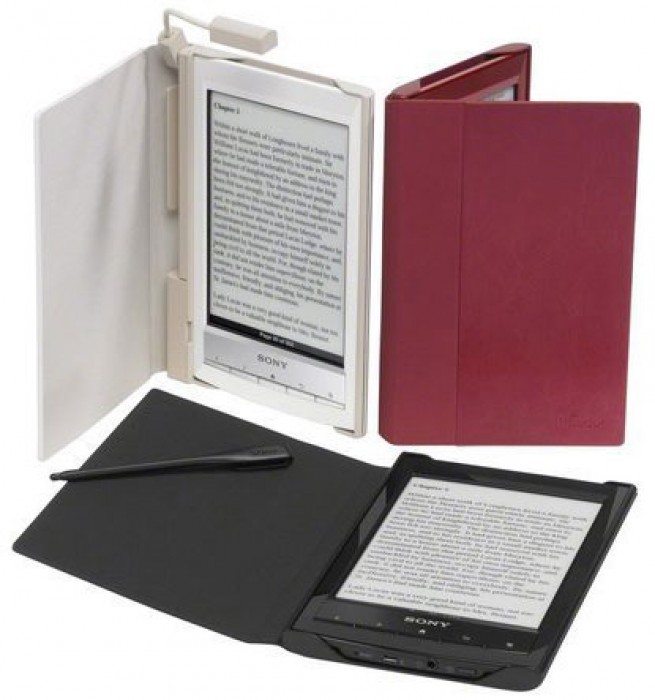 Sony's newest ebook reader is official! The specs appear to be as rumored, (6″ inch screen with a resolution of 800 x 600 pixels, pinch-to-zoom gesture support,  2GB internal memory (expandable), Wi-Fi and an included stylus) and the price is far better than the straight euro conversion, and will be clocking in for USA customers at $149. A few commenters on the rumored post pointed out I'd forgotten that euro prices typically include VAT, and it's good to see they were right, as anything higher would have been suicide in the tight ebook market.
Even at that price it's a bit on the high side in my opinion. That's on par with the NOOK Touch, which is sold everywhere from Office Depot to PC Richards to your local B&N. And chances are if someone you know owns an ebook reader that's not a Kindle, it's a NOOK. Without a big ecosystem to lure users, the Sony is just another ebook reader. There are two saving graces that could turn around Sony's fortunes, however.
One is that the specifications are very competitive. Beauty is in the eye of the beholder, but I think the PRS-T1 is a nice looking device. It checks all the boxes readers should be looking for, from broad format support to a high quality eInk screen and a touch interface. Assuming it's reasonably snappy, it does have more brand recognition than Kobo, which will help immensely in luring non-NOOK buyers. If Sony can get this into stores, with decent displays and accessories marketing the device, they'll have a fighting shot.
The real kicker is what's being bundled with the Sony-the first Harry Potter book! Yes, "Harry Potter and the Sorcerer's Stone" will be preinstalled in each PRS-T1. While the limited information coming from Pottermore indicates every store will be carrying the HP series, adding a valuable freebie like this is a great way to at least get people to consider picking one over the NOOK or Kindle. If it's successful, I wonder if we'll see similar deals coming from Sony, and even see Amazon and B&N start selling devices pre-loaded with modern bestsellers (we already have devices being sold with free classics, but that's not quite the same level of value-added.)
The big question is, will you be running out in October to nab one of these? Or will the rumored Kindle tablet/Kindle refresh hold sway over your wallet? Let us know in the comments!
Via SlashGear