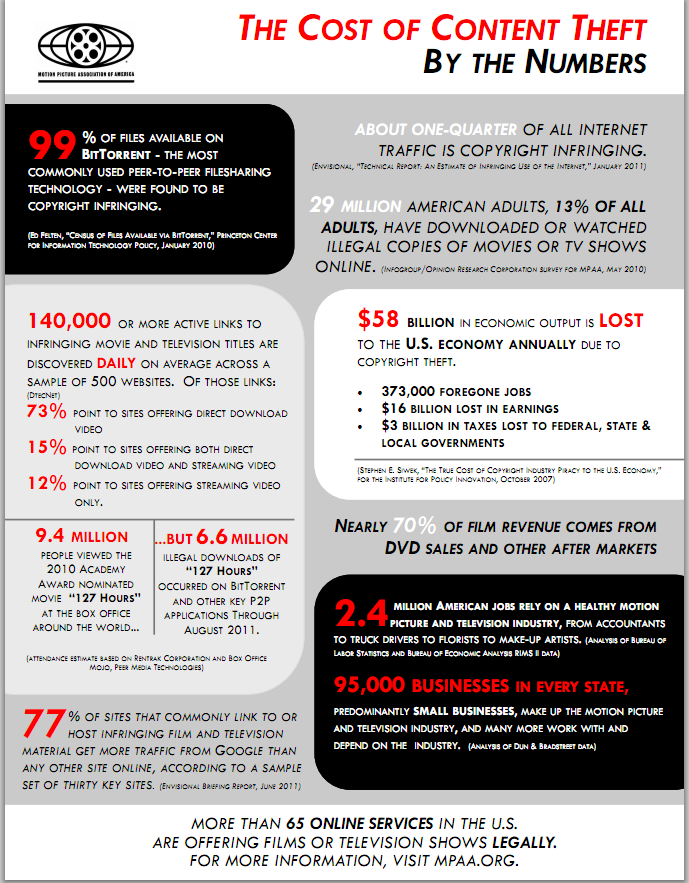 This week the Hollywood Reporter announced that the movies enjoyed a record box office grab this summer:
Preliminary tallies indicate that Hollywood succeeded in scoring a record summer, posting domestic revenues of $4.39 billion to $4.4 billion from May 6 through Labor Day to narrowly beat 2009, the previous best ($4.33 billion), for an uptick of just over 1%. Last year, summer revenues came in at $4.21 billlion, putting summer 2011 ahead by more than 4%. Attendance, however, was down a slight 1% from 2010 to 2011.
Overseas, revenues are expected to reach a record-breaking $8.2 billion this summer, up dramatically from $5.8 billion in summer 2010–a 41% increase reflecting the enormous power of emerging markets including China, Russia and Brazil.
You would think that the MPAA, the organization representing all of these movie studios, would be basking in the knowledge that they found a relative sweetspot: ticket prices are fairly stable and at a point where even my kids went to several movies this year with money they earned doing odd jobs for the local youth bureau; the distribution of movies had something for everyone; and the quality of releases were solid.
Yet that isn't what the MPAA is talking about – they are concerned with telling everyone that while they have a $40 billion business, it COULD be $100 billion except that pirates are stealing 60% of their income! Sound incredible? That is because it is what in my line of work we would call 'statistically unsound'. Pajiba has a great dissection of this nonsense:
So according to the MPAA, piracy cost them $58 billion last year, making movie piracy a bigger industry than the GDPs of 10 American states. To put it even starker perspective, look at it this way. The film industry gets about $10 billion from the box office, and about $30 billion from the after market of DVDs, streaming, etc. So they're claiming that piracy costs them almost two-thirds of their business. At $10 per DVD, every household in the United States would be buying an additional 50 DVDs per year if they weren't so busy downloading. The technical term for a statistic like that is "fictional."
I am sure that the MPAA includes secondary (and tertiary and more) economic impacts … in other words, job costs lead to other costs lead to other costs and so on. But saying that the economic impact of piracy is 1.5 times the size of your entire business? Crazy! As Pajiba says, "the MPAA has a special gift for being such enormous **** waffles about the topic that it makes you just want to go download movies, delete them, and then download them again."
I am personally and vocally opposed to piracy, and as my kids are at that age when so many of their teen friends are building a library of music and movies based on Torrents, I am constantly reminding them to use the legal services we have and NOT to steal content. Yet I agree with Pajiba … the nonsense numbers and scare tactics from the RIAA and MPAA make me much less sympathetic to their cause.
Where do you stand on all of this?