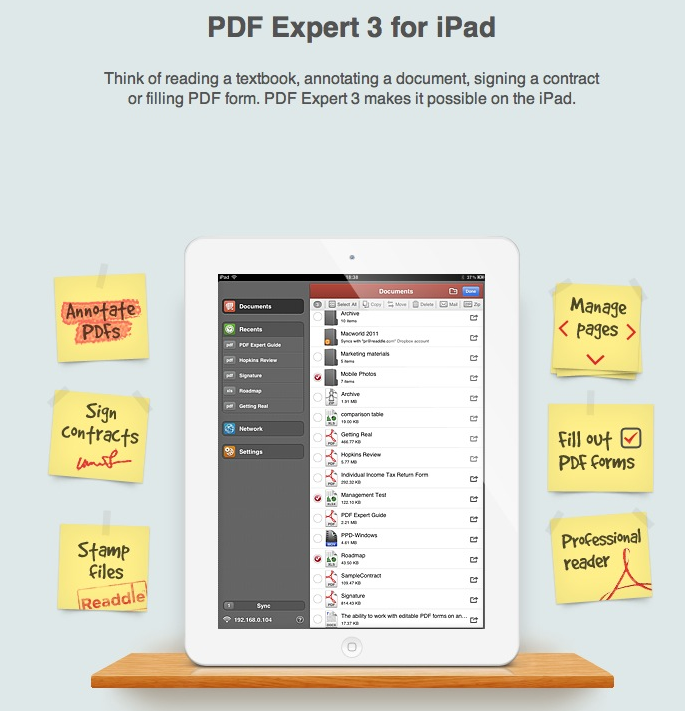 The saying goes that, "clothing make the man". Maybe, maybe not. What is for sure is that in 2011 Apps Make the Device. What has turned the iPad into a runaway phenomena is, in part, the amazing variety of apps that are available.
Want to use your iPad to create music? Easy, get the right apps. Want to edit pictures on your iPad? Simple, get the right apps. Want to use the iPad for school? Grab some of the amazing academic apps that are available! Want to use the iPad as a serious productivity tool? All you need are the right apps.
And as the "right" apps have made their appearance more and more of us have found the iPad a useful companion throughout the work day. That's where Readdle's PDF Expert comes in and, with the release of PDF Expert 3, the app is more powerful than ever.
With PDF Expert you can read and annotate PDF documents. you can also highlight text, make notes, draw and then, when you are ready, save the PDF. The app reads iWork, MS Office, Power Point and text files. It also handles images, music and video files. With support for Dropbox, MobileMe iDisk, GoogleDocs and other iPad applications it can become the central repository for your on-the-go work.
The app is $9.99 which is a small price to pay for such powerful productivity. You can check it out here in the iTunes App Store.
[showhide]
PDF Expert is the ultimate solution for all your PDF needs. It lets you read and annotate PDF documents, highlight text, make notes, draw with your finger and save these changes being compatible with Preview and Adobe Acrobat. Moreover, PDF Expert is the only iPad application that can fill PDF forms!

PDF Expert does read almost all document types like: iWork, MS Office, Power Point, text files, images, even music and video files, etc.

PDF Expert can get documents from any place you may need. PDF files from desktop computers, email attachments, documents on the Dropbox, MobileMe iDisk, GoogleDocs and even in other iPad applications could be accessed with PDF Expert.

Annotations made with PDF Expert are saved within the document in accordance with PDF format specification. Thus PDF Expert can edit highlights, text notes and other annotations created in Apple Preview or Adobe Acrobat Reader and vise versa. At the same time this lets you share annotated files with friends and co-workers.

PDF forms made with Adobe Acrobat are supported in PDF Expert. Text fields, check boxes, radio buttons and other form elements work as you expect and all information you entered is saved inside the form. Please note that Dynamic XML PDF Forms made with Adobe LifeCycle should be converted to Static PDF Forms format before using with PDF Expert.

With PDF Expert you can:

★ Highlight text: Mark important things in books, journals or documents you want to review.

★ Fill Forms: Work with static PDF forms created in Adobe Acrobat.

★ Create notes: Add comments to the text you read.

★ Draw with your finger: Use it to make handwritten notes or highlight text in scanned books.

★ Save Bookmarks: Create table of contents for your document right on the iPad.

★ Underline and Strike-Through words: Mark-up errors and emphasize important sentences.

✚ More to come: Additional types of PDF annotations are coming in the updates.

What else PDF Expert lets you do:

✓ Read PDFs with ease: PDF Expert has one of the best PDF viewers on the iPad. It opens large files, supports full text search, handles PDF links and outlines, opens password protected documents and extracts text from the PDFs.

✓ Copy Files From Mac or PC via Wi-Fi and USB: Use iTunes file sharing to transfer files directly to your iPad via USB cable. As an alternative you can connect to the iPad running PDF Expert via Wi-Fi and operate it like a wireless flash drive. No additional software is required.

✓ Save Email Attachments: Open attachments directly from the Mail app. Also, you can forward email with attachment to your unique Readdle Storage mail-in address and save it to your device using PDF Expert.

✓ Edit Documents on iDisk, Dropbox, GoogleDocs and Other Storages: PDF Expert allows you to download and upload files from MobileMe iDisk, Dropbox, GoogleDocs and other services. If you use more than one online storage, PDF Expert will handle all of them.

✓ Share Files With Your Friends: Email files directly from PDF Expert with all annotations preserved.

✓ Protect Application with Password: Restrict access to PDF Expert with the password to protect your files from unauthorised reading.
[/showhide]