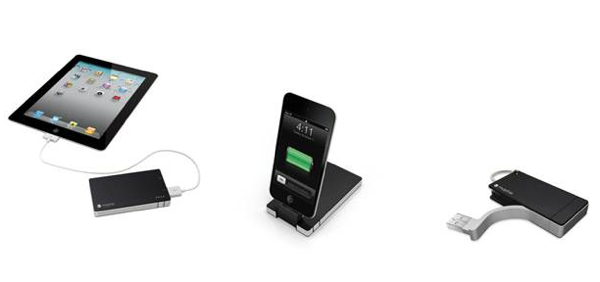 We love mophie's products. A lot. We use them all the time and they have pretty much saved us at the last two CES events. Now mophie has announced the availability of their Gen 2 juice pack Universal line. The line includes an external battery collection that offers "more power, slimmer design and lower price points than their predecessors". The collection offers three different devices— the reserve, the boost and the powerstation.
Here's a quick look at each.
The reserve: ($34.95)
Need a quick charge to get through the rest of the day? The zippo-inspired reserve is the perfect solution. Featuring a 700 mAh battery, the reserve is lightweight and compact in design, and comes with a convenient key ring and integrated USB cable for easy charging
The boost: ($49.95)
The sleek, pocket-sized backup battery is also a convenient stand. Utilizing its 2000 mAh battery capacity, the boost has the ability to fully charge an iPhone.
The Powerstation: ($79.95)
The most powerful of the bunch boasting 4000 mAh, the external battery is the only one in the collection that can charge more than iDevices, but virtually any USB-enabled device. Capable of switching between 500 mAh, 1 A and 2.1 A charge, the powerstation can handle the battery needs of not only the iPhone and iPod touch, but the iPad as well.
All three look great and are available now at mophie.com and Apple.com. We have a review sample of the Powerstation on the way for review and will have it up as soon as possible.
[showhide]
mophie Redefines Portable Power with Launch of Second Generation juice pack universal Line

External Rechargeable Batteries Feature New Advanced Technology for Extra Power On-the-Go

Santa Ana, Calif. (Sept. 20, 2011)—mophie™ today announced the availability of its next generation juice pack universal line, a collection of external portable batteries including the reserve, boost and powerstation. Designed for iPhone and iPod, the juice pack universal line delivers a compact and lightweight power solution, cased in an aesthetic fit for on-the-go style enthusiasts.

The second generation of reserve and boost take the portable power category to the next level, as the line features new design elements, superior quality and increased battery capacity, making them an efficient and convenient recharging solution. The reserve packs 700 mAh capacity into a device that fits into the palm of your hand and features a key ring for easy carrying. The boost, which is capable of recharging an iPhone to 100 percent with its 2000 mAh capacity, also features a pivoting connector, which acts as a viewing stand while the device is charging.

The powerstation is the most powerful of the three batteries, boasting 4000 mAh, and super high-output charging with unmatched capacity for its compact size. With charging output of up to 2.1 amps, the powerstation can handle the battery needs of any iDevice including the iPad, as well as USB-enabled devices.

Each of the new juice pack universal chargers feature a black soft-touch finish exterior, integrated LED charge status indicator, and improved conversion efficiency for maximum power transfer from battery to device.

"The juice pack reserve, boost and powerstation deliver a range of recharging solutions to mobile device users who need additional battery power but don't have the time or opportunity to plug into a wall or their laptop," said Ross Howe, senior director of product marketing, mophie. "The first universal batteries were incredibly well received and we evolved the line to help consumer's get the very most from their iOS devices at all times with easy and convenient portable power solutions."

Specific features and benefits of the reserve, boost and powerstation include:

reserve — $34.95
700 mAh capacity
Flexible USB outer band and hidden connector stay concealed until you're ready to charge
Hideaway 30-pin connector
Charges all generations of the iPod and iPhone
boost—$49.95
2000 mAh capacity
Provides enough power to recharge an iPhone to 100 percent
High-output 1A charging for a faster recharge
Sleek, low-profile, and slips right into a pocket
Pivoting connector-hinge rotates into place so users can view the screen while charging
Charges all generations of the iPod and iPhone
powerstation—$79.95
4000 mAh
Charging output of up to 2.1 amps

Capable of switching between 500 mAh, 1 A and 2.1 A charge
powerstation can be recharging while it still charges another device
Charges all generations of the iPad, iPhone and iPod, and USB-enabled devices
All members of the juice pack universal line are now available in Apple stores, www.apple.com and at www.mophie.com. For additional information regarding the mophie suite of products, please visit http://www.mophie.com.

About mophie

mophie is a California-based, award-winning designer and manufacturer of mobile intelligent devices and accessories. It is widely recognized and highly acclaimed for its creative designs and innovative solutions. mophie is the proud developer of the juice pack, the first "Works With iPhone" portable battery solution certified by Apple Inc. All of mophie's products are developed to address real consumer and business needs and are seamless integrations of industrial, electronic, software and artistic designs. Its products are available in Apple stores, AT&T stores, Best Buy stores, Verizon stores, and on www.mophie.com and www.amazon.com. Follow mophie on Twitter at twitter.com/mophie or on Facebook at facebook.com/mophielovesyou
[/showhide]