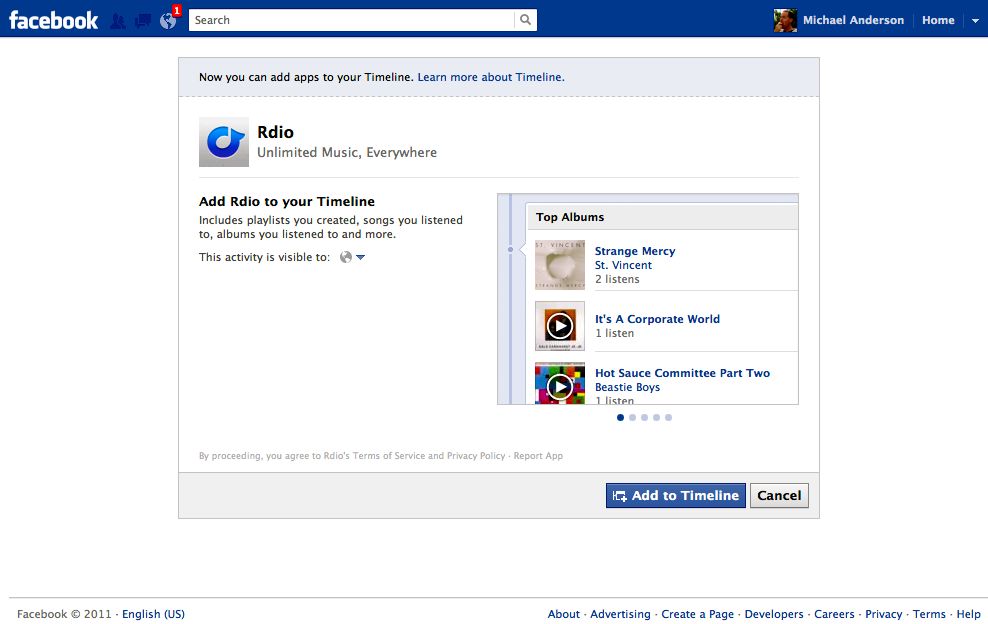 As expected, yesterday at f8 Facebook unveiled a number of new features, such as the new profile and timeline … and my main area of interest – the MUSIC. Unlike some other initiatives, Facebook is seeking to integrate everything organically into the overall 'Timelines' elements and 'OpenGraph' presentation structure.
There are already those railing against the new newsfeed structure, but that isn't my concern here. What interests me is how Facebook and their partners will make this all work – including the ability to 'listen together' as noted at Digital Music News:
Perhaps the coolest music integration allows users to listen to music together – as in, the same time! Actually, the next marquee partner was Clear Channel Radio's iHeartRadio – not Pandora – whose integrated radio experience was given gushing attention by CTO Brett Taylor. "iHeartRadio is a different type of radio service," Taylor said. "It' s a social radio experience, and by saying that right up front, they're setting up a completely different expectation."

That is, no explicit permissions and approvals, or other steps that reduce the social lubrication. Instead, friends can easily add the iHeartRadio app from a friend's timeline – right then and there. And that goes for the range of other OpenGraph-integrated partners as well. "There is no step two," Taylor relayed.
The 'big three' on-demand music services – MOG, Rdio and Spotify – all have integrated Facebook availability. Since the services are all in closed beta and I can't try them all out yet, I figured I would just let their press releases tell the tale, starting with MOG.
Here is the news from the MOG Blog:
MOG is thrilled to launch our Facebook integration

We are beyond excited to tell the world that our award-winning streaming music service will be integrated with Facebook to offer our listeners an incredible, next-level social music experience. We announced our integration today at f8, Facebook's developer conference.

We think this is especially wonderful because we now offer an awesome free version of our service. That means any person with a Facebook account can enjoy the new social MOG music experience on Facebook for free, as long as they have either signed up with Facebook Connect or activated it via MOG's "My Settings".

"We put blinding focus on making it drop dead easy to find the music your friends are listening to. Through Facebook Platform, the MOG experience is now more personal and relevant for each person, representing the pinnacle of music discovery," said our fearless leader David Hyman.

The future of music is now!
Rdio expressed similar sentiments on their blog:
Here's some news we're sure you'll like: Rdio is now one of Facebook's official music partners. Instantly play music on Facebook using Rdio, and share what you're listening to in your News Feed and Ticker. Anytime you see shared Rdio tracks on Facebook, click Play to hear them immediately.
You don't need to download anything to get started, just connect Rdio to your Facebook profile. If you've already connected your Rdio and Facebook accounts, you'll need to re-connect them here. Your Facebook friends who've never used Rdio can simply click any Rdio Play button, and we'll automatically create an account for them.

Everyone has that one friend, right? The one who knows the best new bands long before everyone else. Now you can be that friend on Facebook, and your friends will love you for it.
And finally, Spotify was a featured contributor at f8 and had this to say:
Today, September the 22nd, is a big day for everyone who loves music.

Music is one of the most social things there is. That's why for the past couple of years, we've been obsessed with what the next generation music service should look like.

We knew that the service had to be free to draw people away from piracy. Helping them to listen to even more music. To do that, we also knew that the service would have to be inherently social. There couldn't be a better place to do this than Facebook.

We're very excited to have been asked by Mark Zuckerberg to showcase this new experience at the f8 conference in San Francisco today. Take a look at these amazing new features in our video.

You'll now start seeing new music posts and play buttons all over your newsfeeds. Hit a play button and the music starts. Right there. Spotify fires up to give you a new soundtrack to your social life. Check out your new Music Dashboard and your real-time ticker to discover the music that's trending with your friends.

This integration with Facebook will help everyone to discover more free music than ever before. Thanks to our unrivalled, truly free service, users can just hit play to enjoy the music, no hassle, no gimmicks; month after month after month.

We hope many more people can enjoy the musical journeys that this integration will bring. Like the thrill of looking through a friend's music collection and finding a track that blows your mind. Or sending birthday playlists across the planet.

Having free access to music on Facebook also gives us an opportunity to express ourselves in a new way. We're proud to share pictures of our lives. Now we can say something about ourselves through music. "Hi I'm Daniel – here's some Daft Punk."

We know that Spotify's users who connect to Facebook listen to more music on a weekly basis. They listen to a wider variety of music – in fact we have more than 400 million playlists created in Spotify now. Because these users are more social, they're more engaged. Because they're more engaged, they're more than twice as likely to pay for music.

Social discovery on Facebook means that we're bringing people back to paying for music again. And that's how the brilliant artists who create this music can continue creating it for us to enjoy.

Enjoy the soundtrack to your social life!
Here is the video they talked about in the post:
The big news is 'listen with a friend'. Basically, after you build your timeline and have your friends integrated, if they are listening to something on MOG you simply click and you are listening right along with them. This has the potential to be huge for music discovery and listening.
And, of course, there were other media features besides music such as Netflix, VEVO, Mashable, and so on! What do you think about all of the new Facebook features?