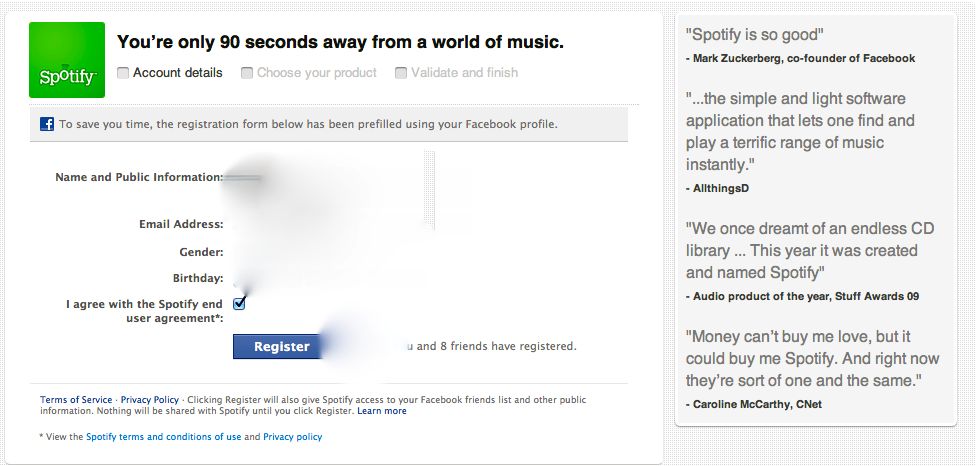 This has been a huge week for Spotify. As I already noted, they are a 'featured partner' in Facebook's new music service. But this week they also opened up North America to 'Free' signups and also announced they had reached 2 million PAID subscribers!
From Digital Music News we get word of Spotify passing 2 million subscribers worldwide:
The top-level figure was shared with Digital Music News on Wednesday by a Spotify executive, and later announced by CEO Daniel Ek. Specifically, Ek referenced a figure of "over 2 million" on CNBC, a global (US+European) number.

At this point, we're unsure of the continental mix. Last month, Spotify revealed a US-based paying population of 175,000, on a userbase of 1.4 million. That is far greater in Europe, where the paying number was 1.6 million, with more than 10.7 million users. The total – at that point – was nearly 1.78 million.

That is – roughly – a 12.5 percent increase, in a period of perhaps 6 weeks. Which helps to validate the Spotify model further, and may also be validating moves by major labels to limit the amount of free listening.
This is great news for Spotify and also for on-demand streaming music services. Those services have been growing, but with everyone waiting for Spotify to finally launch outside of Europe it seems things have been held back. Now we have three top-tier services in North America, each with great features and opportunities for growth.
One of the big growth areas recently is on free trials. Initially MOG and Rdio had short trials, but recently have brought on more robust trials where you are not limited by time as much as by how well you use the social aspects of the service. Spotify has stuck with their standard limited Free mode, but whereas that service has been 'invite only' since launch (unless you pay), they have just opened it up for free sign-ups by anyone!
According to Engadget:
It's only been a couple of months since Spotify kicked off its invite-only beta here in the US, but along with announcing new Facebook tie-ins it's finally ready to let the masses into the party. As if lifting the velvet rope weren't enough, Spotify has also seen fit to throw in unlimited streaming for six months on the free plan, instead of the usual ten hours. Click the source link below to grab your own account now (Facebook account required) but be warned: millions before you walked in for the free taste and ended up with a $10 / month premium service musical addiction.
Just head to Spotify to start the process! As shown at the top, they can even populate the sign-up forms from your Facebook profile! Then your music plays will show up on the new Facebook Timeline!