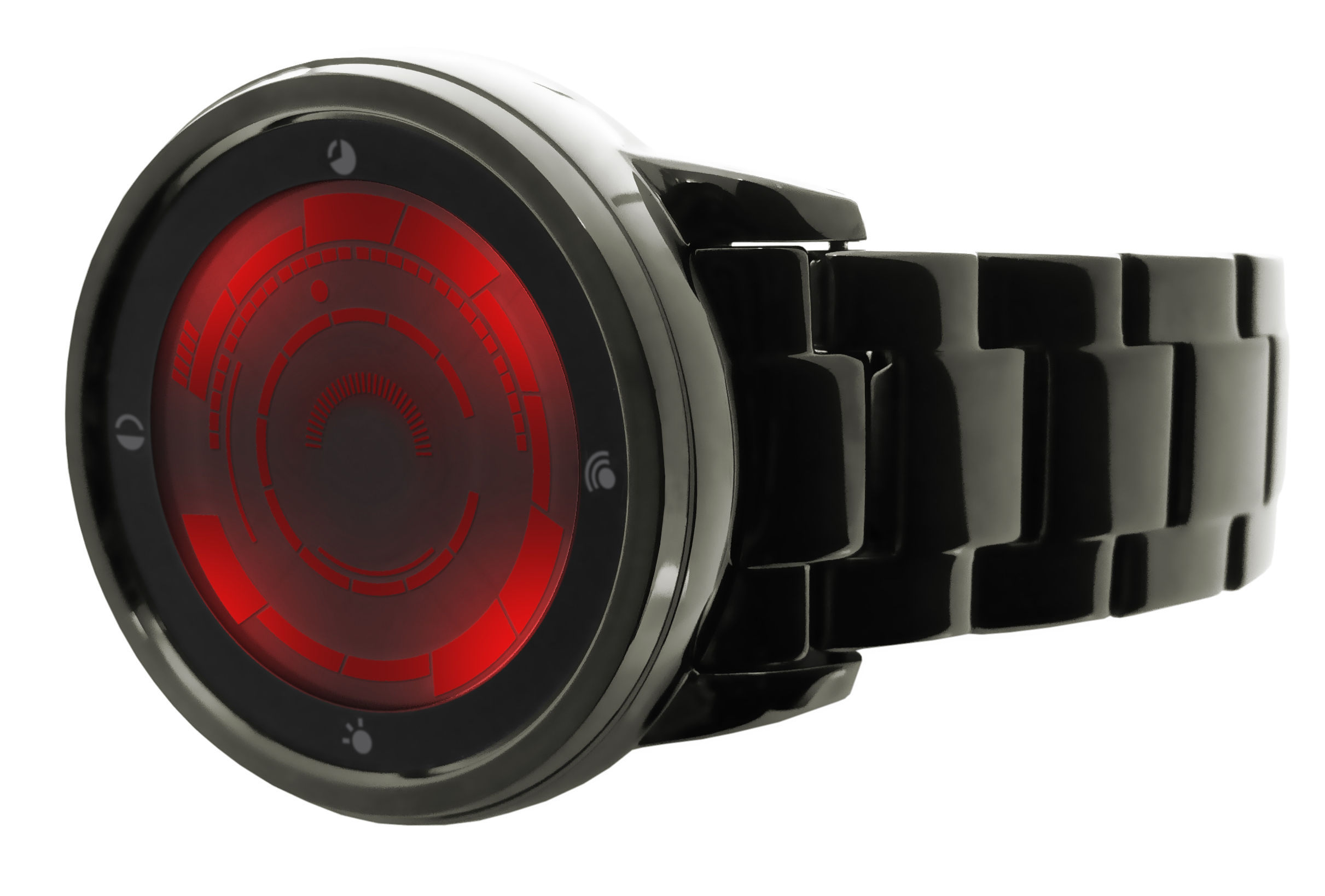 Image courtesy of Tokyoflash
Today marks a new era in ultra geek timepiece technology. Tokyoflash just launched their first ever touchscreen watch known as the Rogue Touch. The Tokyoflash design team has been hard at work this year with a whole new lineup of killer watches, this is the first to combine their hybrid LED/LCD technology with a full buttonless touchscreen interface. The Rogue Touch has an always on face, new gunmetal and with a touch of bronze metal steel housing. The watch comes in 4 vibrant colors and time is expressed by a multitude of blocked out rings, dials, and lines. There are 4 "hot zones" or quadrants that when touched show time, alarm, date, and illumination. There is also a swipe to unlock feature that allows you to lock and unlock the touch interface which allows you to prevent accidental screen changes when everyone around you is trying to get their hands on your fancy new watch. As usual, Tokyoflash packs all the same features into the watch that you have come to know and love with their other models.
Quick Specs:
Displays the time and date
Alarm mode
LCD "always On" Display
LED Backlight For illumination (Red, Blue, Green, Plain)
Light-Up Animation Feature (can be turned off)
Audio Feedback (can be turned off)
Stainless steel case and strap
Gunmetal finish
Clasp: simple fold over clasp with push button
Minimum wrist size: 100mm (approx.)
Maximum wrist size: 210mm (approx.)
Case dimenstions: 39mm x 42mm x 11mm
Weight: 140 grams
Water resistance: 3ATM
Battery CR2025 replaceable watch battery
English instructions
One year warranty
This is by far my favorite creation coming  from the Concept To Reality blog. This is a full feature watch with all the bells and whistles of any other designer watch, but with the added geek goodness of a touch screen. The case color and LED color options fit this design perfectly and the added second time zone, hybrid lighting, and buttonless design surely put it ahead of any other tech watch maker in the market. With the addition of the touchscreen, One might think Tokyoflash could be throwing their hat in on the great intellectual property patent battles of 2011. Truth be told they are truly the authority on the LED watch scene and I'm sure have more touchscreen models dropping before the end of year. This watch is now on sale for $179 shipped directly from the Tokyoflash website, but only for a limited time then the price goes back up another $20. The green LED version is definitely going on my Christmas list this year, I just hope someone get's it in time before the promotional period ends. Check out the Tokyoflash site for more watches and information and the gallery below for more shots of the Rogue Touch posing for the camera.
Available: Now
Price: $179 (limited time only)
Via Tokyoflash