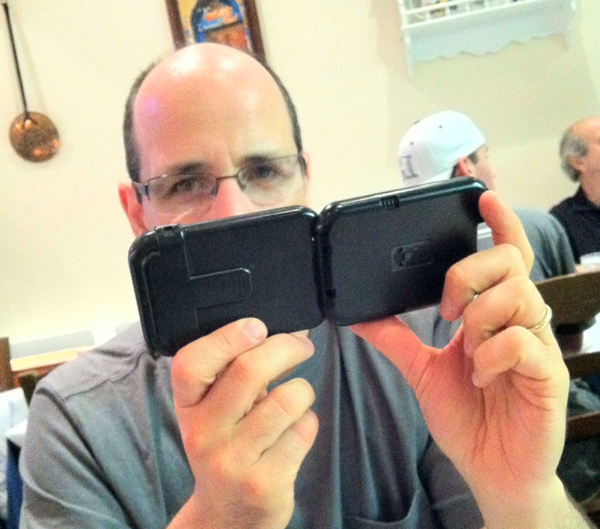 A few weeks ago we were out to dinner with some friends. When the time cam to pay, Laurence reached into his pocket and pulled out his wallet. Without thinking I said, "Where did you learn about the Flipside 2X Wallet?"
To which he replied, "Uhm, I think some guy named Dan reviewed it on Gear Diary a year ago."
Okay that was dumb of me but it is good to know my friends read the site. And I do love my FlipSide wallet. In fact, since yesterday I love it even more. Yes, my Flipside Wallet got some extra storage thanks to the new FlipsideKick. The $9.99 add-on is money well spent because the FlipsideKick has some neat tricks up its sleeve.
This is the Flipside 2X wallet without the FlipsideKick. It has a clip that is quite useful if you want to carry a receipt or two.
This is the new FlipsideKick. The FlipsideKick is
a universal card slot that attaches to the back of the Flipside 2X Wallet to increase its capacity, for those customers who want their Flipside's to hold a bit more, giving the Flipside a "modular" touch.
To use the FlipsideKick you detach the clip. (This is done most easily with the wallet open.)
You then take the FlipsideKick and place it on the wallet with the two side connectors positioned exactly where the connectors on the clip went. They snap together and look like one unit.
Features:
A universal card slot that attaches to the back of your Flipside 2X™ Wallet.

Securely holds up to 3 regular cards, up to 6 business cards, or a combination of both.

Attach to your Flipside 2X™ when you need it, detach it when you don't.

Ideal for scanning RFID cards without opening your wallet, such as RFID subway passes, RFID work and building entry cards, and more.

Works excellent as a business card holder/dispenser.

Slim 3/16″ thick design keeps wallet compact and comfortable.

Constructed from tough Polycarbonate plastic
It is great to have the extra storage and to be able to remove the FlipsideKick when you don't need it. That, however, is only one aspect of this accessory. The real key to it is that, unlike the Flipside Wallet 2X, the FlipsideKick is not RFID shielded. That means the cards IN the wallet cannot be scanned by thieves who are using the latest and greatest technology to rip you off while cards in the FlipsideKick can be scanned. That's perfect, as the company points out, for metro passes and other cards that are used frequently and would otherwise need to be pulled from the wallet each time you used them.
The FlipsideKick is a small add-on that makes the excellent Flipside Wallet even better. I've been using the review unit for a year and it still works and functions as if it were brand new. I'll be using the FlipsideKick with it going forward because I really can use the extra storage. In all, I highly recommend both the wallet and the FlipsideKick. They do look a bit "different" but they work exactly as promised.
MSRP: Flipside 2X Wallet $39.95; FlipsideKick $9.95
What I Like: Adds capacity to the Flipside Wallet without adding much bulk; Easily removable when not needed; NOT RFID shielded which is quite convenient
What Needs Improvement: Only works with Flipside 2X Wallet