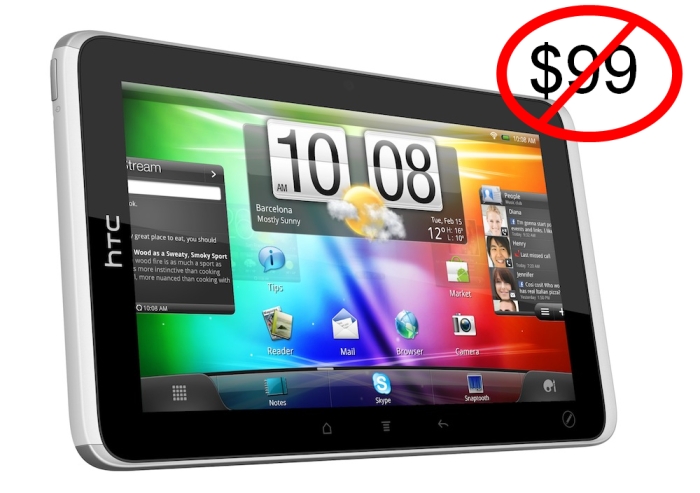 Original Image courtesy of RPAD.tv
There is no better way to rain on a geeks parade than to dangle a worthy gadget out there at an unbelievable price, then to quickly slam the door in your face and tell you "it was a mistake." After seeing news this morning that the HTC Flyer has dropped down to a single Benjamin, I quickly started to get my plan of action together. After my meeting at work, I ran to the local BestBuy Mobile at the closest mall and started a makeshift line so I could ensure that I was walking out of there with a shiny new white Flyer. I showed up at 9:30 and quickly made conversation with the employee through his steel security fence. I asked him if he had some in stock, and he confirmed there were a couple. Excitement was an understatement, and I told him that for $100, you can't go wrong. He laughed and said I was crazy, so I told him to check out his website. He told me I had to wait to talk to him any further until the store opened at 10. So I started my one man line and could not figure out why I was the only one there.
At 9:55 he told me through the gate that Best Buy made a mistake, and that he could not honor the $99 price. As my heart dropped and my weak retort was quickly responded to with a shaking head  and apologies, I made my way back down the not yet moving escalator and out to the parking lot empty-handed. I guess this is why I never go to the mall to shop, nothing good ever comes out of it; I guess it was all too good to be true. But what about those people who were able to order them from the website before they sold out? Will Best Buy honor those sales? I assumed that in good gadget "fire sale" order, maybe HTC was clearing stock for something new and trying to stir the pot a little.
Feel free to chime in with your thoughts, and if you have a similar story about the Flyer or Touchpad let us know.
Thanks Best Buy!
Current Best Buy price is $299 (unless you look online)
Some more info on the HTC Flyer