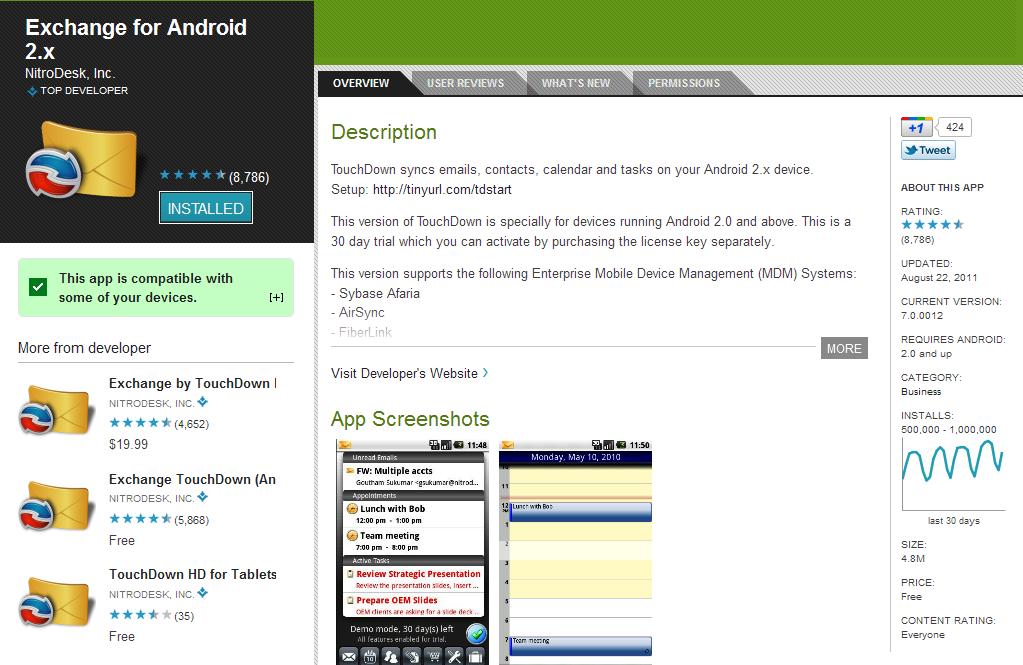 With the release of the iPhone 4S and the upcoming Google-Samsung-Nexus-Galaxy-Prime-Whatever expected to be unveiled next week, it is easy to get caught up in 'new smartphone envy'. But it is always important to remember WHY we have smartphones to begin with – email, maps and navigation, light web browsing, social networking, and other things. In short – apps.
Many folks point out that the majority of apps that people use most heavily are available on iPhone, Android and even Windows Phone – though the quality and feature set tends to vary a bit between platforms.
But for many there is that ONE APP that defines your loyalty to the platform. The ONE APP that if it were suddenly unavailable would change everything about how you go about your day.
For me that ONE APP has always been about email. Back in the mid-late 90′s I was using a Newton MessagePad 2000 and dependent on Commontime Cadenza to keep everything in sync – it was an amazing portable client even 15 years ago. Then I moved to the Psion 5mx and Revo, and InSync Pro by TimeIS did the job (though not nearly as well). With the PocketPC I was back to Cadenza – which was then renamed mNotes.
Since starting at my current job just over 3 years ago, I have been dealing with a non-standard Microsoft Exchange configuration. That meant I could direct sync my Dell Axim x51v … but not wirelessly. And it made my iPod Touch useless for getting work email.
Finally in 2009 I learned of a company named Nitrodesk who was working on a product called TouchDown that was supposed to deal with Exchange configurations that the standard Android/iOS/Windows Mobile devices couldn't access. I was looking to get a smartphone – so the timing was right. I bought the Motorola Droid, downloaded TouchDown and used the trial period (5 days at the time) to get it configured and paid the $9.99 (now $19.99) and have been extremely happy ever since.
Not only have I been happy, but like the pied piper I have spread the joy around for the last two years, so that I know of at least two dozen people who have bought TouchDown directly based on talking to me … and others indirectly, and who knows how many others through that expanding spiderweb. Bottom line – unless you are an executive who can have the IT department configure your device and Exchange account specifically to work with our servers, this is the only way to get our work email on a phone.
Last weekend our IT made some changes to the way our webmail system works (which is how TouchDown interfaces), and suddenly we were cut off from email. I suddenly understood how those BlackBerry users felt!
Then, just as suddenly as the service disappeared, I heard a buzz from the phone sitting on my desk and saw that it had returned.
Here is the description from the Android Market:
TouchDown syncs emails, contacts, calendar and tasks on your Android 2.x device.

This version of TouchDown is specially for devices running Android 2.0 and above. This is a 30 day trial which you can activate by purchasing the license key separately.

This version supports the following Enterprise Mobile Device Management (MDM) Systems:
- Sybase Afaria
- AirSync
- FiberLink
- NotifyMDM
- SOTI
- Zenprise
- WaveLink

When it comes to corporate data access on your device, you get what you pay for. For a fair comparison, compare the download counts along with the stars.

NitroDesk, Inc. has been building and improving TouchDown since October 2008. We have improved the product through hundreds of internal versions, to bring you the best and most downloaded Email solution for Android.

Comprehensive : Support for most number of data types (Email, Calendar, Contacts, Tasks) and Notes and SMS syncing for Exchange 2010 servers.

Customizable : Dozens of options to make the app behave just the way you want. Custom notifications, speech notifications, viewing tweaks, pinch-to-zoom, peak times and many more.

SD card support : Move your data to the SD card if necessary

Widgets : Email, Tasks, Calendar, Universal Widgets make it easy for you to see your status at a glance. Support for third-party widgets give you a wide range of choice

Most Secure: TouchDown supports exchange activesync policies such as PIN, Remote Wipe, Data encryption and Storage card encryption of corporate data. Hundreds of organizations trust TouchDown to ensure security, privacy and confidentiality of their data. Discerning organizations manage the use of TouchDown to ensure high usability along with security.

Corporate Data Separation: TouchDown keeps your corporate data separate from your personal data. Without TouchDown, your employer can actually flatten your phone to factory defaults. With TouchDown, they can only remove corporate data belonging to them, leaving behind your personal information.

S/MIME: TouchDown is the only android solution so far that supports sending and receiving S/MIME signed and encrypted emails. S/MIME signing and encryption ensures that your emails are not tampered with, and can ensure that emails you send can be ensured to be visible only to the intended recipient.

Manageable : TouchDown integrates with most popular Mobile Device Management solutions in the market today, increasing the chances that your phone can play well with your IT organization's security policies.
Sure, in this day of social networks and with all the games and other crazy apps I have loaded, fretting over email might seem mundane, but it is where I live my life at work. Everyone knows the best, easiest and quickest way to get me is via email. And since I can take care of EVERYTHING else there as well – scheduling, tasks, and so on – it really is the center of my work day.
And TouchDown takes care of business for me like no other mobile client I have used since Cadenza on the Newton (which I know is clouded with nostalgia), making it an app that keeps me rooted firmly to my Android phone and totally unaffected by the iPhone 4S in spite of my heavy investment in the iOS ecosystem.
What apps can't YOU live without? Let me know in the comments!