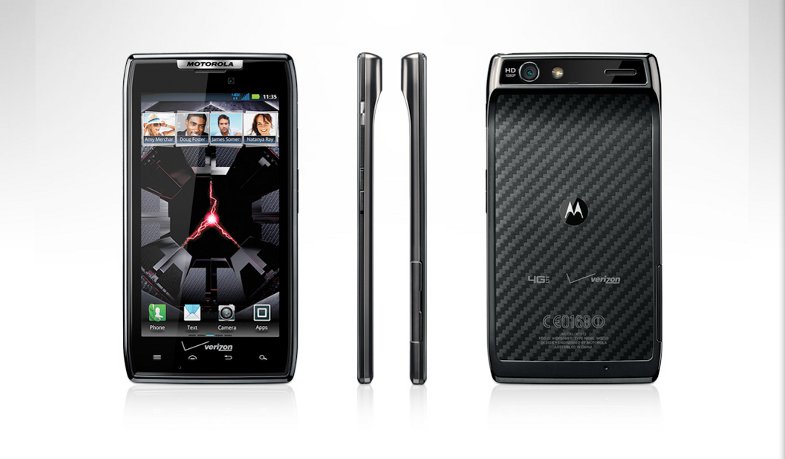 Ahead of the Samsung/Google announcement for the Galaxy Nexus, Motorola had a press event in conjunction with Verizon on two new devices.
The first one is the new Motorola Droid RAZR which they say is the thinnest 4G LTE Smartphone.  It packs a dual-core 1.2GHz TI OMAP4430 processor, 8 megapixel rear camera capable of 1080p HD video, 1GB RAM, 16GB of onboard storage with 16GB additional on the microSD card and an 1,800mAh battery.  Of course it also works with the recently announced Lapdock 100 and 500 Pro.  Also included are some cloud features that Motorola calls MotoCast.
Unfortunately, by the looks of things, it is shipping with Android 2.3 which may be overshadowed by Samsung's announcement later tonight (US Time).  The Droid RAZR will be available on Verizon Wireless in November for $299 with a new 2 year contract.
Before they announced the Droid RAZR, the announced a new devices called MotoACTV.  This device looks a lot like the iPod Nano and includes Nano features on steroids.  It has a GPS for tracking your movements and is sweat and waterproof.  Once your workout is done, it will automatically upload your workout to the Motoactv.com website.  You can also purchase one of two wireless headsets that work with the MotoACTV, the SF700 ($149) and SF500 ($99).  Both headsets include an integrated pulse monitor to enhance the data that the MotoACTV already collects.
MOTOACTV will rock your fitness goals with the following features:

Ongoing tracking of fitness performance stats, including pace, distance, calories burned, and map of route covered, with automatic wireless syncing of workout data to MOTOACTV.com
8GB or 16GB of storage for endless playlists
Sports a 1.6″ full-color touch-screen display that is sweat-proof, rain-resistant and scratch-resistant Corning® Gorilla® Glass that auto-adjusts for indoor or outdoor lighting
Option to sync with the latest Android-powered smartphone to receive incoming calls and texts
FM radio capabilities for more song variety
Up to five hours of battery life for outdoor workouts, 10 hours indoors, and nearly two weeks on standby
Supports both Bluetooth® 4.0 and ANT+ wireless connectivity for your existing fitness sensors and your future ones
Size: 46mm x 46mm x 9.6 mm
Weight: 35 g
The MotoACTV will be 8G is $249 and $299 for 16G.  Preorders start today at Motorola.com, Amazon.com, Best Buy, Eastern Mountain Sports or REI with a release date of November 6th.  Kind of pricey for all it is if you ask me.
I am a little disappointed with both of these devices.  Motorola tried really hard to combine both brands that are so iconic when you think of Motorola phones but it kind of feels like yet another Moto Droid.  It's almost as if Motorola has settled back into a pattern of releasing device after device of based their new Droid brand.  Kind of like they did with the RAZR way back when.
As for the MotoACTV.  It's a cool device, but an MP3 player?  Now?
Only time will tell if either of these will sell in any significant numbers.
What do you think?  Did Motorola hit it out of the park or are these devices both duds?