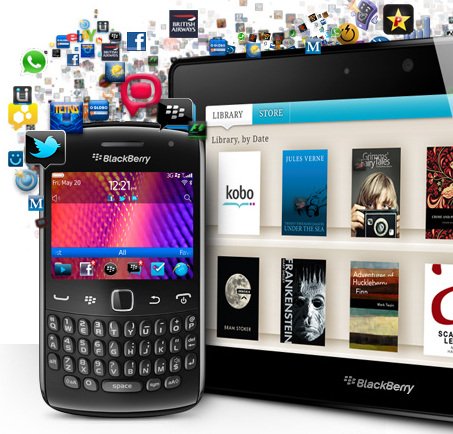 If you have a BlackBerry, then you doubt suffered through RIM's outages last week. They want to make it up to you, and in order to do so they are offering free apps — the first of which rolls out today. Over the next four weeks you'll have other apps to choose from, and this is all in the hopes that it will bee enough to keep BB users happy and away from the iPhone 4s or the Samsung S II.
We wanted to provide you with an update on RIM's offer of free premium BlackBerry apps to customers as an expression of appreciation following last week's service disruption.

Starting today, BlackBerry users can download the first premium app that will be available through this offer:

iSpeech DriveSafe.ly Pro

DriveSafe.ly 2.0 reads your text messages and emails out loud so you can concentrate on the road. Eliminate the temptation to reach for your phone by letting DriveSafe.ly read to you and automatically respond for you.

DriveSafe.ly 2.0 Pro allows you to send text responses by voice and use other voice commands such as replaying the message or calling back the sender. Stay connected by listening to your messages without texting while driving or reading emails in your car. Respond by voice, hands-free. DriveSafe.ly is the answer to texting while driving TWD.  For more information, click here.

DriveSafe.ly has received a 4.5 star rating in AppWorld and has a retail value of $19.99.

Please note that all of the premium BlackBerry apps outlined in the October 17th press release will become available over the next four weeks.  We will be communicating regularly as new apps open up to customers.  Also note that app availability is dependent on the OS and smartphone of each individual user and will vary based on region. Over the coming weeks, RIM may announce additional free premium BlackBerry apps for customers to download, in addition to those mentioned in the press release.  For a complete list of premium apps available, customers can visit www.myblackberryapp.com.
If you are a BlackBerry user, will this be enough to keep you loyal? Or are you ready to move over to the Dark Side …

More about the outages is included in last week's press release …
[showhide]
Research In Motion Offers Free Premium Apps to Customers Following Service Interruptions

Waterloo, ON - Research In Motion (RIM) (NASDAQ: RIMM; TSX: RIM) announced today that a selection of premium apps worth a total value of more than US $100 will be offered free of charge to subscribers as an expression of appreciation for their patience during the recent service disruptions. The apps will be made available to customers over the coming weeks on BlackBerry® App World™ and will continue to be available until December 31, 2011.*

"Our global network supports the communications needs of more than 70 million customers," said RIM Co-CEO Mike Lazaridis. "We truly appreciate and value our relationship with our customers.  We've worked hard to earn their trust over the past 12 years, and we're committed to providing the high standard of reliability they expect, today and in the future."

The complete selection of premium apps will become available to download at BlackBerry App World over a period of four weeks beginning Wednesday, October 19th.  The selections over this period will include the following (with more to come):

• SIMS 3 – Electronic Arts
• Bejeweled – Electronic Arts
• N.O.V.A. – Gameloft
• Texas Hold'em Poker 2 – Gameloft
• Bubble Bash 2 – Gameloft
• Photo Editor Ultimate – Ice Cold Apps
• DriveSafe.ly Pro – iSpeech.org
• iSpeech Translator Pro – iSpeech.org
• Drive Safe.ly Enterprise – iSpeech.org
• Nobex Radio™ Premium – Nobex
• Shazam Encore – Shazam
• Vlingo Plus: Virtual Assistant – Vlingo

RIM's enterprise customers will also be offered one month of free Technical Support.  Current customers will be offered a complimentary one month extension of their existing Technical Support contract, and customers who do not currently have a Technical Support contract will be offered a one month trial of RIM's BlackBerry Technical Support Services – Enhanced Support, free of charge.  Additional details about the program and information about how to register will be available at www.blackberry.com/enterpriseoffer.

"We are grateful to our loyal BlackBerry customers for their patience," added Lazaridis. "We have apologized to our customers and we will work tirelessly to restore their confidence.  We are taking immediate and aggressive steps to help prevent something like this from happening again."

Note to Editors:
Last week, many customers experienced service interruptions and delays over a period of approximately 3 days in Europe, the Middle East, India and Africa, 1.5 days in Latin America and Canada, and 1 day in the United States. Global teams worked around the clock to contain the issue and minimize the impact to customers as much as possible. As of Thursday, October 13, service levels returned to normal.

* Please note that the availability of this offer will depend on the type of device, operating system version, access to BlackBerry App World and local conditions and/or restrictions.

About Research In Motion
Research In Motion (RIM), a global leader in wireless innovation, revolutionized the mobile industry with the introduction of the BlackBerry® solution in 1999. Today, BlackBerry products and services are used by millions of customers around the world to stay connected to the people and content that matter most throughout their day. Founded in 1984 and based in Waterloo, Ontario, RIM operates offices in North America, Europe, Asia Pacific and Latin America. RIM is listed on the NASDAQ Stock Market (NASDAQ: RIMM) and the Toronto Stock Exchange (TSX: RIM). For more information, visit www.rim.com or www.blackberry.com.

Forward-looking statements in this news release are made pursuant to the "safe harbor" provisions of the U.S. Private Securities Litigation Reform Act of 1995 and applicable Canadian securities laws.  When used herein, words such as "expect", "anticipate", "estimate",  "may",  "will", "should", "intend," "believe", and similar expressions, are intended to identify forward-looking statements.  Forward-looking statements are based on estimates and assumptions made by RIM in light of its experience and its perception of historical trends, current conditions and expected future developments, as well as other factors that RIM believes are appropriate in the circumstances.  Many factors could cause RIM's actual results, performance or achievements to differ materially from those expressed or implied by the forward-looking statements, including those described in the "Risk Factors" section of RIM's Annual Information Form, which is included in its Annual Report on Form 40-F (copies of which filings may be obtained at www.sedar.com or www.sec.gov).  These factors should be considered carefully, and readers should not place undue reliance on RIM's forward-looking statements.  RIM has no intention and undertakes no obligation to update or revise any forward-looking statements, whether as a result of new information, future events or otherwise, except as required by law.

The BlackBerry and RIM families of related marks, images and symbols are the exclusive properties and trademarks of Research In Motion Limited. RIM, Research In Motion and BlackBerry are registered with the U.S. Patent and Trademark Office and may be pending or registered in other countries. All other brands, product names, company names, trademarks and service marks are the properties of their respective owners. RIM assumes no obligations or liability and makes no representation, warranty, endorsement or guarantee in relation to any aspect of any third party products or services.
[/showhide]