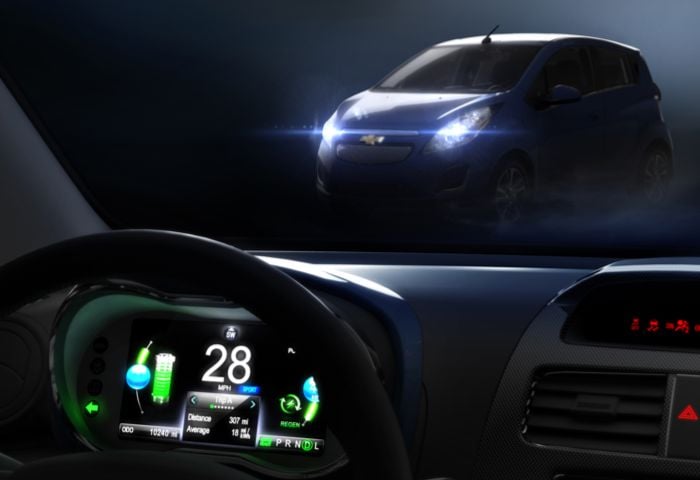 It has been a busy week for the technology divisions at General Motors as several major news announcements have graced the Gear Diary inbox.
Kicking things off is Cadillac and its new Cadillac User Experience or "CUE" system set to arrive in 2012 in the upcoming XTS and ATS sedans and SRX crossover.
CUE will pair entertainment and information data from up to 10 Bluetooth-enabled mobile devices, USBs, SD cards and MP3 players with a vehicle infotainment system that reduces complexity through customized information, natural voice commands and fewer buttons and larger icons.
"CUE doesn't replace your smartphone or your iPod," said Micky Bly, executive director, Global Electric Systems, Infotainment and Electrification. "Rather it allows consumers to securely store those mobile devices while channeling the information on those devices, along with your navigation tools, weather maps with Doppler radar, AM/FM and XM radio, instant messages and emails, through a central portal in your Cadillac, keeping hands on the wheel and eyes on the road."
At the heart of the CUE system is the 8-inch LCD capacitive touchscreen display integrated into the top center portion of the instrument panel. Below it is a concealed cubby for storing your connected personal devices.
Chevy Ignites a Spark
On a different note, Chevy announced it will produce an all-electric version of the Chevy Spark mini car – the Spark EV. It will be sold in limited quantities in select U.S. and global markets starting in 2013. It's gasoline counterpart is already available in markets around the globe and will arrive on our shores in 2012.
"The Spark EV offers customers living in urban areas who have predictable driving patterns or short commutes an all-electric option," said Jim Federico, global vehicle chief engineer for electric vehicles at Chevrolet. "It complements Chevrolet's growing range of electrified vehicles, including the Volt extended-range EV and the 2013 Malibu Eco with eAssist technology."
Green with EN-V
And finally, in an effort to meet the growing demand for safe, connected personal transportation, GM has decided to work on the next-generation EN-V concept vehicle and brand it with the Chevy badge. This two-seat, electric urban mobility concept is a zero-emissions vehicle powered by lithium-ion batteries and can be recharged from a conventional 110v wall outlet allowing a range of up to 40 km.
The Chevy EN-V concept will be updated with new features that customers need such as climate control, personal storage space and all-weather and road condition operation.
By combining GPS with vehicle-to-vehicle communications and distance-sensing technologies, the EN-V can be driven manually or autonomously. In autonomous mode, EN-V offers mobility to people who may not otherwise operate a vehicle. By leveraging wireless communications, it allows drivers and occupants to communicate hands-free with friends or business associates while on the go.