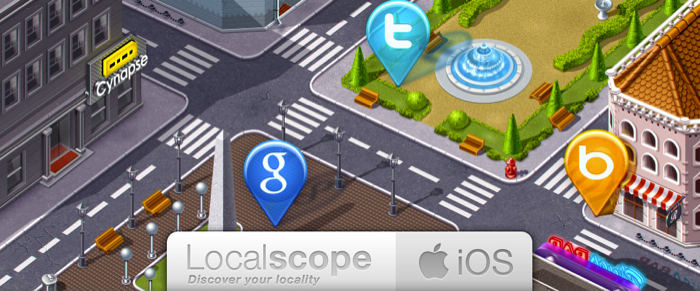 I love when applications continue to grow and update along with the maturity of the iPhone and iOS. With all of the location advances and search possibilities with Siri, those features have been front and center in today's tech news. There are many options for such apps on the iPhone and one if my favorites that I use often is Loacalscope. I reviewed the initial version of the app here in March and have used it ever since. Localscope has gone through several updates with the most recent bringing integration with 11 popular GPS applications and the ability to speak 19 different languages. The fact that users do not have to depend exclusively on Google data and may choose where the search comes from makes the app unique to many others. The developers also alluded to a major update coming soon that I look forward to. Read the company release below.
Localscope now integrates with 4 more Navigation Apps
Localscope v1.9 integrates with 4 more popular navigation apps Magellan RoadMate, Navfree / Navmii GPS navigation, MotionX GPS Drive HD and Sygic GPS Navigation. Integrating with a total of 11 of the top navigation apps gives Localscope users the power to choose their favorite navigation app for turn by turn directions to a place discovered with Localscope.

October 21, 2011 – Mumbai, India - Cynapse announces the latest version of Localscope v1.9, an update that strengthens the connection between geo social search and navigation. The latest version integrates with a total of 11 popular GPS navigation applications for the iOS devices – Magellan RoadMate, Navfree / Navmii GPS navigation, MotionX GPS Drive HD and Sygic GPS Navigation, in addition to the already available Maps App, TomTom, Navigon Mobile Navigator, Waze, MotionX GPS Drive and the Australia and New Zealand based MetroView.

Localscope automatically detects the supported navigation apps installed on the user's iPhone or iOS device and presents a list to choose from. With a single tap, users can jump right into one of their favorite apps from within Localscope to get turn by turn directions to their place of interest.

Localscope uses 5 geo search engines and social networks sources, supports 18 languages and integrates with 11 popular navigation apps. The combination empowers users to search for a destination anywhere in the world, in a language they speak and get turn by turn directions to it with a navigation app they use regularly.
Check out Localscope here in the app store for $1.99.