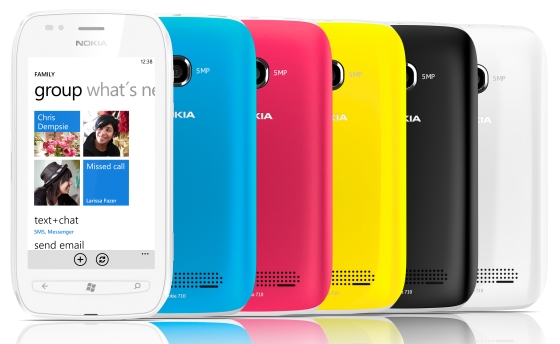 On February 11, Nokia and Microsoft made a major announcement that Nokia would be adopting Windows Phone as its primary smartphone strategy which meant they would be building hardware that would run the Windows Phone Operating System. This was huge news for both Nokia and for Microsoft, and now things are finally starting to happen.
Early today, Nokia World 2011 kicked off in London. First up was the introduction of four "Asha" or "Hope" models aimed at consumers in developing countries that want smartphones but don't have a lot of money. Nokia's goal is to help a billion extra people who who don't currently have access connect to the internet using phones that look good, have long-lasting batteries, and are devices that these consumers can be proud to carry. I get it. So before anyone in Europe or the US disses the four new phones as dumb, it should be quickly pointed out that they weren't made for or meant for you.
You can watch the entire keynote here.
Next up, the portion of Nokia's CEO Stephen Elop's speech in which he announced the company's first two Windows Phones, the Nokia Lumia 800 and Nokia Lumia 710. The Lumia 800, is the higher end phone, or as Mr. Elop called it, "the first REAL Windows Phone!" I suspect that there are some engineers at Samsung and HTC who might beg to differ, but that is neither here nor there.
The Lumia 800 features:
… head-turning design, vivid colors (cyan, magenta and black) and the best social and Internet performance, with one-touch social network access, easy grouping of contacts, integrated communication threads and Internet Explorer 9. It features a 3.7 inch AMOLED ClearBlack curved display blending seamlessly into the reduced body design, and a 1.4 GHz processor with hardware acceleration and a graphics processor. The Nokia Lumia 800 contains an instant-share camera experience based on leading Carl Zeiss optics, HD video playback, 16GB of internal user memory and25GB of free SkyDrive storage for storing images and music. The estimated retail price for the Nokia Lumia 800 will be approximately 420 EUR, excluding taxes and subsidies.
Hm.
The other WP announced was the Lumia 710, which …
… can be personalized with exchangeable back covers and thousands of apps to bring the Lumia experience to more people around the world. The Nokia Lumia 710 is designed for instant social & image sharing, and the best browsing experience with IE9. It is available in black and white with black, white, cyan, fuchsia and yellow back covers. With the same 1.4 GHz processor, hardware acceleration and graphics processor as the Nokia Lumia 800, the Nokia Lumia 710 delivers high performance at an affordable price. The estimated retail price for the Nokia Lumia 710 will be approximately 270 EUR, excluding taxes and subsidies.
Am I the only one left seriously underwhelmed here? Forget the Lumia 710, because it is obviously the entry-level phone, let's talk about the one that is effectively going to become Nokia's flagship Windows Phone model, the Lumia 800. These are its specifications:
At a glance
3.7 "
Display size
8 megapixels
Primary camera sensor size
142 g
Weight
9.5 h
Maximum 3G talk time
335 h
Maximum 3G standby time
55 h
Maximum music playback time
7 h
Maximum video playback time
Display and User Interface
Touch Screen 
Capacitive 
Display size 
3.7 "
Screen height 
480 pixels
Screen width 
800 pixels
Display technology
AMOLED
ClearBlack
Curved glass
Memory
Total user memory 
16 GB mass memory (no slot for micro-SD cards) 
SDRAM memory 
512 MB
Power Management1
Battery 
BV-5JW 3.7V 1450mAh 
You can read the rest of the specifications here.
Nokia's ambition was to "surprise us at every turn", which Kevin Shields (Head of Program and Product Management for the Smart Devices Team at Nokia) certainly did when he took the stage to speak about the phone. Looking like an untucked and disheveled frat-boy the morning after a blowout kegger, Kevin startled attendees when he bellowed out that the Lumia 800 "looks AWESOOOOOOOMMMMMEEEE!!!!!!!!!!!!!!!!!!!!1" *
He followed up with how he was sure that we would agree that while the Lumia is a "beauty on the inside, it is a BEASSSSST [with appropriate rawr!] on the inside!" His presentation left me wondering what drugs he's on or if he had any sleep in the previous 72 hours at all. Honestly, the video is painful to watch, although some might enjoy witnessing his oddly given presentation and what looks like a partial meltdown. This may qualify as the most uncomfortably delivered speech ever. Yikes.
If I had to pick one word to sum up the presentation,  especially the portion after Kevin's presentation of the Lumia 800, when Kevin and Stephen were awkwardly bantering back and forth on stage, it would be desperation.
Granted, it has been less than a year since Nokia announced that they would be selling Windows Mobile phones, but Nokia already had several premier devices that could have been further "improved" with the smarter WP operating system — so I'm not giving them a pass. I am glad that Nokia included an 8 megapixel Carl Zeiss camera, and I have no doubt that it will blow away every other smartphone's camera, but I am disappointed that there is no front-facing camera. I think that anyone who has used Facetime on their iPhone will agree that it is a selling point, not an unused novelty feature; Nokia could have capitalized on that — perhaps even introduced a Nokia version of Facetime, but they didn't. Of course, the fatal flaw is going to be that Nokia is not introducing the phone to the US.
For whatever reason, it will be next year before the Lumia 800 arrives here. By then, I doubt that very many people will even care. The ones who would have cared will have already bought the Euro version … and then moved on to something else after the new has worn off.
Mark my words.
I am more than a bit underwhelmed; I had really hoped that Nokia and Microsoft would step up their game. This looks more like a major stumble.