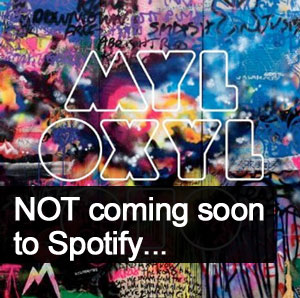 Apparently it is becoming 'a thing' to not have your tracks available for streaming on Spotify and others. Several indie acts have pulled their content thus far, with Spotify repeating the same mantra about how much they have paid out. I am not judging either side as I have no clue about the internals.
But what I DO know is that the big new music release this week from Coldplay won't be available to stream. Period. Here is more form DMN:
It's not just death metal indies that aren't playing ball with Spotify. Just this morning, C|Net found out that Coldplay will not be licensing its latest album Mylo Xyloto to Spotify – or Rdio, Rhapsody, or any other on-demand streaming service. Instead, Coldplay has been previewing tracks from the album on iTunes.

C|Net journalist Greg Sandoval noted that EMI is "a little embarrassed" by the move, though the label hasn't offered a real explanation. But it's probably a bit obvious at this point: payouts to actual artists remain a serious concern, and that applies to the biggest, major label-signed superstars like Coldplay. Just yesterday, Rhapsody president Jon Irwin pointed to 'hundreds of millions' in royalty payouts to rights holders, which includes huge advances to major labels. But that money doesn't appear to be getting properly distributed to even the biggest signed artists.
But it isn't just Coldplay, apparently Tom Waits is also skipping Spotify:
Coldplay and Tom Waits are the latest and most high profile artists to join the anti-music streaming movement. New releases by both Coldplay and Waits will reportedly be kept of all streaming music services including Spotify, Rhapsody, Rdio and others. Some major artists like Adele and Pink Floyd are available on some services and not others.
Spotify regularly claims they are "the second single largest source of digital music revenue for labels in Europe (IFPI, April 2011)", so I looked and found the following:
In Europe, digital revenues surpassed the expectations of many in 2010, growing by almost 20 per cent, with double-digit percentage increases in most major markets. Record labels saw increasing revenues from download stores, but also from subscription services, with Spotify becoming the second largest source of digital revenue for labels in Europe. Record companies in Europe are more reliant on physical format sales than in the US. Digital channels still accounted for less than 20 per cent of labels' trade revenues in 2010.
Sadly that comment isn't backed up by anything – there is no context, no reference, nothing. So we have no idea who #1 is, if it is limited to streaming or includes iTunes … and what the ratios look like, and so on.
The most interesting part of the Digital Music News article is the following unreferenced remark:
And, there's some evidence the Spotify is cannibalizing discrete a-la-carte purchases from places like iTunes, which makes the case for withholding content all the more compelling – especially for a massive, sought-after group like Coldplay.
But on the other side of that comment is that we already know that one of the key business model factors for the success of Spotify was that it was 'better than piracy'. In other words, people who weren't buying at retail stopped pirating because they could stream music for free or close to free on Spotify.
But the effect of squeezing people out of free is to make folks FEEL the pricing – you are paying for a music servce, so you should get music. Therefore some people who might have bought the album suddenly are just streaming it, perhaps adding it to their offline mobile collection. Does this impact sales transactions? Most certainly – and that is what people are using as a reason to boycott Spotify: they figure if I can add Coldplay to my collection and listen to it as much as I want, the artists should be compensated the same as for a sale … which is certainly NOT the case.
But by removing the music from streaming services the artists create another issue – people already pay $10 a month for the service and are suddenly getting less value. What do they do? Do they go and spend $10 each for Adele and Tom Waits and Coldplay and Skrillex and Arcade Fire and so on? Very few will – too many will return to their pre-Spotify piracy habits … and then the artists get nothing.
To me it feels like the same short-sighted approach that had the labels raise MP3 song prices to $1.29 back in 2009 as a condition of letting Apple go DRM-free … in the middle of the largest recession since the great depression. There was an immediate drop in sales, and the overall music market continues to reel.
If insanity is doing the same thing over and over again and expecting different results, then the music industry is truly insane … and that includes the artists as well.
Here is their new single Paradise … the one you WON'T hear on Spotify/Rdio/MOG/etc …