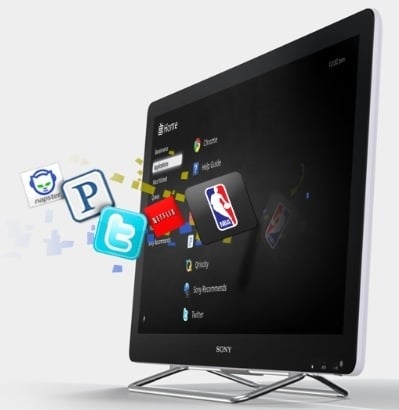 The rumors are flying about Apple making a serious move into the television market. I love my Apple TV, but the idea of an entire television with Apple technology baked into its very DNA is something I would jump to grab. [I know, big surprise to anyone who knows me.] The only problem… It is nothing more than a rumor at this point. Sony, on the other hand, is serious about the connected television market and is in it right now. In fact, they just announced a software update to the Google TV platform that enhances the experience of using the Sony Internet TV and the Sony Internet TV Blu-ray Disc player.
As the Press Release shares,
Sony released the world's first TV based on the Google TV platform in the U.S. last October – today's update brings a simpler and clean interface, improved performance, better search functionality and the Android Market to all currently installed Sony Internet TV and Sony Internet TV Blu-ray owners. Additionally, future consumers of Sony Internet TVs and Blu-ray Disc players will receive the update during the initial start-up installation. Other new benefits include better integration with Android™ and iOS devices, like smartphones and tablets.

"Connected experiences are a pillar of Sony's value to TV consumers and Sony Internet Television powered by Google TV certainly brings 'smart' connectivity to the highest level," said Steve Haber, EVP, Sony Electronics. "We very much look forward to the possibilities the Android Market will create for customers to personalize their experience. Users will enjoy the new features that this update brings to their interactive engagement with home entertainment programming, either through Sony Internet TVs or Bu-ray Disc players."
Integration with the Android Market means the power of the system is, to a large extent, limited only by the apps you use. Now THAT is an Internet connected TV. We are hoping to have a full review soon.
[showhide]
SONY® INTERNET TV GETS GOOGLE TV™ UPDATE AND ANDROID MARKET™

New Interface and Android Market Bring the TV and Internet Convergence to the Next Level

SAN DIEGO, October 28, 2011 – Sony Electronics today announced a software update to the Google TV™ platform, which powers the unique entertainment experience found on Sony Internet TV powered by Google TV and the Sony Internet TV Blu-ray Disc™ player. This latest version not only powers existing Google TV features, but also adds the Android Market for apps, which at launch includes hundreds of apps, including many designed and optimized for television. This update will roll out to all connected Sony Internet TV devices by early next week.

Sony released the world's first TV based on the Google TV platform in the U.S. last October – today's update brings a simpler and clean interface, improved performance, better search functionality and the Android Market to all currently installed Sony Internet TV and Sony Internet TV Blu-ray owners. Additionally, future consumers of Sony Internet TVs and Blu-ray Disc players will receive the update during the initial start-up installation. Other new benefits include better integration with Android™ and iOS devices, like smartphones and tablets.

"Connected experiences are a pillar of Sony's value to TV consumers and Sony Internet Television powered by Google TV certainly brings 'smart' connectivity to the highest level," said Steve Haber, EVP, Sony Electronics. "We very much look forward to the possibilities the Android Market will create for customers to personalize their experience. Users will enjoy the new features that this update brings to their interactive engagement with home entertainment programming, either through Sony Internet TVs or Bu-ray Disc players."

With the Android Market integration, new fun and useful apps will be added regularly, allowing television viewers unique and customizable entertainment experiences. At launch, original Sony applications will include TrackID®, which searches and identifies music heard on television broadcasts, packaged media or streaming video. Additionally, Sony Select will deliver a curated collection, highlighting featured applications to consumers in an easy-to-browse manner.

The Sony Internet TV powered by Google TV brings more entertainment choices to TV every day with unprecedented viewing options from cable/satellite or internet based services. Whether it's favorite network shows, movies, YouTube™ and other online clips, or the latest cool new app – whatever you want to watch, whenever you want to watch, it's all on your Sony Internet TV powered by Google TV.

[/showhide]